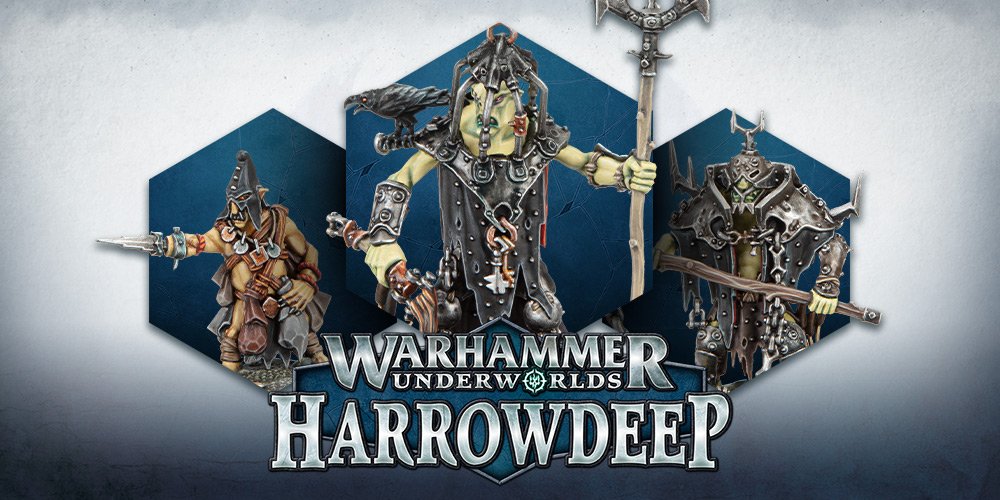 It's about to get pretty ugly in here. We're continuing the Harrowdeep train by reviewing the second faction from Harrowdeep: Da Kunnin' Krew. They're a 5 man warband comprised of 2 orruks, a hobgrot, and 2 goblins.
In today's article I'll be covering everything you need to know about Da Kunnin' Krew. This includes the lore, fighter cards, 32 faction specific cards, and the miniatures themselves.
A special thank you to Games Workshop for providing me with this review copy ahead of time for free.
Time to collect some money bags!
___________________
The Story: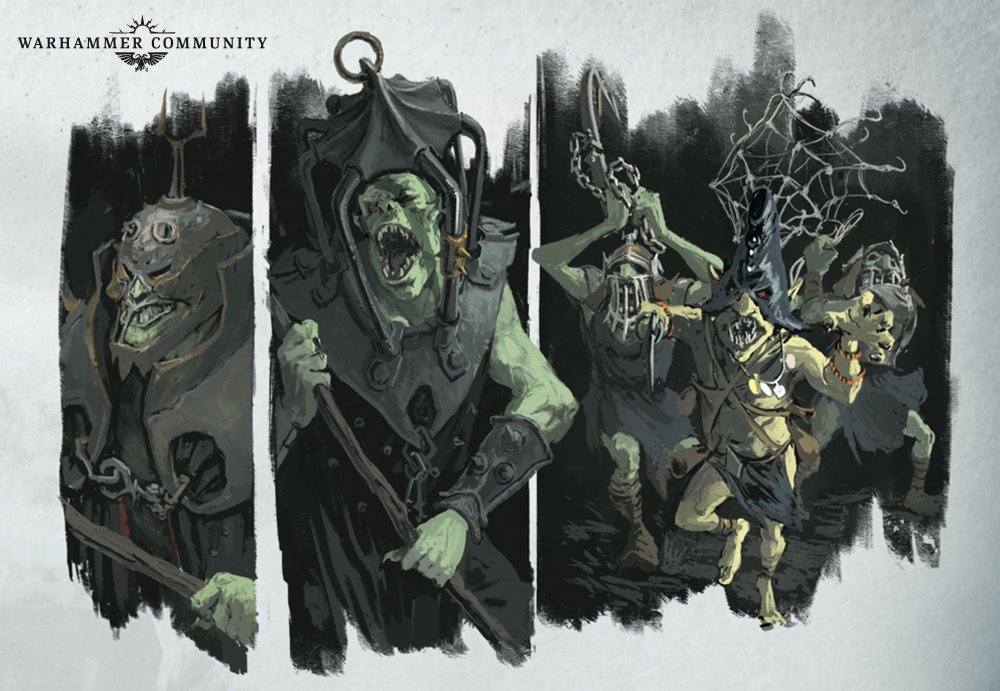 The fighters form this warband are a vicious gang or krule boyz who have named themselves, Da Kunnin' Krew. They love to fight, take advantage of you, and generally exhibit unpleasant and vicious tendencies. Mannok is their leader who and is joined by Torka, his second in command. Krookgrin is the token hob-grot and has an eye for only one thing – bags of money. The crew is rounded out by Shank and Gikkit, heavily armored and equally vicious goblins.
The boss, Mannok, was leading his party in an attempt to capture a bog-wyrm. Somehow along the way, they ended up in Harrowdeep and they loved every second of it. Mannok's goal is to get bring more of his boyz out to him so he can start his own underworld empire, right in the heart of the Harrowdeep. Entrepreneurial Orruks, who would have thought?
____________________
Miniatures:
Molded in a classic green plastic, this warband is packed with an insane amount of detail. I'm particularly fond of the different ways in which the detail was added. Whether it is the fighters themselves, their bases, or their war-gear, it's neat to see how uniquely designed each fighter is.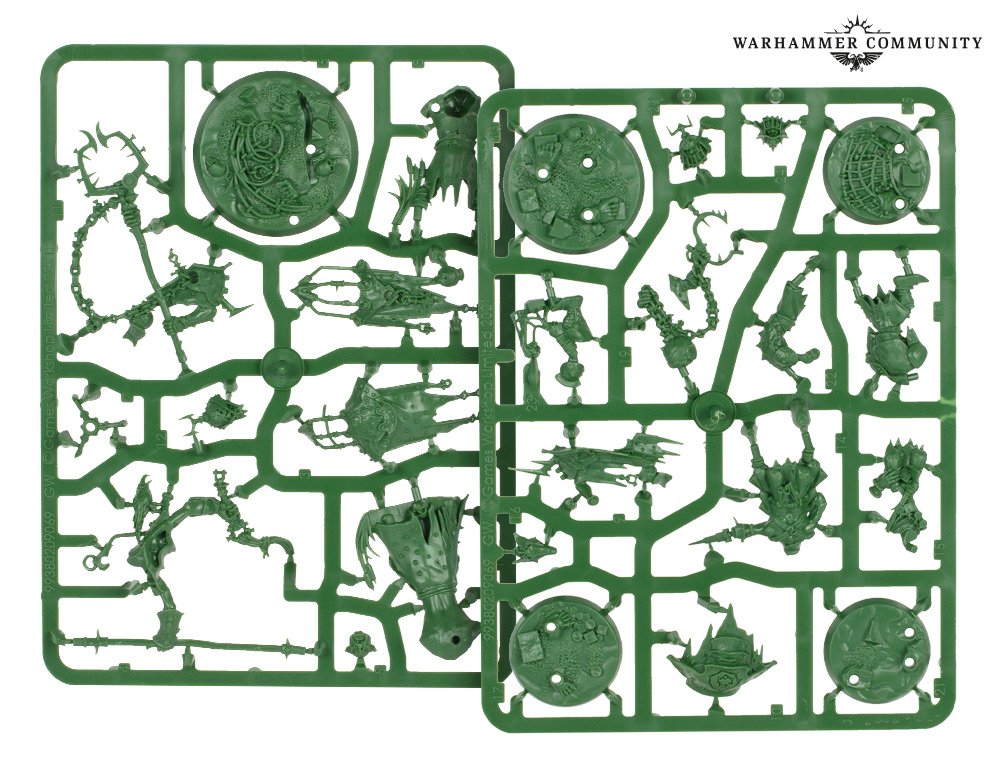 When building, the pieces fit together quite easily. I always glue my miniatures but you don't have to. The fits are quite snug. Just be careful when handling Mannok – his helmet piece and bird require a bit of patience and caution to set correctly.
____________________
Fighters and Inspiration:
Mannok Da Kunnin'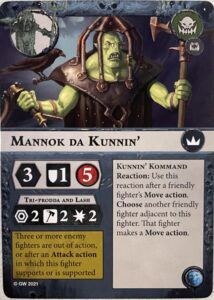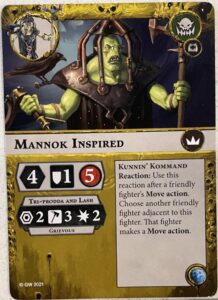 Mannok Da Kunnin' is a pretty powerful fighter and it makes sense as to why he leads this motley crew. He's got a movement of 3, 1 block, and a whopping 5 wounds. His Tri-Prodda and Lash attack is range 2 and hits for 2 damage on 2 smash. That's a pretty solid attack profile. The boss man also has a reaction titled Kunnin' Kommand which allows him to choose another friendly fighter (including himself) to make a move action after another friendly fighter (must be someone other than him) makes a move action. I think the reaction is a pretty big deal in the early game as you can set your fighters up to optimize those supports. You'll see how to optimize it in a bit.
The inspire condition for the warband is a global one meaning they all trigger at the exact same time. Interestingly, this warband can inspire in 2 different ways. Either there are 3 or more enemy fighters out of action or they make an attack action in which they were the supporting fighter, or were the supporting fighter to some other friendly's attack.
Once Mannok inspires, he goes to 4 move, his attack bumps to 3 smash and he gets the grievous keyword. This guys is extremely powerful, I think he's the best fighter in the core box. About half the time you hit, you'll hit for 3.
Torka Tuffskul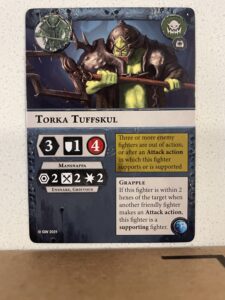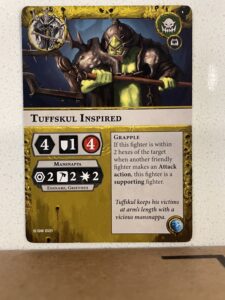 Torka TuffSkul is an orruk who is attempting to cosplay as the Juggernaut. Well, at least he looks like he is. Mannok's second in command has a movement of 3, 1 block, and 4 wounds – pretty standard stuff. He too has a range 2 attack but it hits on 2 fury for 2 damage. A neat thing about it is that it sports the ensnare and grievous keywords.
He shares the same inspire as the rest of his warband. While Torka doesn't seem that great of a fighter, he's got an amazing ability that quite literally changes the game. Grapple allows Tuffskul to count as a supporting fighter when another friendly fighter makes an attack action – as long as Torka is within 2 hexes. Which means, both fighters involved in the Grapple scenario inspire. Torka makes inspiring the warband fairly trivial while also dramatically improving his compatriot's accuracy.
When he inspires, Torka goes to 4 move and his attack hits on 2 smash. He keep the Grapple ability. He's a very, very solid fighter.
Krookgrin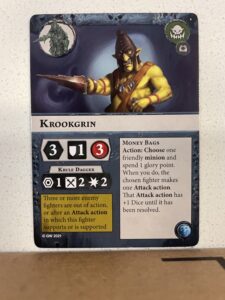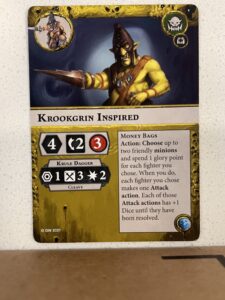 I think this guy is my favorite thematically. He moves 3, has 1 block, and 3 wounds. His Krule Dagger attack is a melee strike that hits on 2 fury and deals 2 damage. He's also got a special action called Money Bags. Essentially, you can spend a glory point and he makes either Shank or Gikkit make an attack action with +1 dice. The action itself isn't that big of a deal as you still get an attack in, just from another fighter.
When inspired, he bumps up to 4 move, gets 2 dodge, and his dagger hits on 3 fury and gains cleave. In addition to that, his Money Bags ability can now select both friendly minions. So if both Shank and Gikkit are alive, they might be able to do some spike damage out of nowhere. Pretty cool.
Shank and Gikkit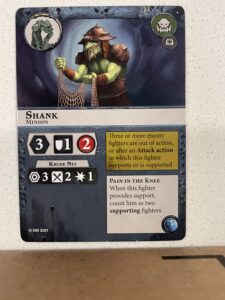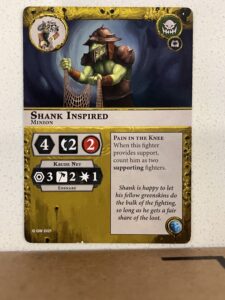 The last 2 fighters in the warband can be looped in a bucket because they're functionally quite similar. Both fighters are 3 move and 1 block, as well as 2 wounds. Gikkit has a range 1 attack that deals 1 damage with grievous and hits on 2 fury. Shank's got a range 3 attack that hits on 2 fury for 1 damage. They also share the same inspire as everyone else.
One makes them particularly cool is their Pain the Knee ability. Essentially, whenever one of these fighters is a supporting fighter, they count as 2 supporting fighters. This not only makes your better fighters significantly more accurate, it also helps them help each other out as well.
When inspired, both fighters bump to 4 move and switch to 2 dodge. Shank's weapon gets better as it improves to 2 smash and gains the ensnare keyword. Gikkit's weapon jumps up to 3 fury.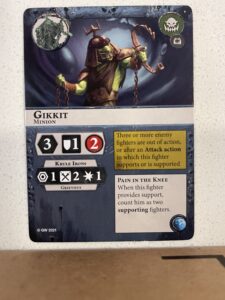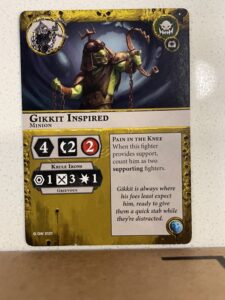 ____________________
Faction Objectives: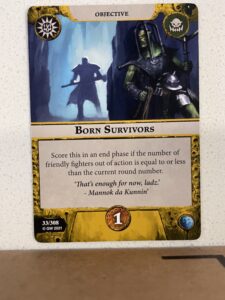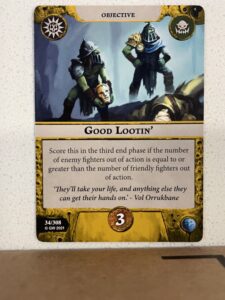 Born Survivors: This is a polar oppose to the Truthseekers card. You can score this in round 1 if no one is out of action, or if just 1 is. I think this is pretty solid and doable.
Rating: B
Good Lootin': This is kind of a trap card. You're going to lose your smaller fighters so having to return the favor with the same level of takedowns seems difficult to do. And because this is a third end phase card, if it doesn't pay out it feels extra bad.
Rating: D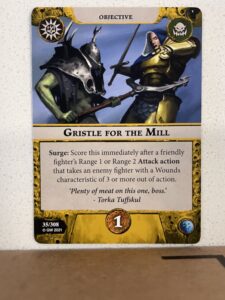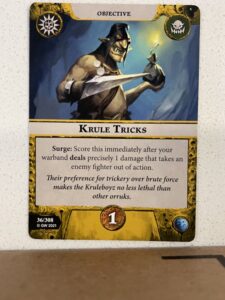 Gristle for the Mill: Pretty good card, essentially just take an enemy fighter out of action and you get extra glory.
Rating: A
Krule Tricks: This one I don't like because I want to be swinging with Mannok and Tork the whole time instead of your weaker fighters – that feels like a trap. You can use ping damage via gambits and upgrades to score this so that could be useful, you'll have to build towards this though.
Rating: C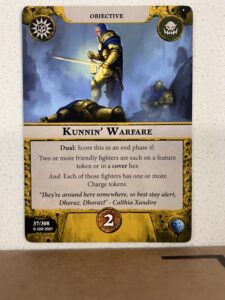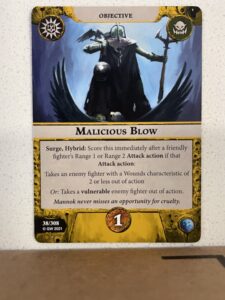 Kunnin's Warefare: This seems harder than it actually is. I think this is pretty solid, especially given how compact feature token placement is as well as the range advantage Mannok, Torka, and Shank have which means the charges can be more forgiving, in theory.
Rating: B
Malicious Blow: Cards that require a specific type of call are hard to include in championship only because you don't know what warbands you'll run to. This is a meta call, for sure. I also don't like the vulnerable step in the process. I feel like it adds an extra step.
Rating: C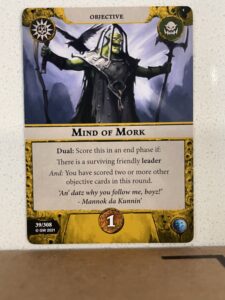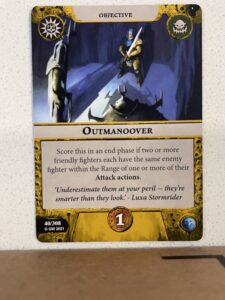 Mind of Mork: So this definitely works as Mannok is hard to take down. Like you can score this, but I'm not sure you want this in your deck for just 1 glory.
Rating: C
Outmanoover: This is a great card. The 2, two range fighter plus 1, 3 ranged fighter, options you have allows you to plan your range "bubbles" to overlap which should allow you to score this card quite reliably.
Rating: B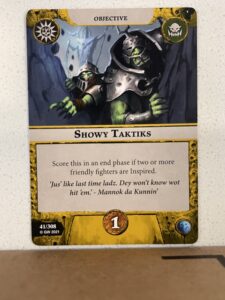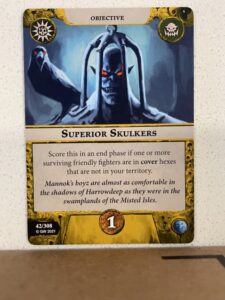 Showy Taktiks: Super easy card to score. Take it.
Rating: A
Superior Skulkers: This is also another easy card to score, potentially. Not sure if this makes it into every deck but it's certainly doable.
Rating: C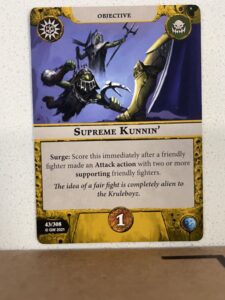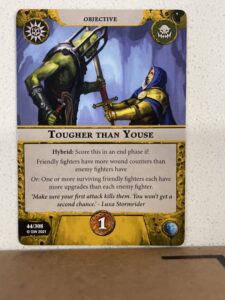 Supreme Kunnin': This is a pretty easy card to score given the fact that the Pain the Knee special rule exists. In addition to that, you can do this organically as well.
Rating: B
Tougher than Youse: Seems like a lot of work for 1 glory. I do like the upgrade portion of it more than the wound counters stipulation.
Rating: C
___________________
Faction Gambits: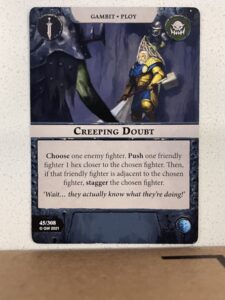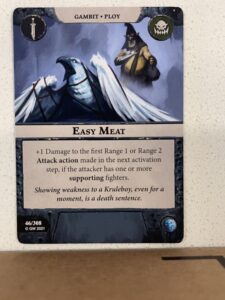 Creeping Doubt: This is a very good card. Pushes are great and the occasional stagger is good, too. Lots of synergy with inspiring and scoring certain objectives in the deck.
Rating: B
Easy Meat: This is insane. Torka breaks the support mechanic for the warband so cards like these becomes extremely reliable in terms of usefulness in general. +1 damage in the next activation with a support is huge without having to spend the glory for upgrades that do something similar.
Rating: A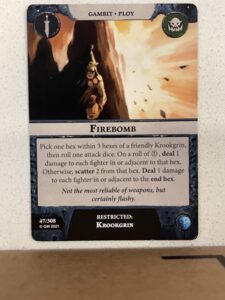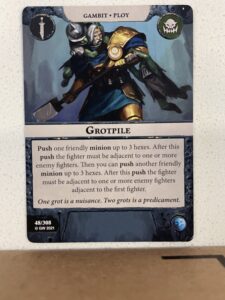 Firebomb: While not a bad card, I don't think it's reliable. Scatter tokens and damage don't do well together in my mind.
Rating: D
Grotpile: Pretty good if you are playing aggressively with your minions. 3 hexes is a lot. But this card doesn't have to be used only in an offensive capacity. Lot's of options available to you by shoving those goblins around.
Rating: C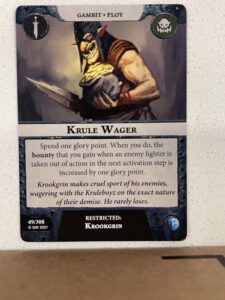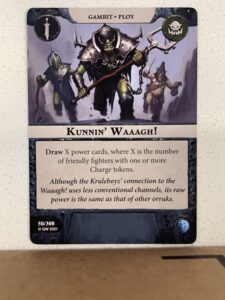 Krule Wager: I don't like this because if you miss, you've just wasted a card. Sure supports help this, but eh.
Rating: D
Kunnin' Waaagh!:  I like the design space around this card. Interestingly, based on the criteria you'll be using this card more towards the end of the round because you can only draw a card per charge token. Drawing cards later in the round isn't as useful as it can be earlier. Plus, this isn't better than Duel of Wits.
Rating: C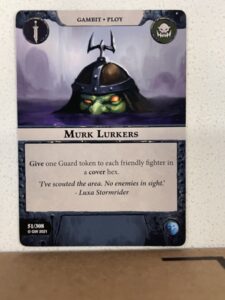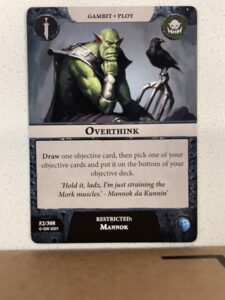 Murk Lurkers: This is pretty good if you are looking to camp in cover tokens. Which I do think is the superior strategy thus far. But to be fair, I am not sure you even need this card given how often your fighters will be supporting one another offensively and defensively.
Rating: B
Overthink: Cool concept, especially because you don't have to discard anything.
Rating: C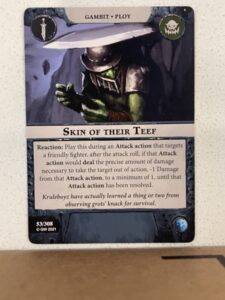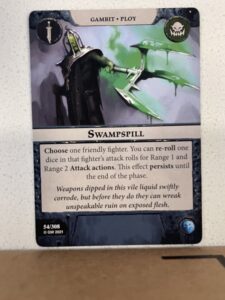 Skin of their Teef: If you are taking exact damage to get taken out of action, you can play this card to give you at least one turn longer. It's identical to the way in which Narrow Escape works for Rippa's.
Rating: A
Swampspill: This card is insane. Free re-rolls all round? Sign me up!
Rating: A
____________________
Faction Upgrades: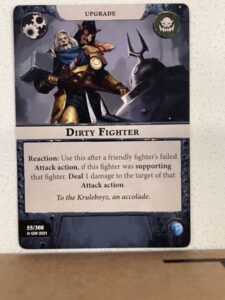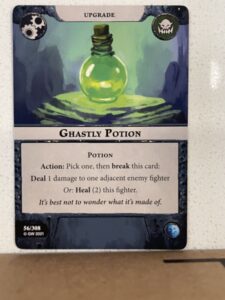 Dirty Fighter: It's kind of like a conciliation prize. I do think this could niche situations in where this is useful but overall, I don't think this is going to go the mileage you need it to in the championship format. I guess Torka is the best candidate for it since he counts as supporting everything, but still niche.
Rating: C
Ghastly Potion: I do like this card, I think being able to heal for 2 is pretty useful. Will this ultimately make the cut for championship play? I don't think so.
Rating: C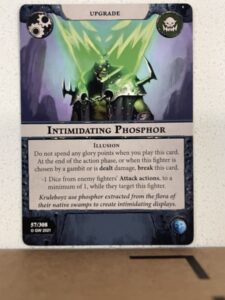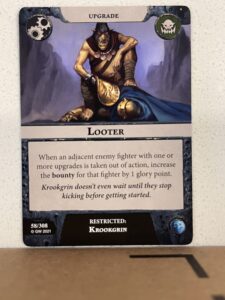 Intimidating Phosphor: Now this is a very good card. Making your fighter harder to hit is insane because this card is essentially free. Like this in the first round with Mannok or Torka? Ouch for your opponent.
Rating: A
Looter: Cute card but ultimately not viable. Krookgrin is a 3 wound fighter with low defenses, why invest in him?
Rating: D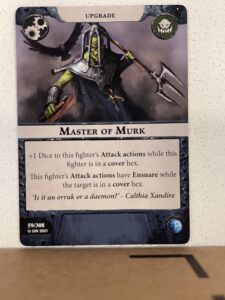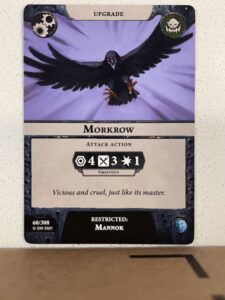 Master of Murk: I think this card is more useful offensively. It's a good card regardless and both options are nice.
Rating: B
Morkrow: Mannok is now the new Farstrider! While this attack action may not be necessary, I do think it's a pretty powerful attack. Mannok could be parked in a cover hex while dishing out attacks. Works really well with the card above as well as some gambits and objectives in the faction deck. Does this make championship? I think it could in some builds.
Rating: B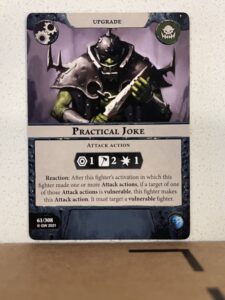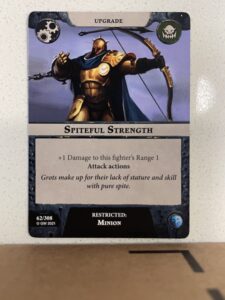 Practical Joke: This is kind of like a combo weapon in terms of how it works. I think if you don't have access to a lot of damage, it may be worth trying.
Rating: C
Spiteful Strength: A fun and thematic card – probably limited to minions for balance reasons. In rivals, I can see this being quite useful. Not so much in championship.
Rating: D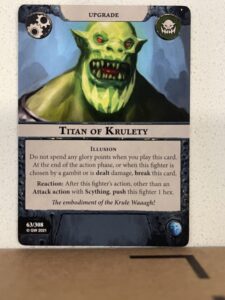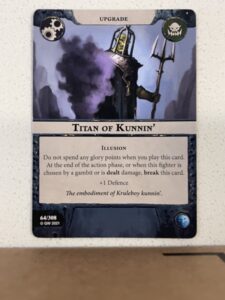 Titan of Krulety: This is a pretty good card – it reminds of Duelist's Speed. You can make a charge and then sidestep onto a feature token. Seems pretty solid.
Rating: B
Titan of Kunnin': This card is insane, especially in the early game. This card is fire.
Rating: A
____________________
Rivals:
From a rivals perspective, I think Da Kunnin' Krew is a very powerful contender. They've got some strong cards combined with some powerful fighters. Mannok and Torka played and positioned correctly can be a nightmare to deal with. When compared to the Direchasm warbands, I do feel like they contend with the best of them but not to the point where they are overpowered.
(Jonathan here – I give their Rival's deck a B, in the rating scale found in this article)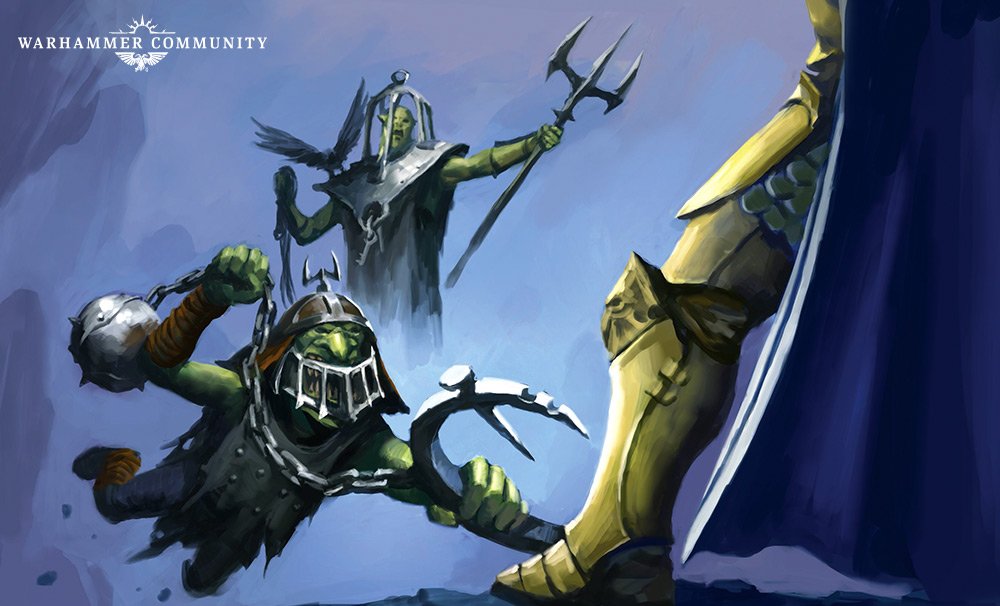 When compared to Xandire's Truthseekers, I do think this warband has the edge against their golden foes. However, I think most rivals format games between the two of them should lean towards more of a 50/50 win-rate. At least, initially.
____________________
Final Thoughts:
Overall, I thinks warband is pretty powerful. The inspiration mechanic with the warband is pretty trivial in most cases due to the amazing synergy present among the fighters and their special abilities. Being able to properly position your warband and take advantage of spacing can be the key between victory or defeat.
In terms of their objectives, I think Gristle for the Mill, Kunnin' Warefare, Outmanoover, and Showy Taktiks are worth looking at. From a gambit perspective, I like Creeping Doubt, Easy Meat, Swampspill, and Skin of their Teef are pretty solid. And lastly, for upgrades, some standouts are Intimidating Phosphor, Morkrow, Titan of Krulety, and Titan of Kunnin'. I think in particularly, the 3 illusion upgrades this warband has are insane, especially early game.
Da Kunn' Krew seem like a great warband full of flavor, power, and fun. I think you're going to see these green-skins a lot so I recommend getting familiar with them quick so that you can either pilot them to victory, or take them down as you journey through the twisting paths of the Harrowdeep.
____________________
If you think this warband would make an excellent addition to your collection, be sure to head on down to your local Warhammer Store or FLGS to order yourself a copy of Warhammer Underworlds Harrowdeep. If you prefer to shop online, check this out here this Saturday. 
As always, best of luck on YOUR Path to Glory.
Aman