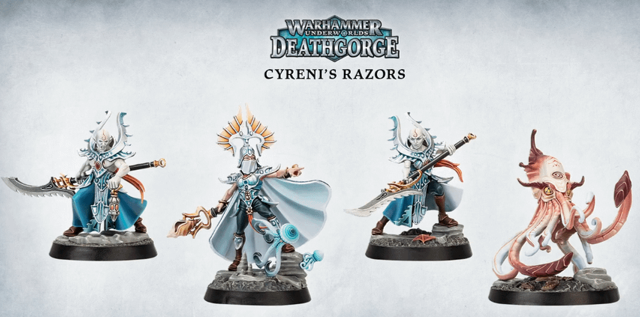 Intro
Second up in our release coverage is Cyreni's Razors, our second Idoneth warband in the game. While I'm not typically a fan of the aesthetic of aelves,  Idoneth are some of the few I can get behind. I like the Soulraid models, and these follow that mold pretty nicely, with the exception that we now get a squid and he looks great! We all know that Soulraid was heavily underrated upon release, so I am cautious not to repeat past mistakes. That being said, I'll be interested to see the reception of these guys. The design pathway seems very heavily to have been to make "new Soulraid," but I do think there are a couple of key differences holding them back from hitting the same high. We'll have to see how it plays out!
Fighters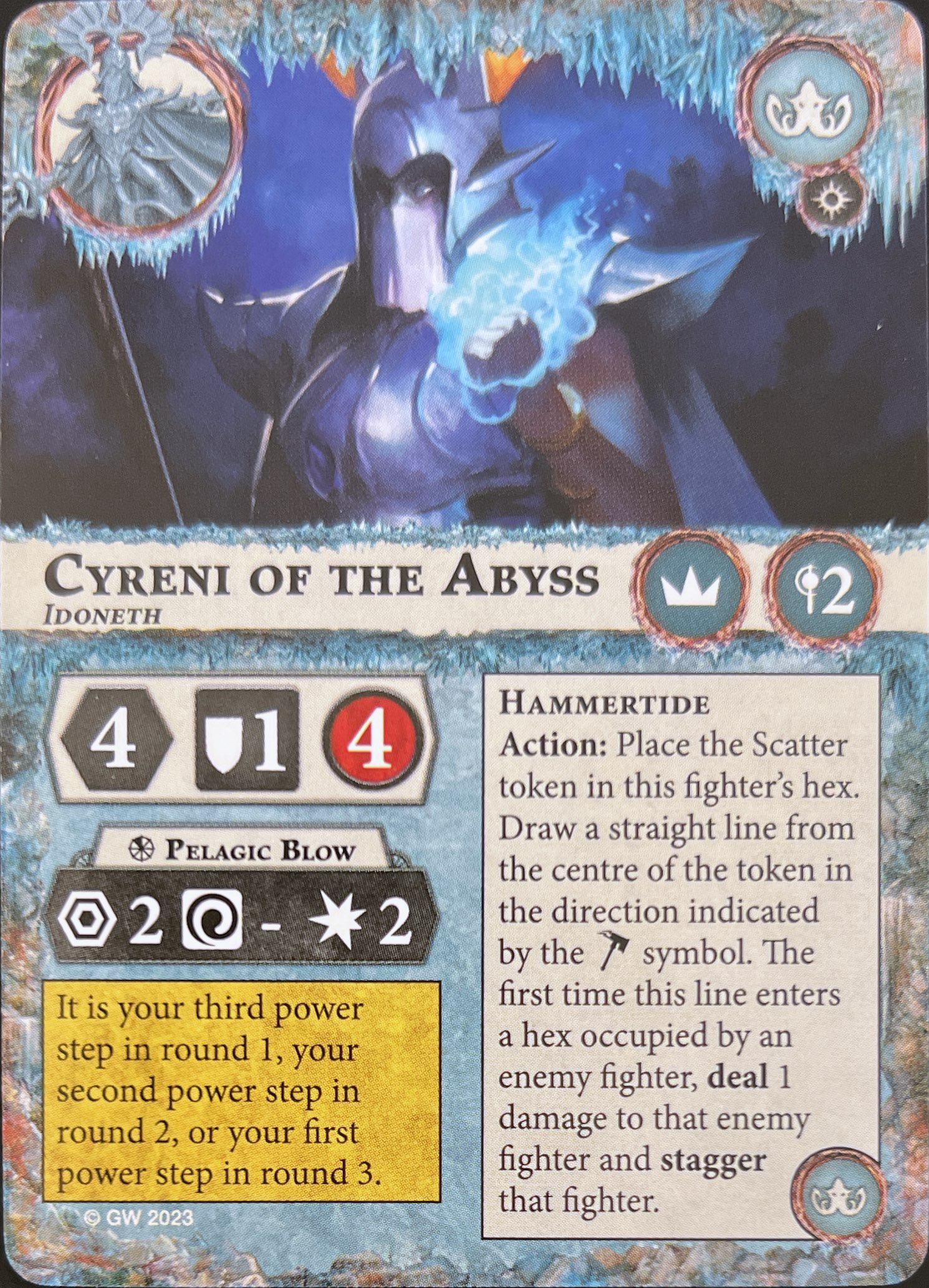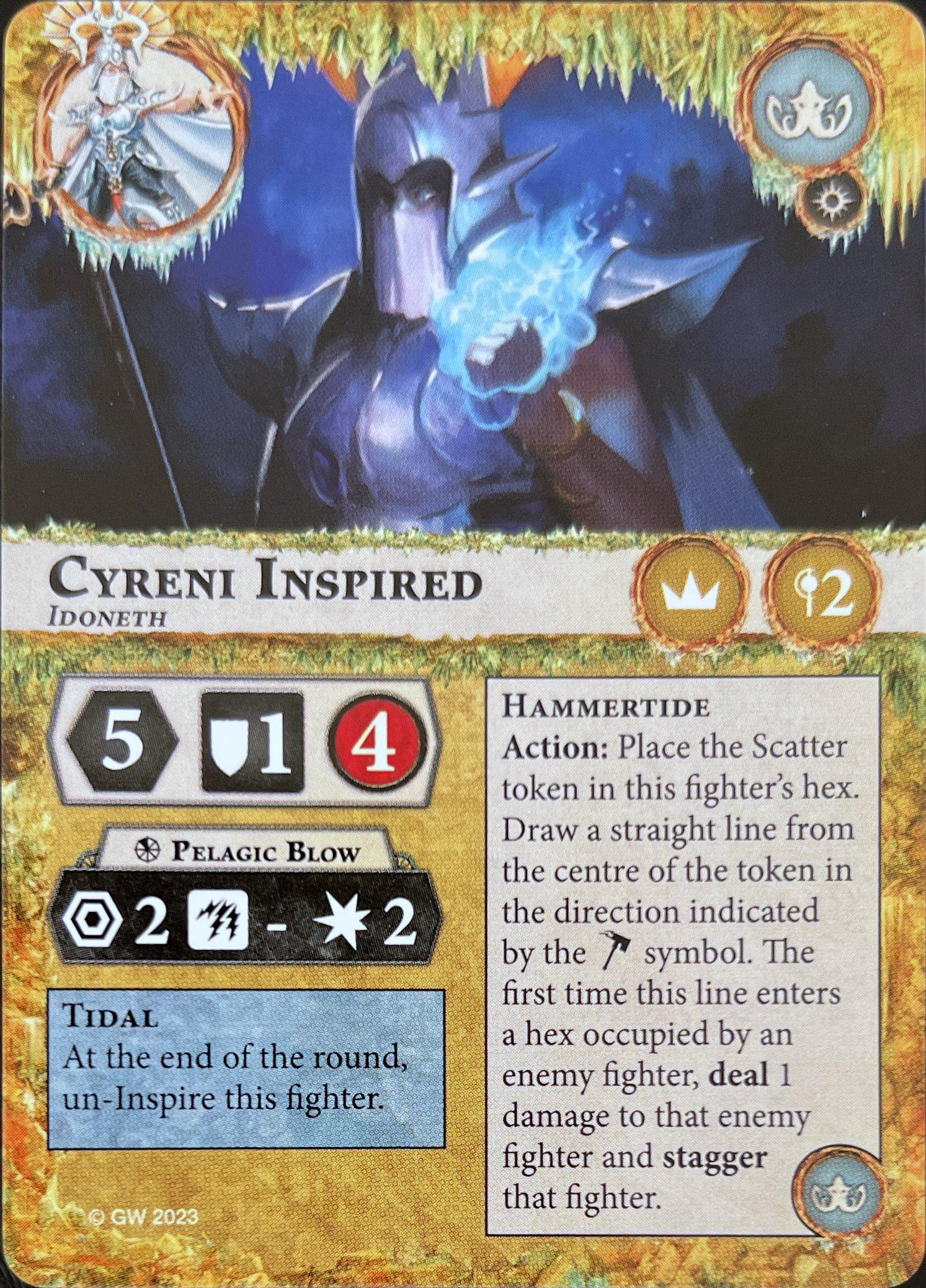 Starting off with the leader, we have Cyreni of the Abyss, an Idoneth level 2 wizard with a pretty standard statline of 4 Move, 1 Shield, 4 Wounds. She actually only has a spell attack action—something I wish we saw a bit more commonly for casters rather than giving them random 2R/3H/2D attacks with their staff—at  2R/*S/2D, which is a solid uninspired casting line despite the lack of Range 3. Despite the lack of another attack action, she also has the Hammertide ability—you have no idea how badly I wanted to name this article "Stop, Hammertide"—which lets her basically draw a straight line across the map (evidently, without range or LoS requirements) and ping+stagger the first enemy fighter in that line. This is a fantastic primer or finisher for a fighter, either softening them up for an easy kill or dealing that crucial last point of damage. This puts particular pressure on 2-Wound fighters, as you can incentivize them to act sooner than they might want to, if Cyreni has a line on them. I don't think you'll be totally spamming this ability, but situationally it is something that can really catch an opponent off guard, even from across the map. It's also a nice method to start chipping away at your opponent's warband without committing to a charge in your first activation. The inspire mechanic for the warband, which is very elegantly done, inspires each fighter from your 3rd power step in Round 1, 2nd power step in Round 2, and 3rd power step in Round 3 until the end of the current round, meaning you get more inspired activations with them than Soulraid. When inspired, she goes from Move 4 to 5 and becomes more accurate, going from swirlies to lightning. A nice little boost, and pretty dependable in the later two rounds. I like her, nice design of a wizard that has to get a little more up close and personal, although I do wish Hammertide had a range restriction or at least stopped when it hit blocked hexes.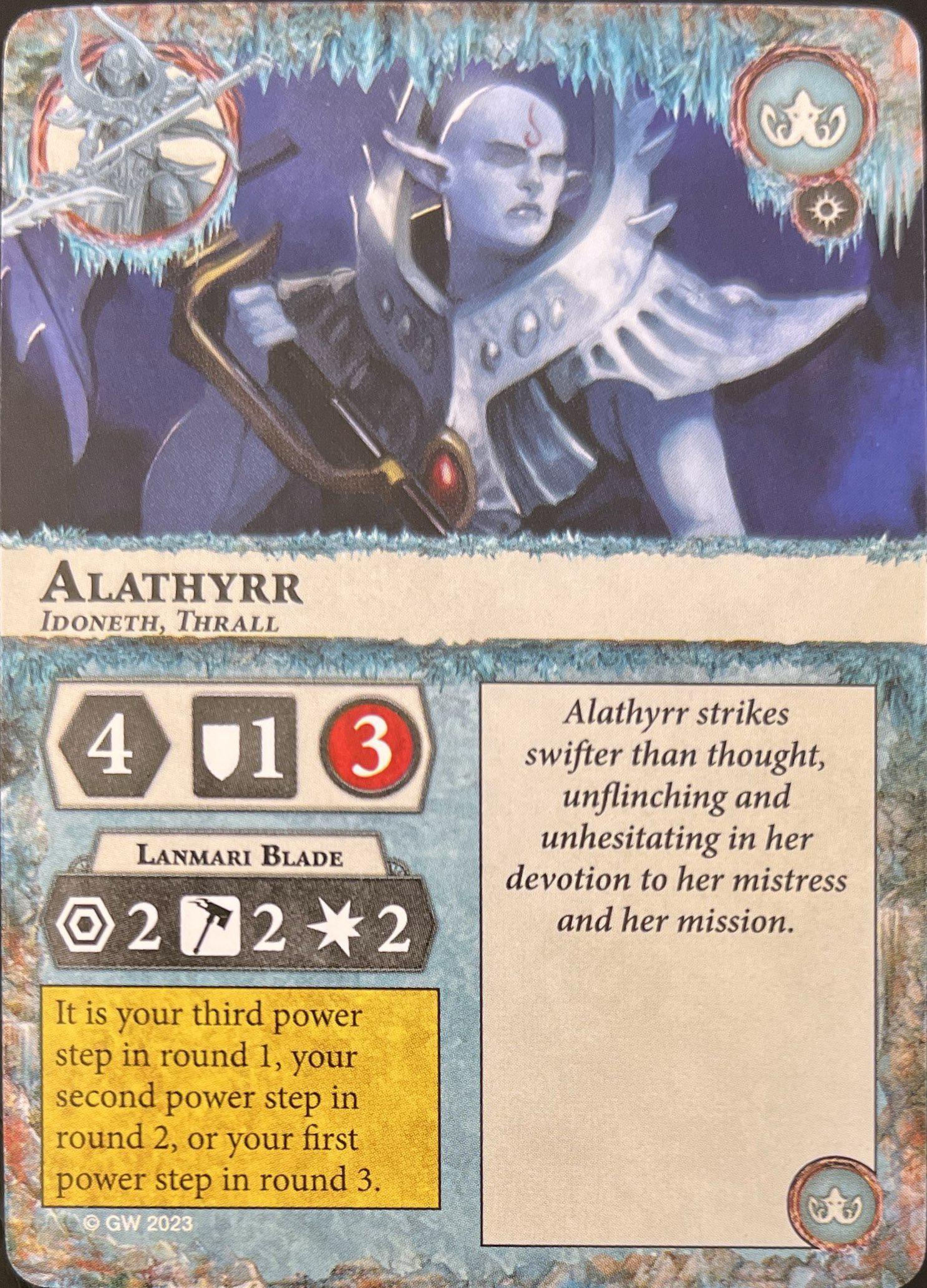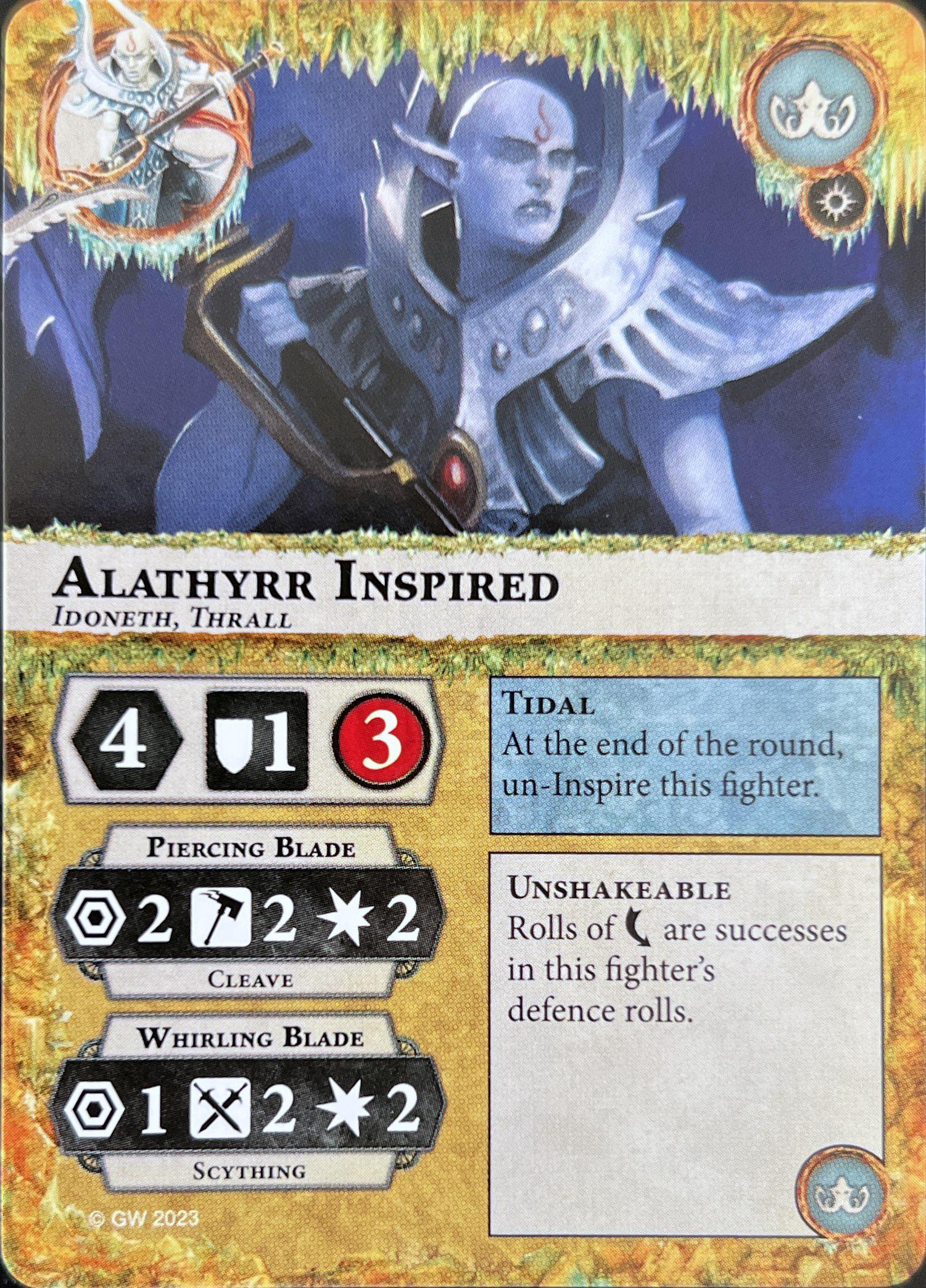 Our next fighter is Alathyrr, an Idoneth thrall with a physical profile of 4 Move, 1 Shield, and 3 Wounds. She sports a pretty standard attack profile of 2R/2H/2D. Pretty common stat lines, but I do worry this is a bit on the squishy side given, spoiler: there's no way to resurrect these thralls. One big swing from Kainan and suddenly you're at 25% operating efficiency, it's a bit concerning. She does gain a tiny bit of survivability upon inspiration with the Unshakable ability, allowing her to also count dodge as a success, but that's pretty small potatoes in the grand scheme. What is more enticing is the offensive boosts, gaining cleave on the Range 2 while also unlocking a 1R/2S/2D scything attack, which can be deadly with a little bit of accuracy. Overall, a pretty solid fighter. I could see delaying her activation until the inspiration, especially in cases where you have some accuracy boosts lined up.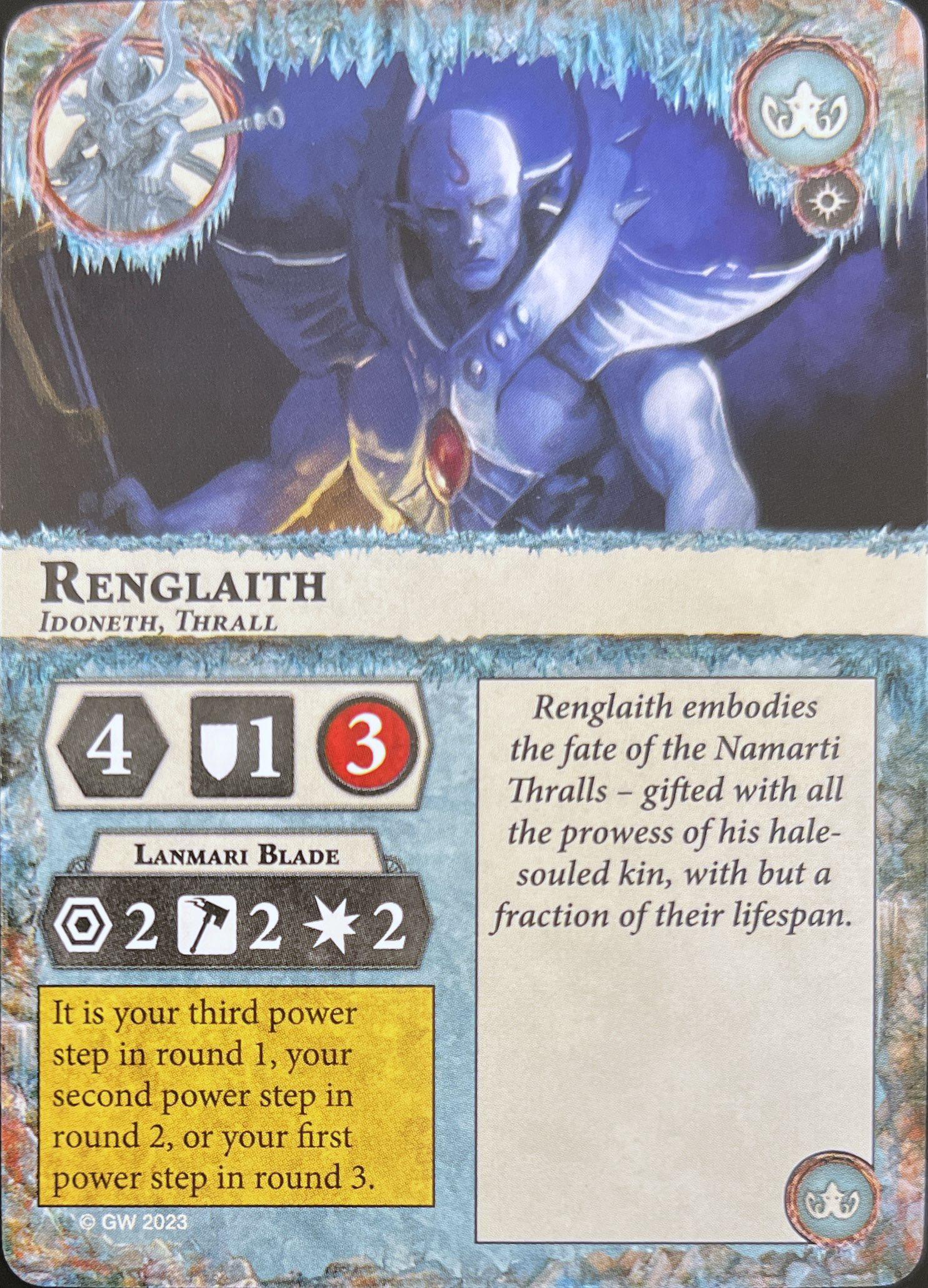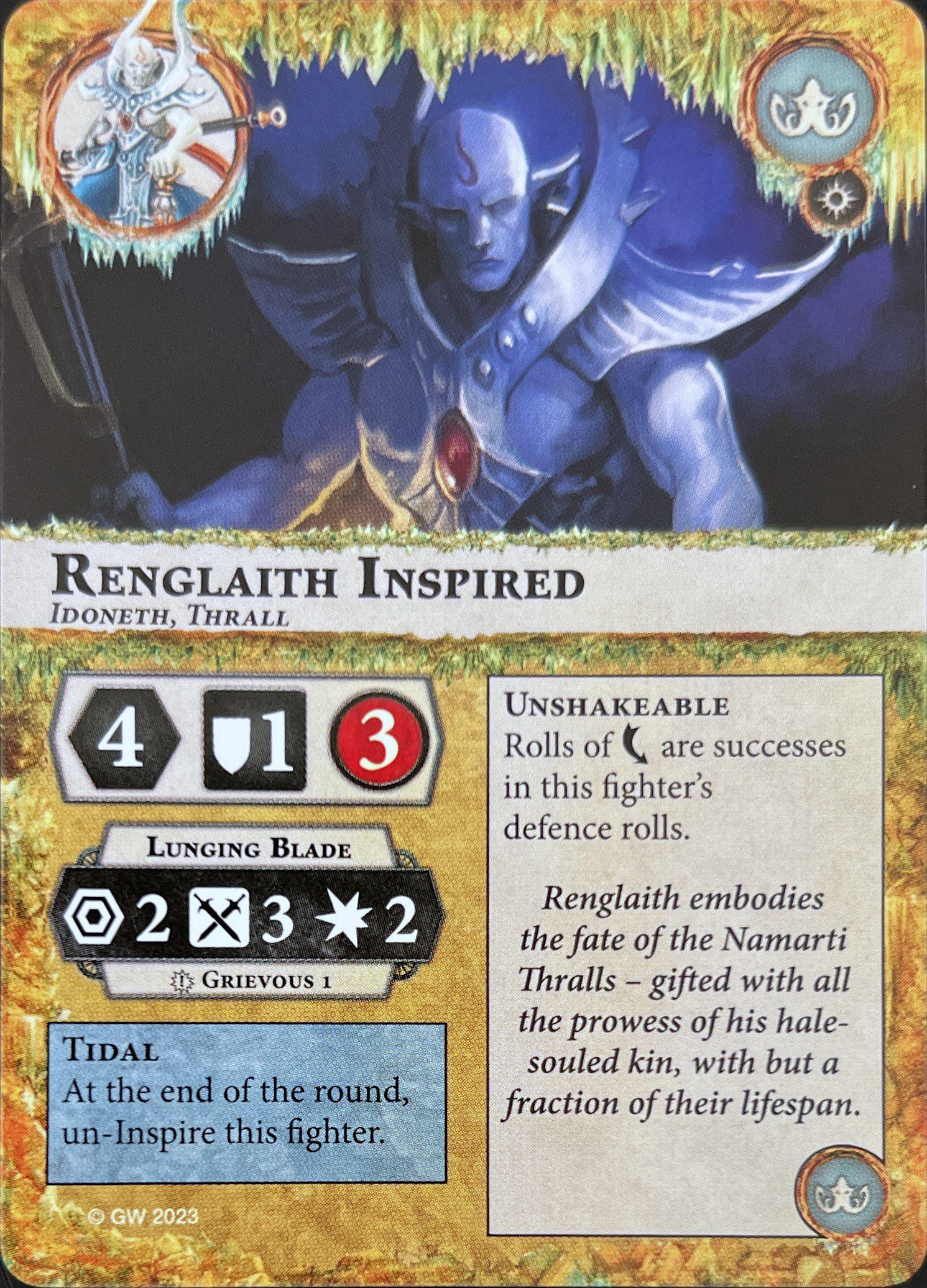 The other thrall is Renglaith, who has the exact same stats as Alathyrr when uninspired. However, when inspired, he gets a mild accuracy bump from 2H to 3S, but also tacks grievous onto his attack for some extra spike damage on a single target. I tend to think the scything is the more valuable of the two, so I'm content to play him a bit more aggressively than our previous entry unless I'm facing an elite warband. It's nice to have the options though, you can flex into delaying whichever of the two activating on a case-by-case basis.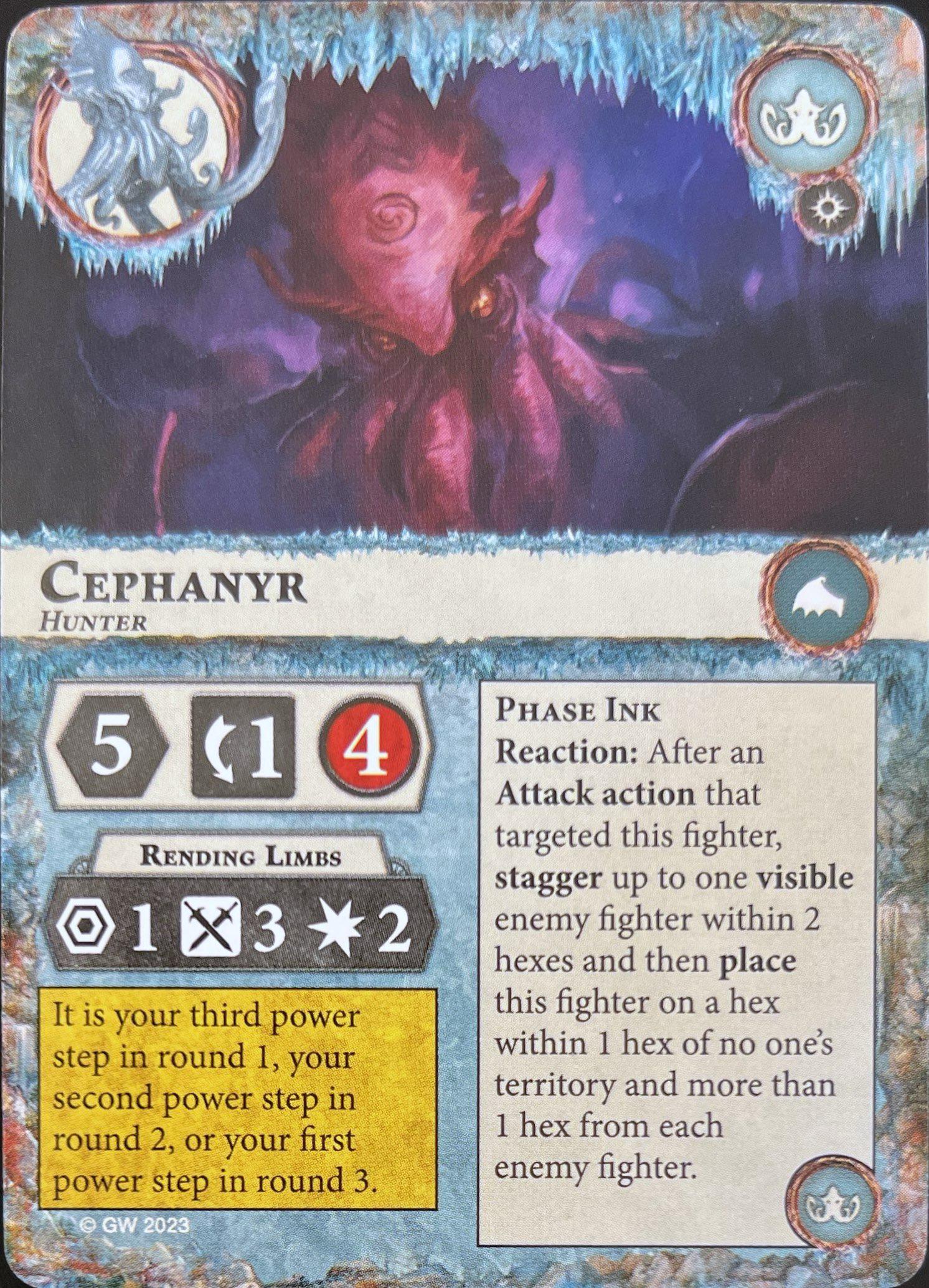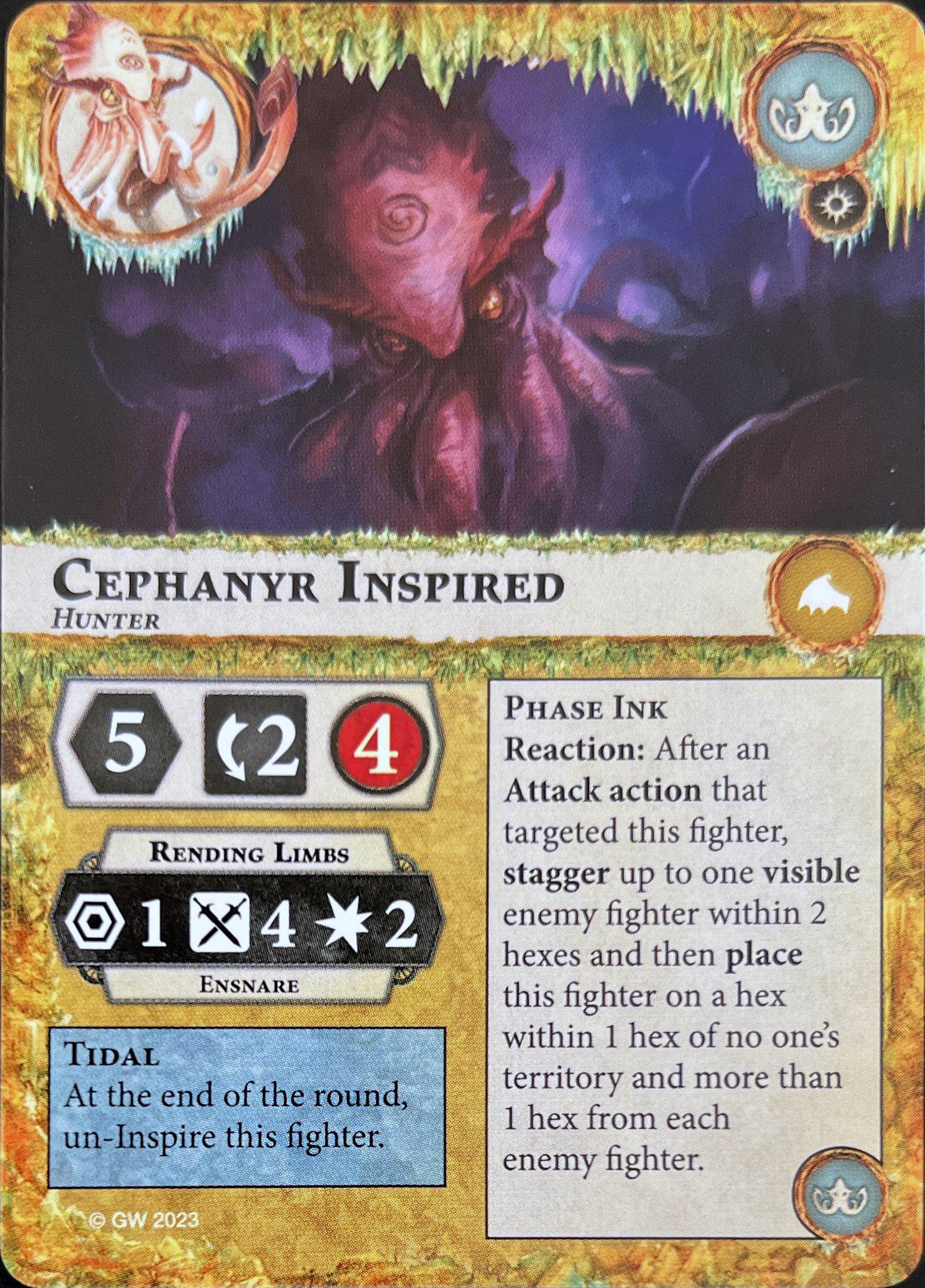 Finally, the fighter you've all been waiting for: Cephanyr the squid. Crab, fish, and now squid, but man have they artists outdone themselves this time, fantastic sculpt. As far as gameplay, he's actually not a beast and has the hunter keyword, as well as the flying trait. While hunter doesn't really do anything anymore, flying is going to be pretty useful given the increase we will be seeing in blocked hex play. Funnily enough, he's the fastest of the bunch when uninspired, starting at Move 5 for some phenomenal mobility. He's got just 1 Dodge in defence, but 4 Wounds to keep him kicking for a bit. He's also got a solid attack profile at 1R/3S/2D. The most intriguing thing here is the Phase Ink ability, which allows him to stagger a visible enemy fighter within 2 hexes, then teleport within 1 hex of no one's territory after an attack action targeted him (as long as he is not placed adjacent to any enemy fighters). Notice that he gets to use this whether or not the attack succeeds as well, which is awesome. This is a great way to get some accuracy out while also setting up positional scoring. Make this guy the danglebro against Exiled Dead players, then just poof away after the first attack in their superactions. Mastery of setting up and using this ability will be key to unlocking the efficiency of the warband, particularly in regard to their accuracy, which is notably lacking compared to Soulraid. It also opens up potential denial opportunities (mostly for horde warbands) on offsets if you can potentially box in no one's territory so that there's nowhere for the squid to run to. I like this ability a lot, really well-designed and requires a lot of thinking on both sides to figure out where he's trying to go. He gains quite a bit when inspired, going to 2 Dodge while also gaining an extra die and ensnare on his attack profile, making him a great target for grievous effects. That being said, I think there's a case to be made that you want to be using him in the activation leading into your inspiration, as you can leverage his superior defensive capabilities (compared to the rest of the warband) while potentially setting up staggers for the rest of your soon-to-be-inspired fighters. Definitely my favorite fighter in the warband, perhaps in the box, they really nailed it with him.
Objectives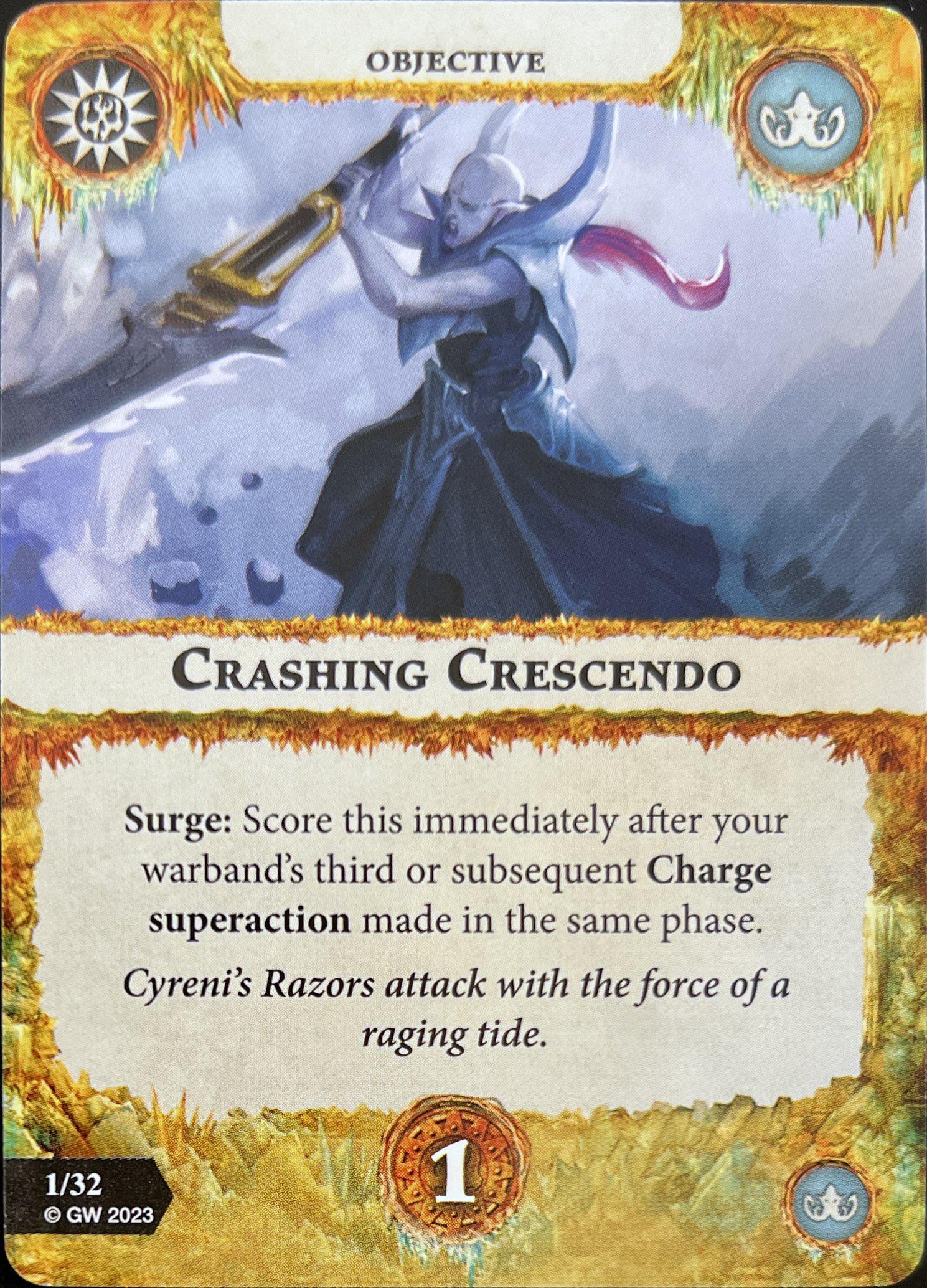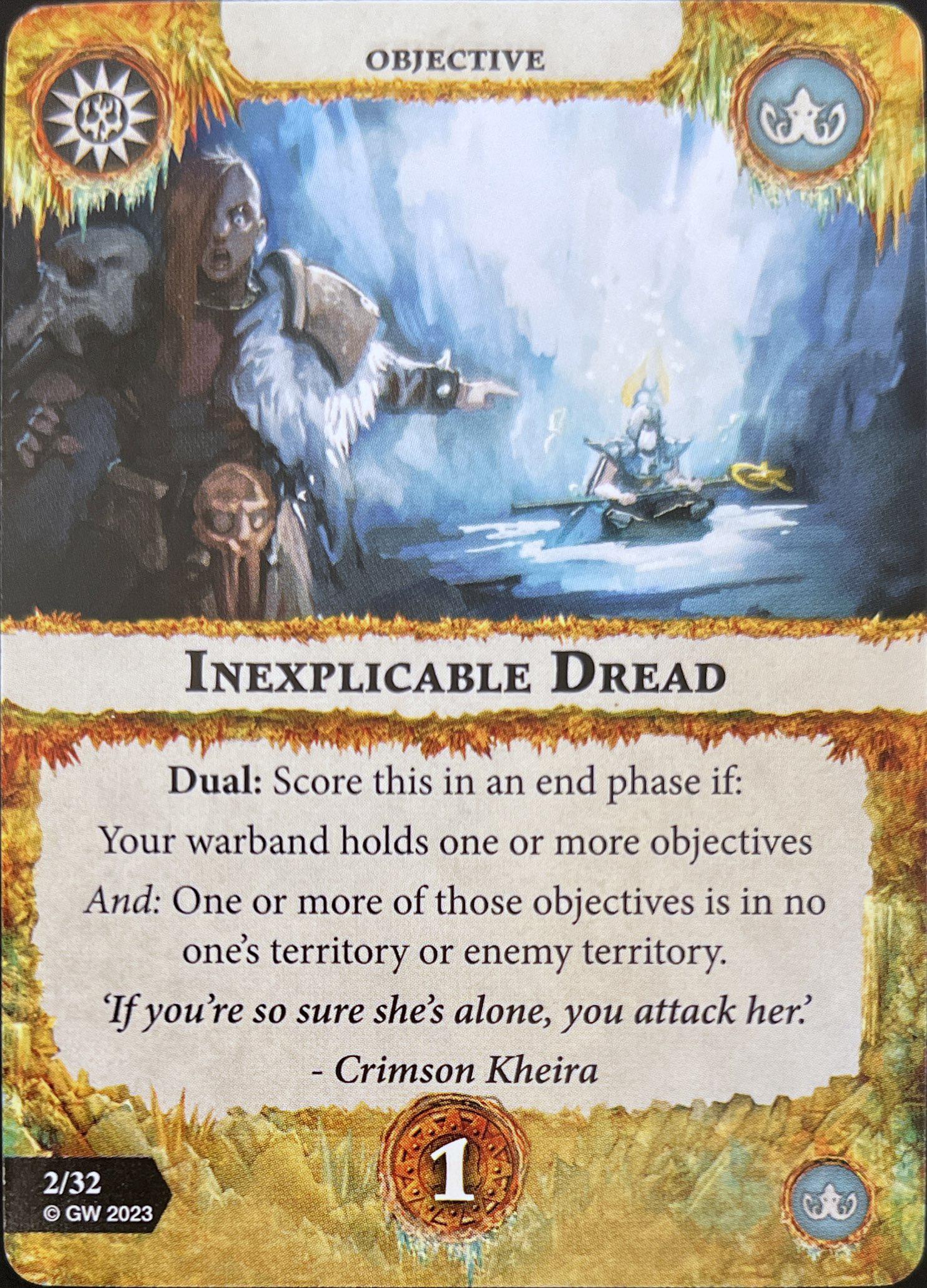 Our first card sets the tone for the warband with Crashing Crescendo, a surge which scores after your warband's third or subsequent charge superaction in the same phase. As we've seen with previous versions of this card, such as [
No Escape]
, the reliability of the card is pretty heavily dependent on when you draw it. If you get it in Round 1, then wonderful, you're scoring that glory no problem (with the exception of a select few matchups/board configurations). However, this warband is not so bulky that you can expect to have a third fighter to charge with come R2A3. These types of cards are often pretty hard to rank and land somewhere on the borderline of something you'd include in a Championship deck. You might just have to deal with the variance in the more restrictive formats, as non-kill glory in Nemesis is often pretty desirable. I will say that the Hammertide ability will sometimes present itself as a safer means of setting up damage and subsequent attacks, so that may hinder the progress towards making those charges.
Power Ceiling: 2, Consistency: 2
Next, we have Inexplicable Dread, a 1-glory end phase for holding one or more objectives in no one's or enemy territory. Since this warband seems to be heading towards something of an "invading aggro" playstyle, you ought to be spending a lot of time going forward anyway, so aggressive and accessible objective token placement makes sense. It's always nice to have some non-kill related glory in the end phases against more passive matchups where early game attack actions are tough to manufacture and this card is particularly nice in those cases while also being perfectly doable into more engagement-focused warbands.
Power Ceiling: 1, Consistency: 3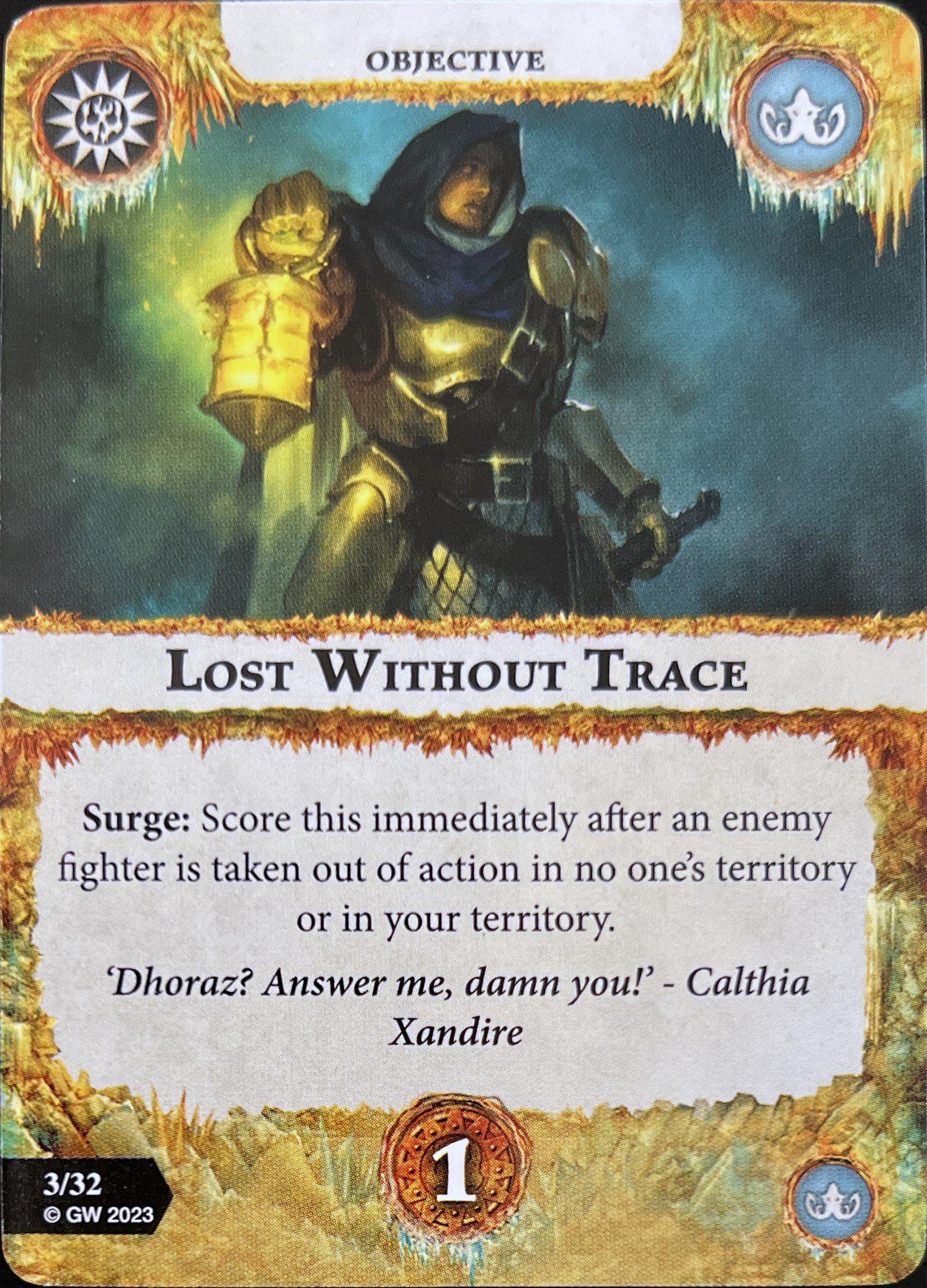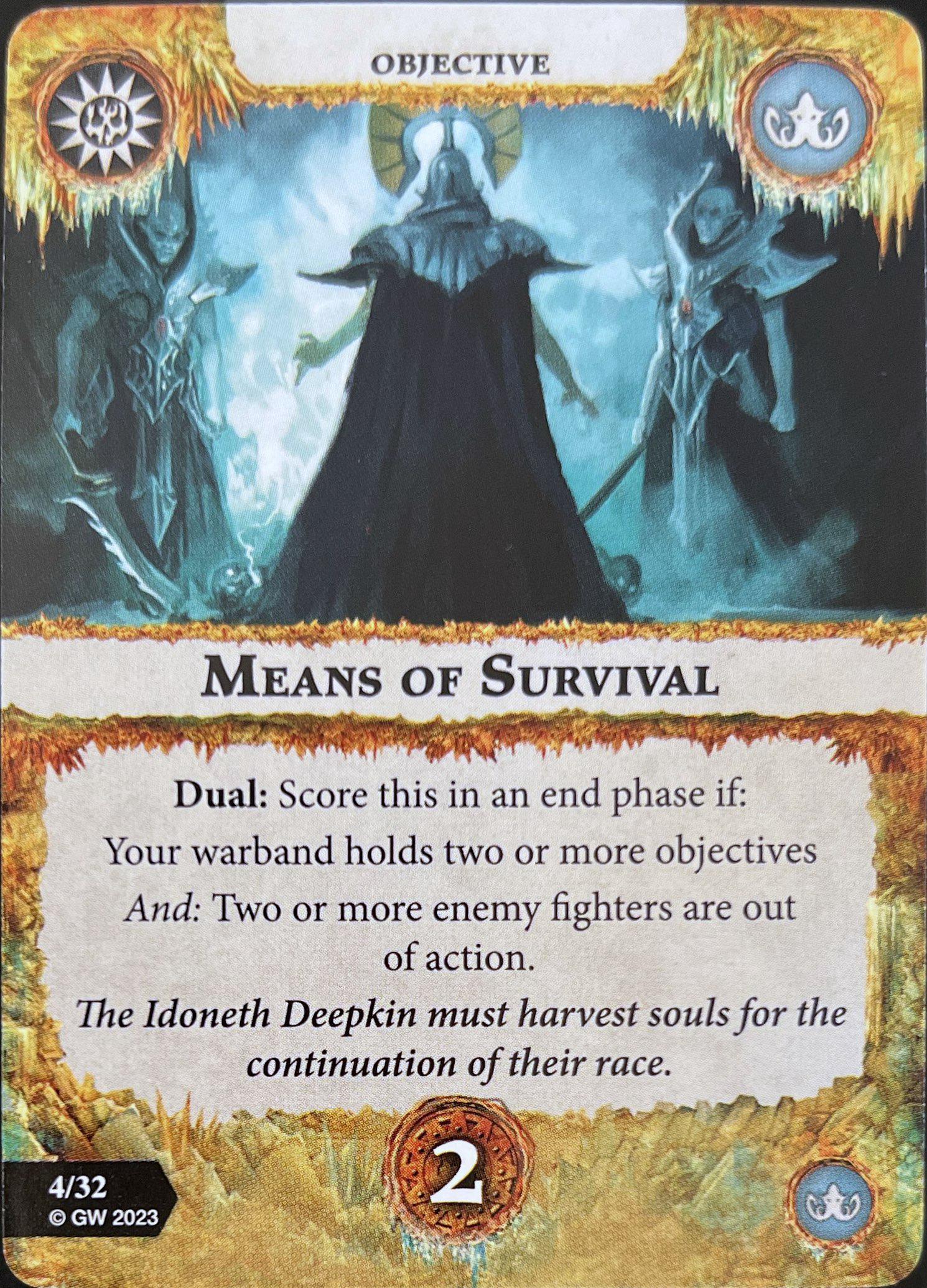 Somewhat counter to our previous entry, Lost Without Trace requires you to take an enemy fighter out of action either in your territory or in no one's. Note that this just requires the fighter to be taken out of action, so, unlike a number of kill surges, this one can be satisfied not only by attack actions, but also power card damage and even lethals. This increases the flexibility but I think does not quite offset the inherent downside of the card. While it is rare that your opponent will not need to come forward to score, waiting on them to do something specific positionally can be extremely clunky for objective decks. Cards which score for killing enemy fighters in enemy territory provide more direct synergy with your gameplan while also not requiring as much from your opponent with respect to positioning, as their fighters naturally start over there anyway.
Power Ceiling: 1, Consistency: 1
Means of Survival is actually a [
Path of Order]
 reprint, a card that ran into the classic trouble of objectives that require certain numbers of enemy fighters out of action: they are heavily matchup-dependent. The outlook for this card when you line up across the table from something like Plaguepack is drastically different if it's Krushas instead. Holding 2 objectives for 2 glory is really good payoff, but the setup could either be really easy or really difficult. This card seems like a natural fit in terms of playstyle, I just worry about the practical aspects of trying to score it.
Power Ceiling: 2, Consistency: 2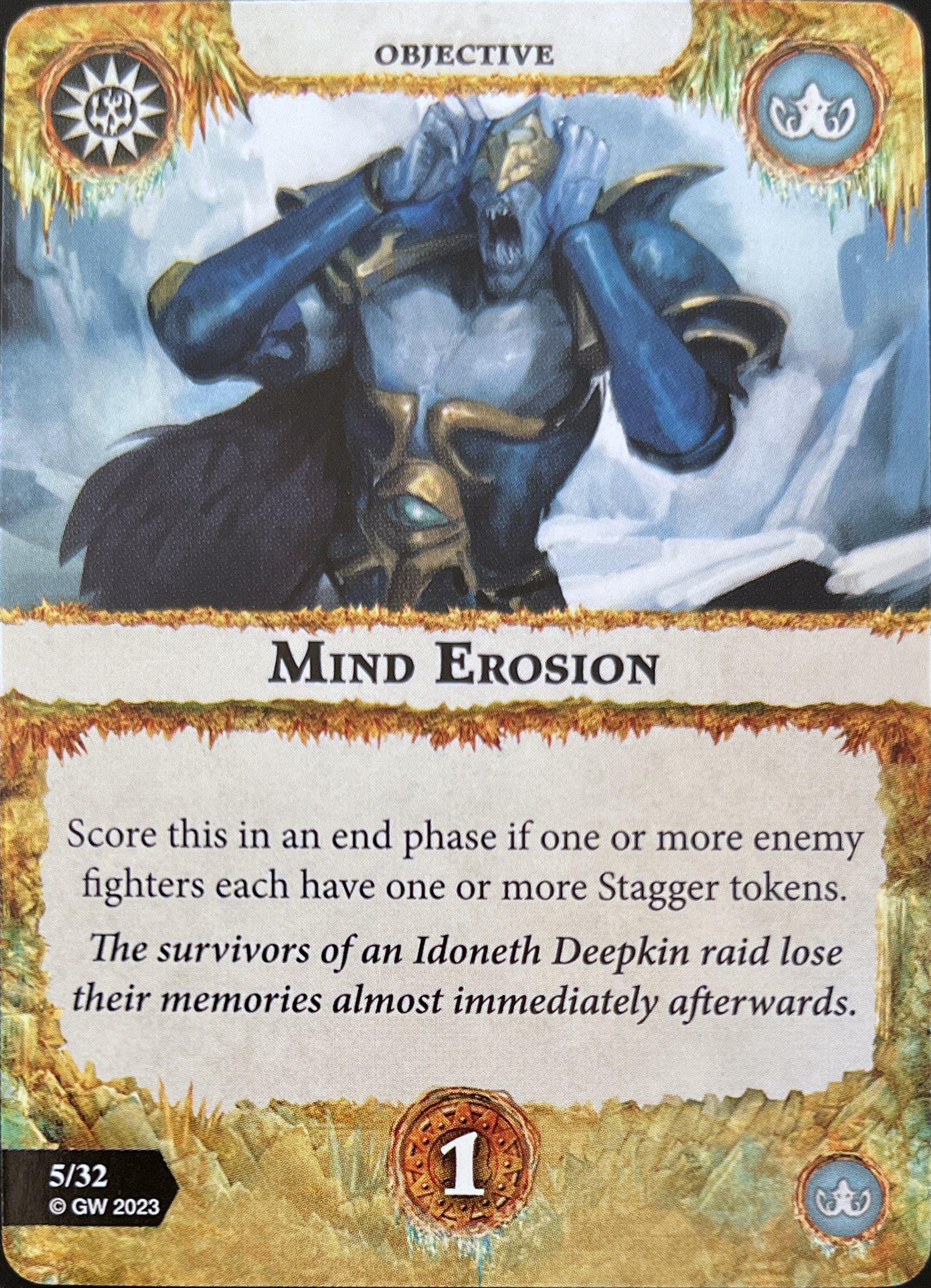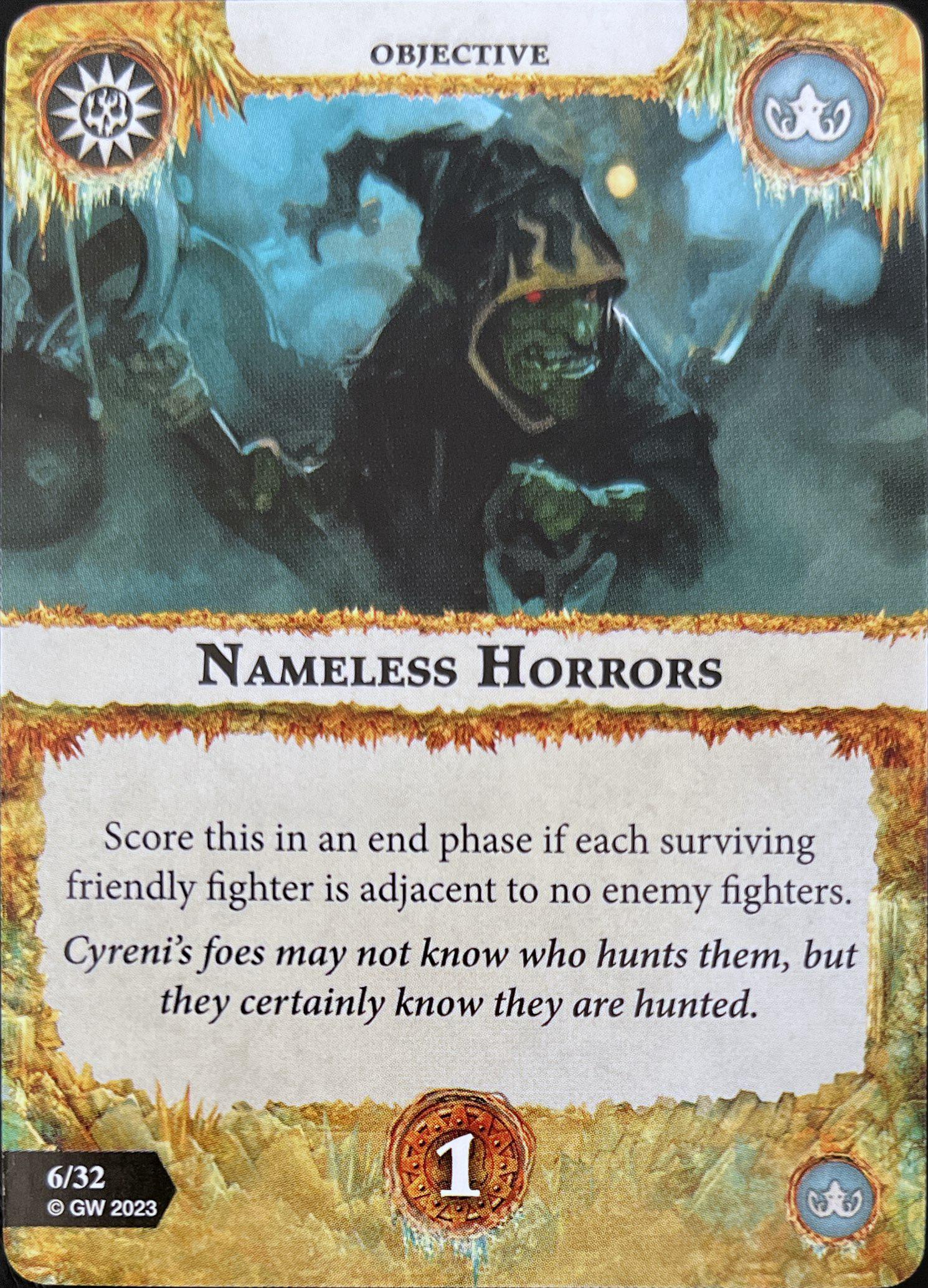 Our next end phase card is Mind Erosion, which rewards you with 1 glory for having one or more enemy fighters with stagger tokens. Clawpack players sneer with envy as this is just an easier version of [
Rattled]
. As I've mentioned several times previously, stagger builds often run into an issue where you'd rather be leveraging the accuracy bonus to pick up kills instead of leaving them alive for your end phase scoring. That being said, with the variety of options you have in-faction to stagger people (specifically the rangeless Hammertide), as well as powerful cards universal cards like [
No Safe Ground]
 and the fact that delve staggers people, having just 1 guy staggered is very doable. You do run into those issues where you've tabled your opponent already and can't score this, but often those board states mean you won't have needed this one glory anyway. All in all, it's not bad, but I'd like to shoot for other 1-glory end phases first.
Power Ceiling: 1, Consistency: 2
In a little bit of an echo to [
Utter Isolation]
, we have Nameless Horrors, which scores for having each of your friendly fighters adjacent to no enemy fighters. While you do have a lot more control over this than the aforementioned [
Utter Isolation]
, I think taking this kind of objective demands a bit more upside than just a single glory. This is especially true in a world where there are a number of popular universal cards which deny you the ability to push a fighter, as well as the "no driveback" aspect of Voidcursed Thralls. These, combined with a variety of solid push and/or movement tech cards, mean that you're actually trying harder these days to meet this condition, but doing so with the disadvantage of only securing 1-glory payoff. While this is still quite doable with your aggro gameplan (since you will be killing fighters anyway), I'm not scrambling to include this in every deck.
Power Ceiling: 1, Consistency: 2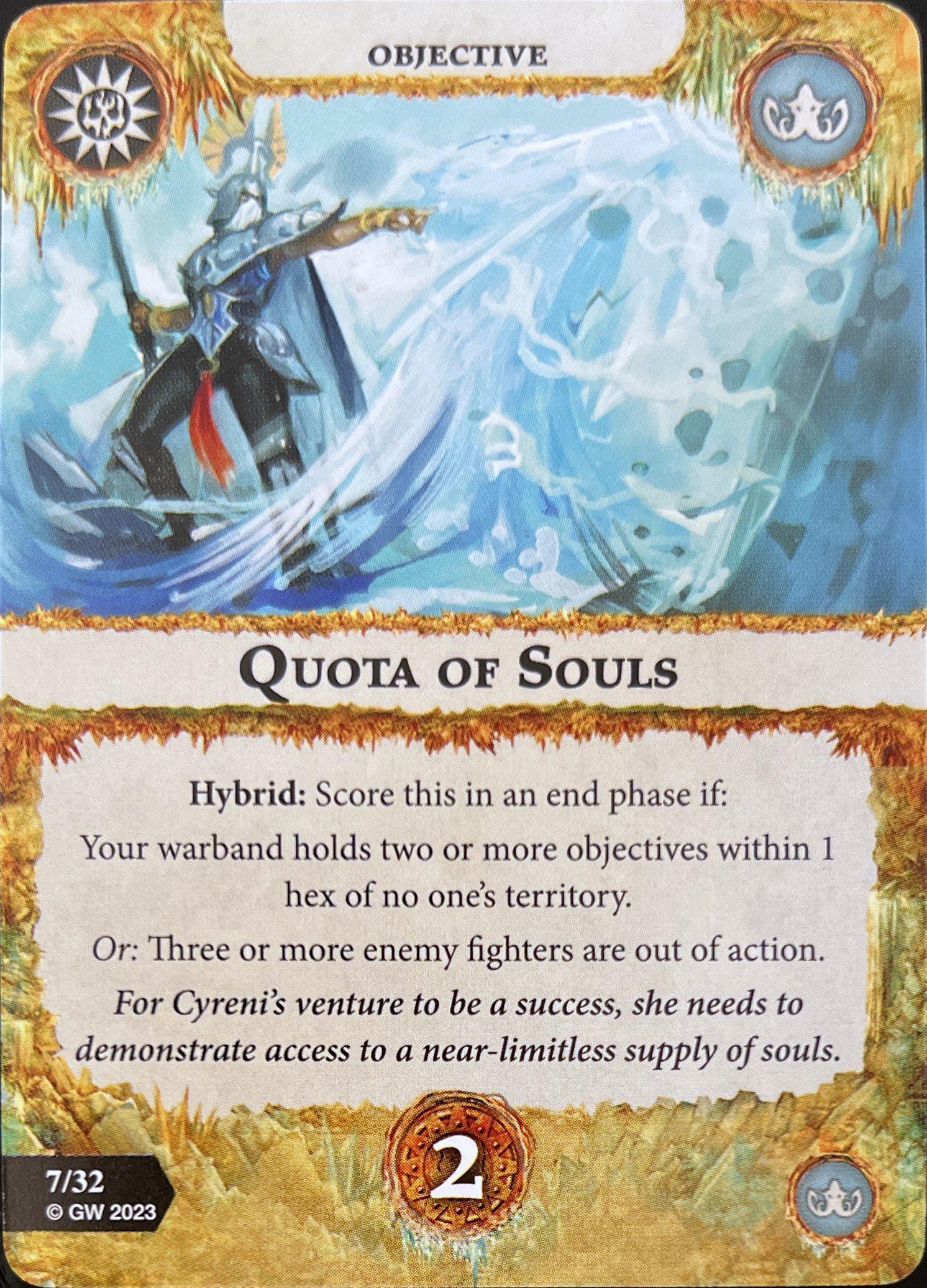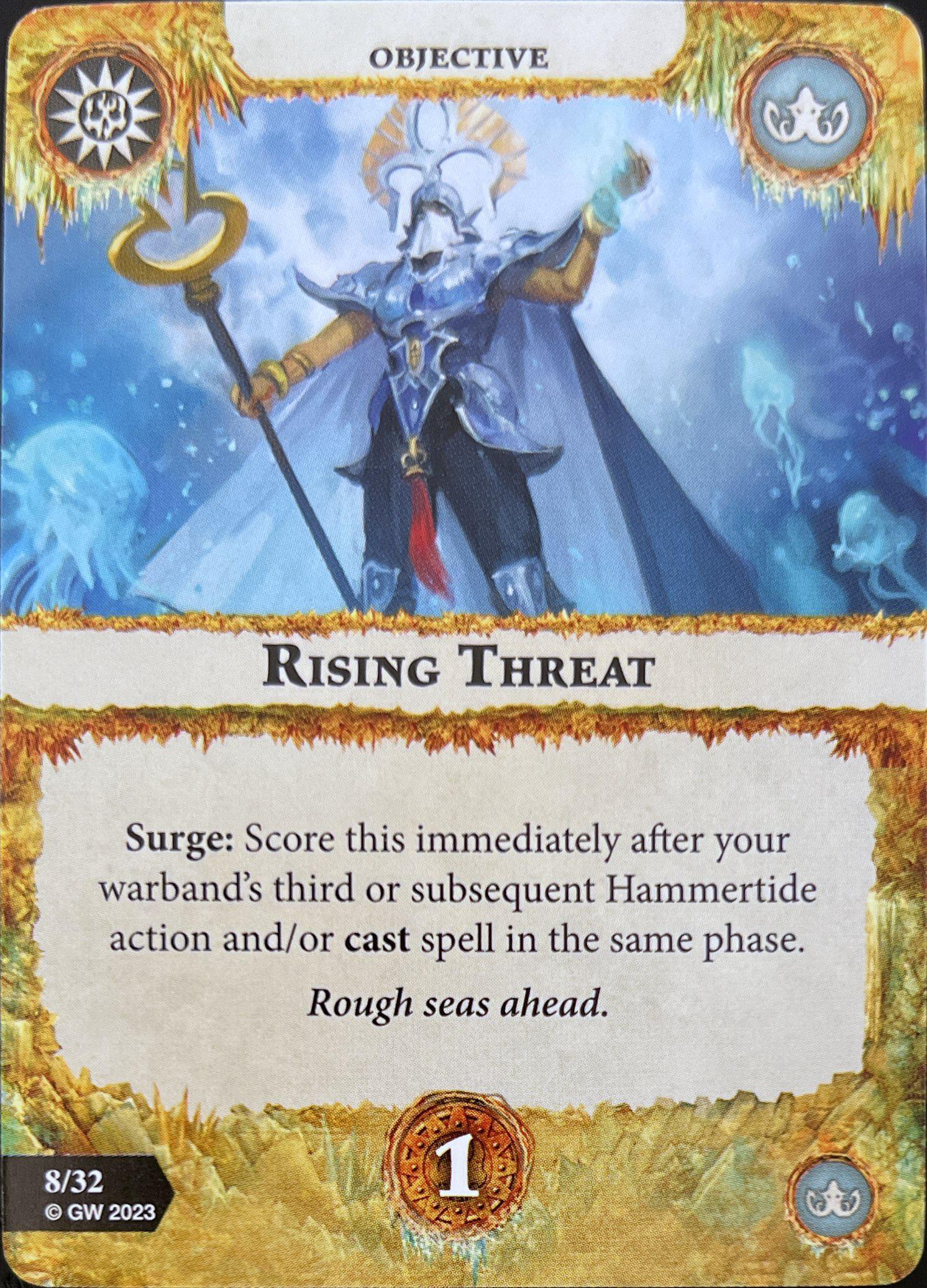 Quota of Souls is another end phase card, this one scoring for 2 glory if either three enemy fighters are out of action or your warband holds two or more objectives within 1 hex of no one's territory. I like that they've added a hybrid condition on this one, as the main knock against the "three out of action" objectives is that they are often matchup- and draw-dependent. While holding two objectives within 1 hex of no one's territory does require some consideration during board and token placement, the ability for Cephanyr to teleport into the midline for an extra hold to cap this off is nice support. The flexibility of conditions here also allows you to score it either early or late, reducing its draw dependency when compared to cards like [
Nagash's Will]
.
Power Ceiling: 2, Consistency: 2
Rising Threat is a surge for making your third or subsequent Hammertide and/or cast spell in the phase. This one is definitely pretty build dependent. You've got some decent in-faction spell stuff and a nice level 2 caster, but realistically I'd say you want to be leaning heavily into the universal pool for spells to cast if you want this to reach the required level of consistency. In Nemesis, this basically means you took Seismic Shock as your Rivals deck, which I think is not really lining up to be their best option. Interesting case of a faction card being a better option in Championship than in Nemesis, but I think that's what we've got here. I could be sizing this up incorrectly, but I just feel like casting will be a secondary consideration for the warband in favor of more standard "good" cards like [
Centre of Attention]
, [
No Safe Ground]
, [
Freezing Venom]
, etc. Still, "play cards, score glory" is always worth considering, I just think it revolves a bit too heavily around the leader for a warband that seems to want to operate more like a standard 4X4 warband (yes, I know they don't all have 4 Wounds) and demands too much from your power deck.
Power Ceiling: 2, Consistency: 2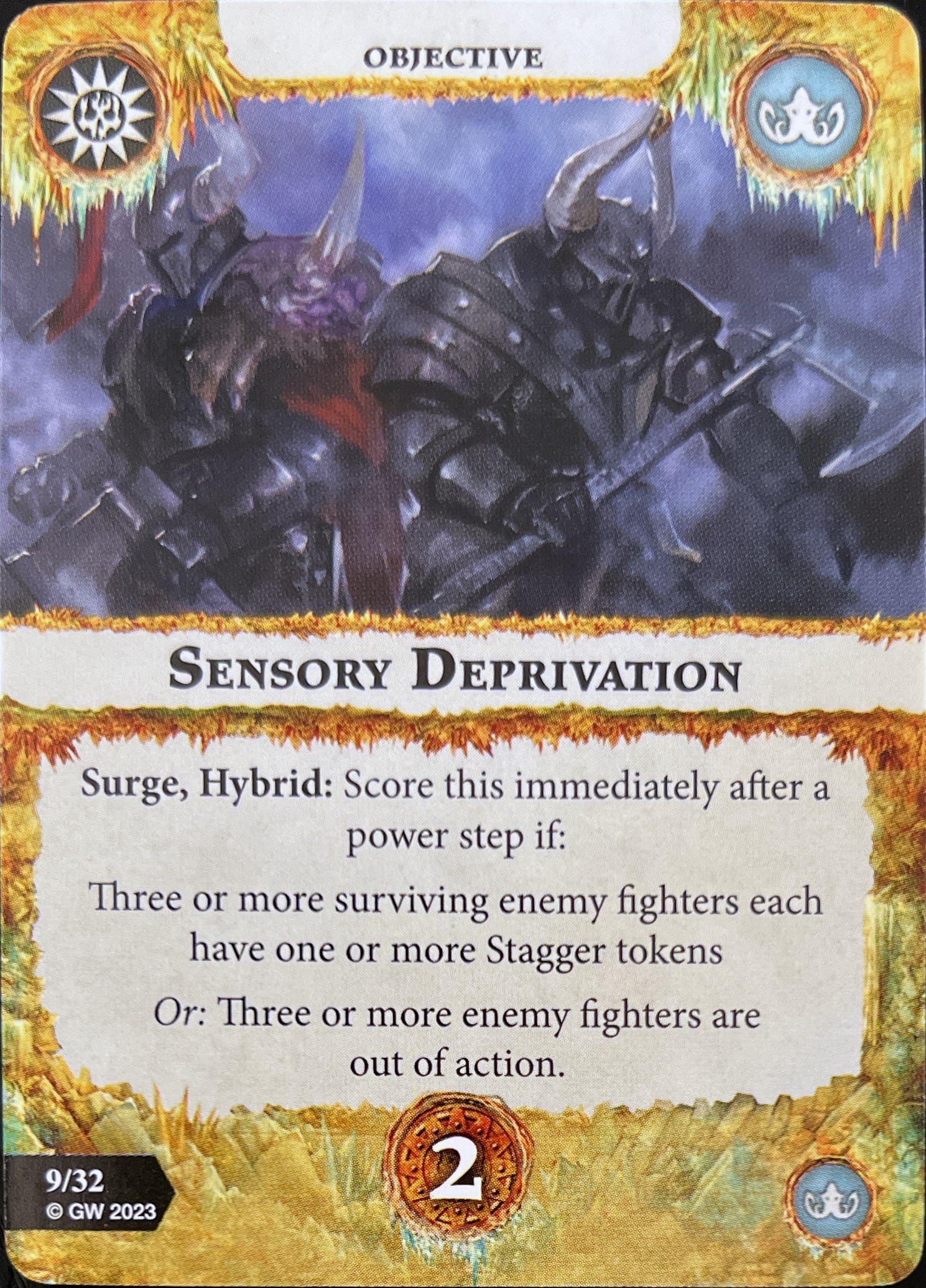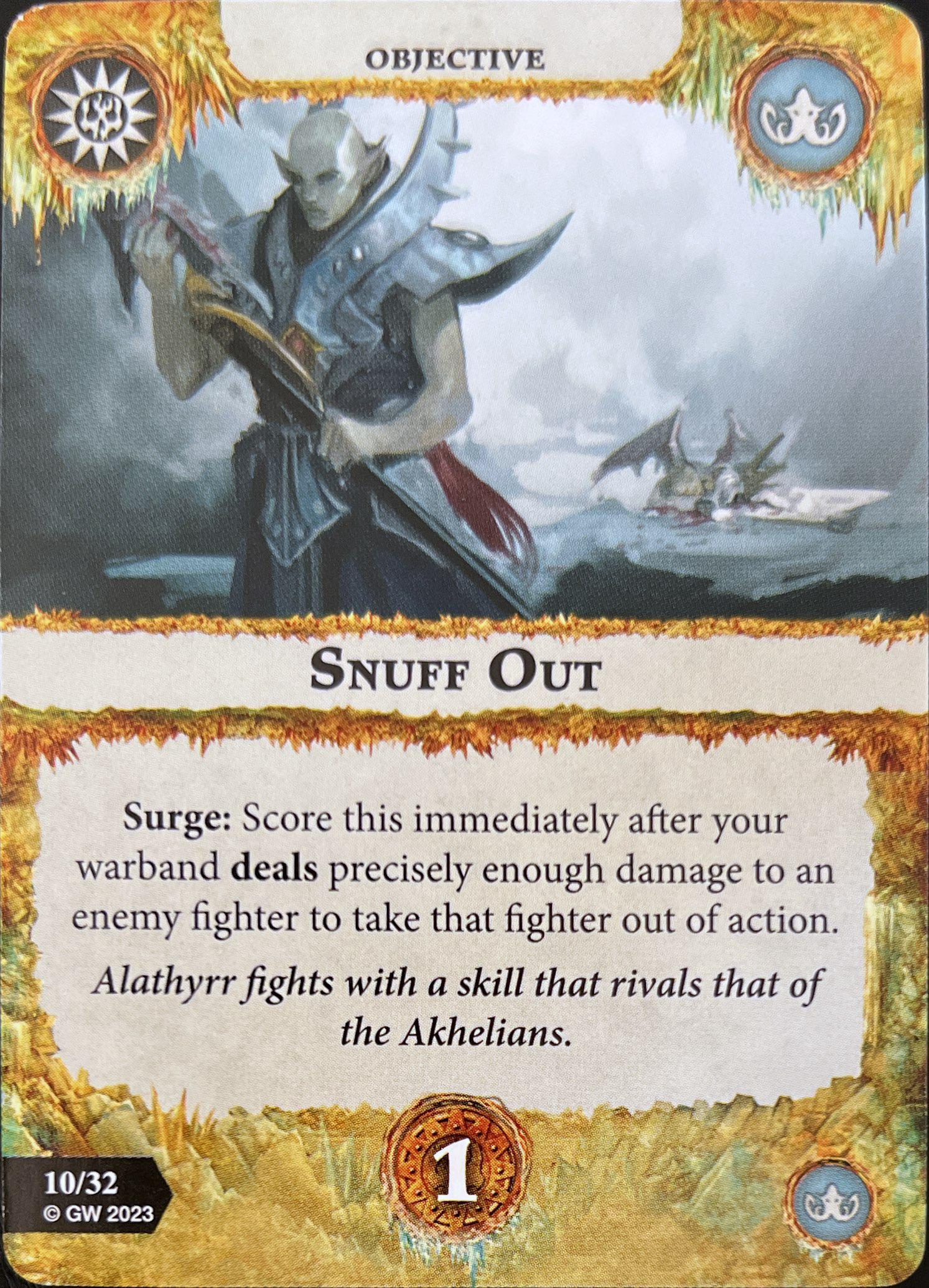 Sensory Deprivation is the warband's 2-glory surge, scoring after a power step either if three or more enemy fighters have stagger tokens or three or more enemy fighters are out of action. If Clawpack players were jealous before, we're tearing our hair out over this one. We've been clamoring for a surge based on staggering fighters for ages and they finally release one and limit it just to a single warband. They even balanced out the back end issue of not having enough fighters to stagger with the "three out of action" condition. There might be some awkwardness against opposing 4-fighter warbands if you've killed 2, but this looks pretty well-oriented toward a first or third round score. For 2 glory, I think I'm willing to roll the dice on this one. Hammertide, Phase Ink, and some of the solid stagger effects that now exist in the universal pool make this very intriguing. Fair warning, this gets a bit more suspect in Nemesis and Rivals due to losing access to the wider universal pool.
Power Ceiling: 3, Consistency: 2
Snuff Out is another kill surge for taking an enemy out of action by dealing precisely the required damage with your warband. While you'll note the wording prevents you from using lethals to pull off the kill, the fact that you can use ping gambits or non-attack damage (like Hammertide) to score it opens up a lot of angles. While I'm not the type of guy to plug in a bunch of kill surges, the variety of damage potential for the warband makes this one a solid option. I like the idea of finishing off a vulnerable fighter through non-attack damage and further capitalizing with a surge, it's kind of like [
Sudden Demise]
-lite.
Power Ceiling: 2, Consistency: 2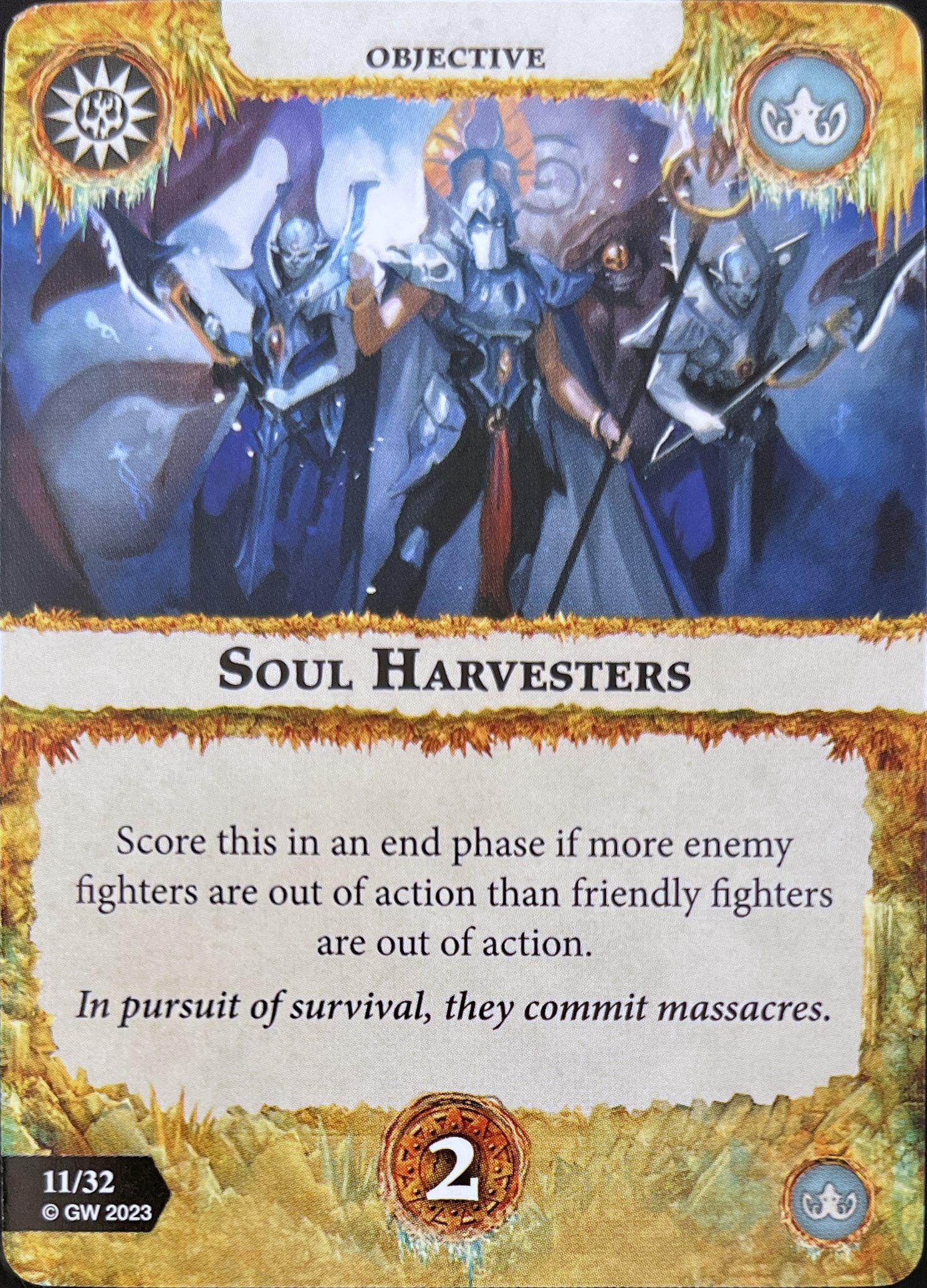 EDITED: Soul Harvesters is a pretty classic aggro objective, scoring for more enemy fighters being out of action than friendlies. If you're seeing a lot of hordes, this gets fairly doable, as, for example, killing more Gitz than they do of you should be pretty automatic. However, I think your thralls are squishy enough that, in an elite-dominated meta, you may want to avoid this one. It's a far harder meta call than most, and the lack of any hybrid condition makes me lean toward something like Quota of Souls instead.
Power Ceiling: 2, Consistency: 1
Our final objective is Tsunami Strike, a surge for taking an enemy fighter out of action in enemy territory. Again, this is agnostic to how the fighter was taken out of action, which is a nice upgrade on older similar cards such as [
Brought to Bay]
. I discussed during the Lost Without Trace coverage that this is the preferable angle for your kill surge. Charging into enemy territory and killing stuff is far more dependable than waiting them to charge into yours, plus synergizes more generally with your invading aggro plan. In metagames where there are a lot of reliable surges, this one probably gets subbed out, but if you need to pull in 2 or more kill surges, I could see this being the second one.
Power Ceiling: 2, Consistency: 2
Our Favorites
Mark: Sensory Deprivation
Aman: Inexplicable Dread
Zach: Snuff Out
George: Quota of Souls

Gambits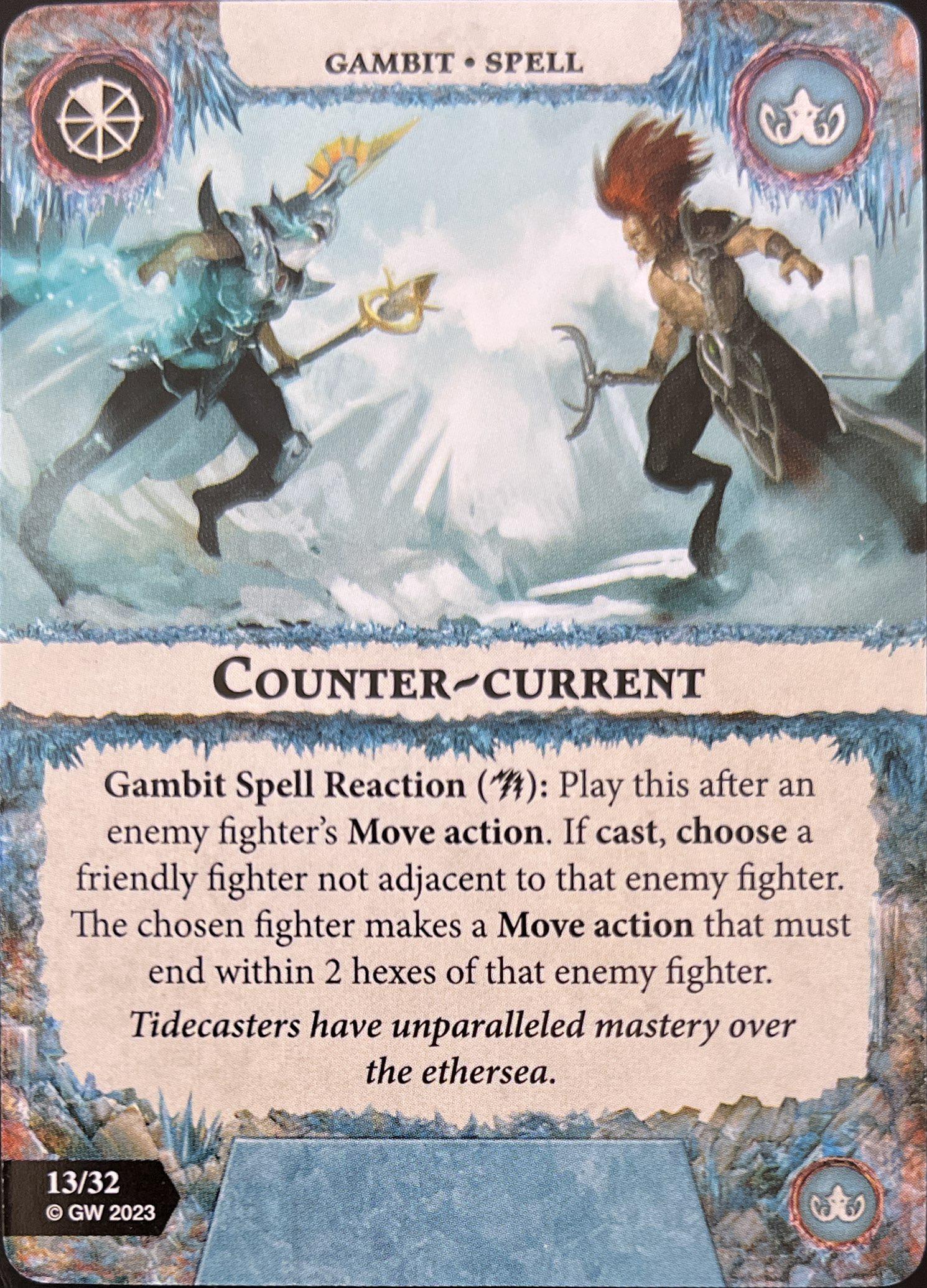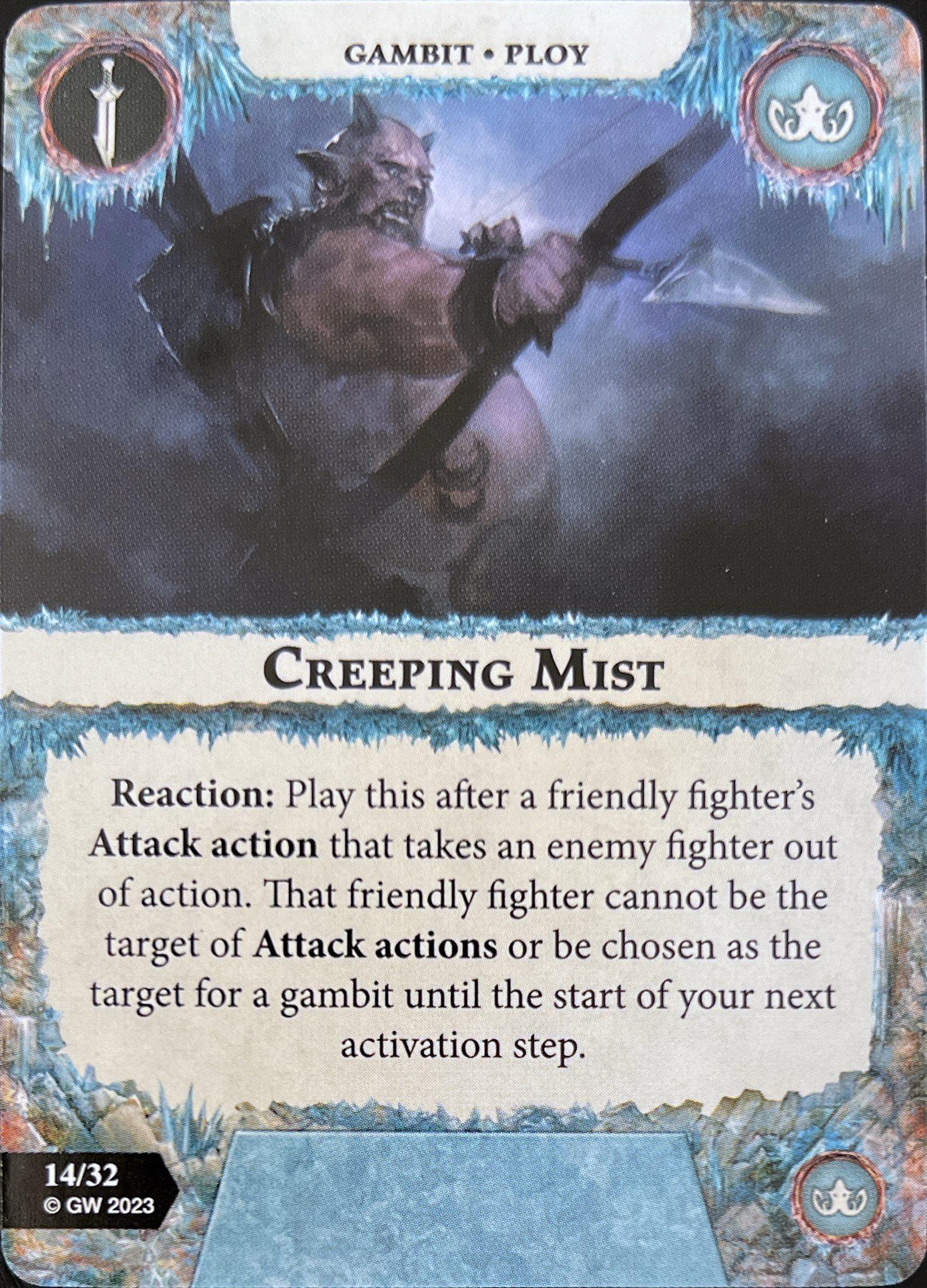 Our first gambit is a reaction spell in Counter-Current, which casts on a lightning and reacts after an enemy fighter's move action. It allows you to make a move action with a friendly fighter not adjacent to that enemy so long as you end your movement within 2 hexes of them. That's a lot of words, but you put the words "make a move action" on a gambit these days and I'm there for it. It's no secret I'm an absolute Voidcursed Thralls junkie and I think that deck actually pairs really well with what these Idoneth want to do. If you chain this reaction with the "refashioned" upgrades, you can still pull off some ridiculous positional shenanigans, including still chaining together an outmaneuver of an opponent's charge. Essentially taking activations on your opponent's turn is super valuable, especially with fighters that have already charged out. The downside of needing to keep Cyreni safe (and ideally with LoS to your fighters) and actually succeed on the cast is a bit of a ding on the consistency, but not by much.
Power Ceiling: 3, Consistency: 2
If you hated [
Cloud of Midnight]
, you'll be happy (maybe) to see a more toned down version of it in Creeping Mist. React to one of your fighters making a kill in order to proc the benefit on that fighter and you've got a solid card to cover an aggressive charge. I do think they may have gone a bit too far in the opposite direction here, however, as certain warbands will really hinder your ability to claim those kills, especially early in the game. You pull this in Round 1 vs. something like Krushas and it's hard not to feel like you've got a dead card in hand. The effect is so strong you may still take it, but the reliability is quite low compared to its predecessor. I think "after a friendly fighter's successful attack action" (kill or no kill) might've been a better midground.
Power Ceiling: 3, Consistency: 1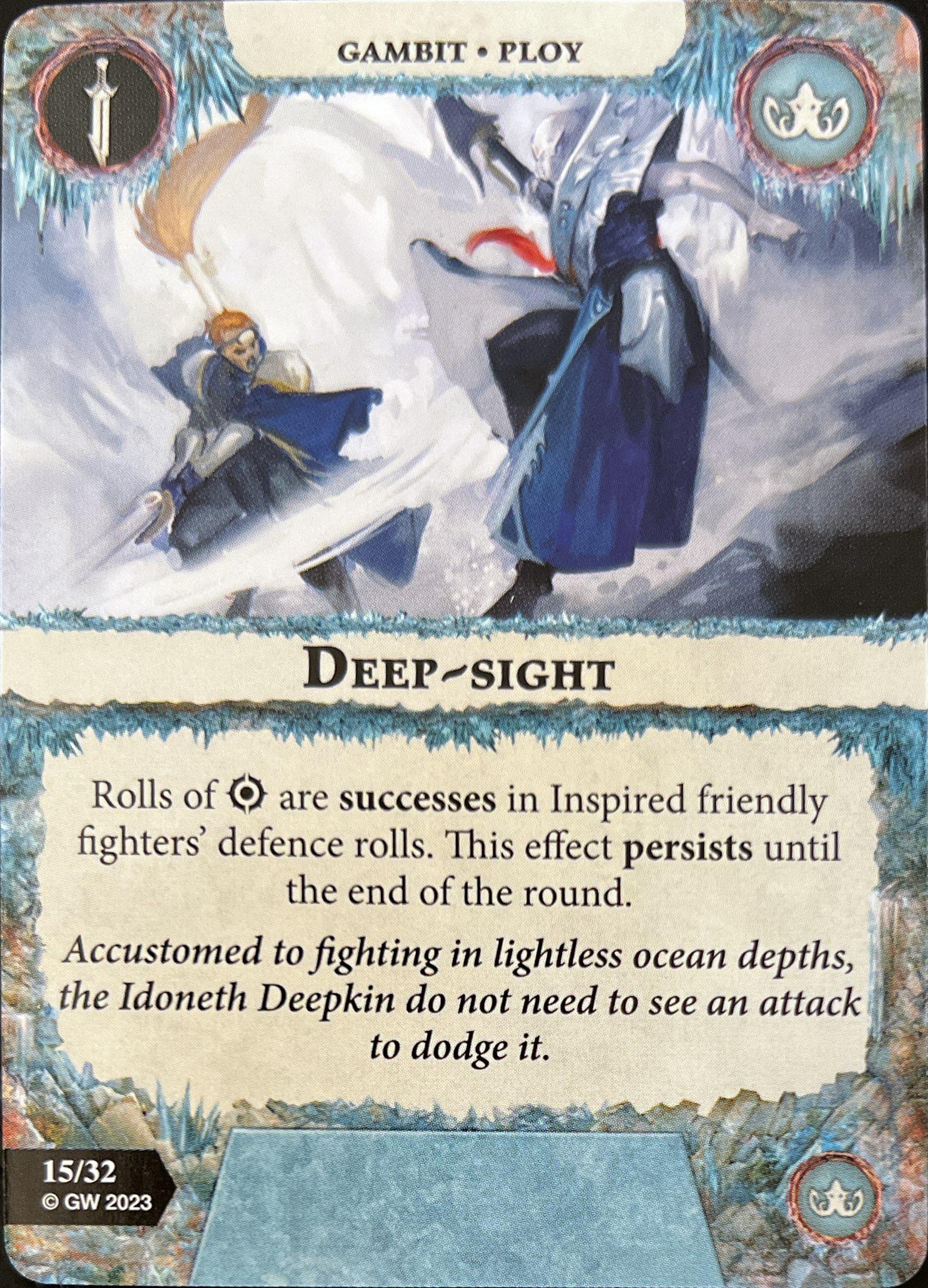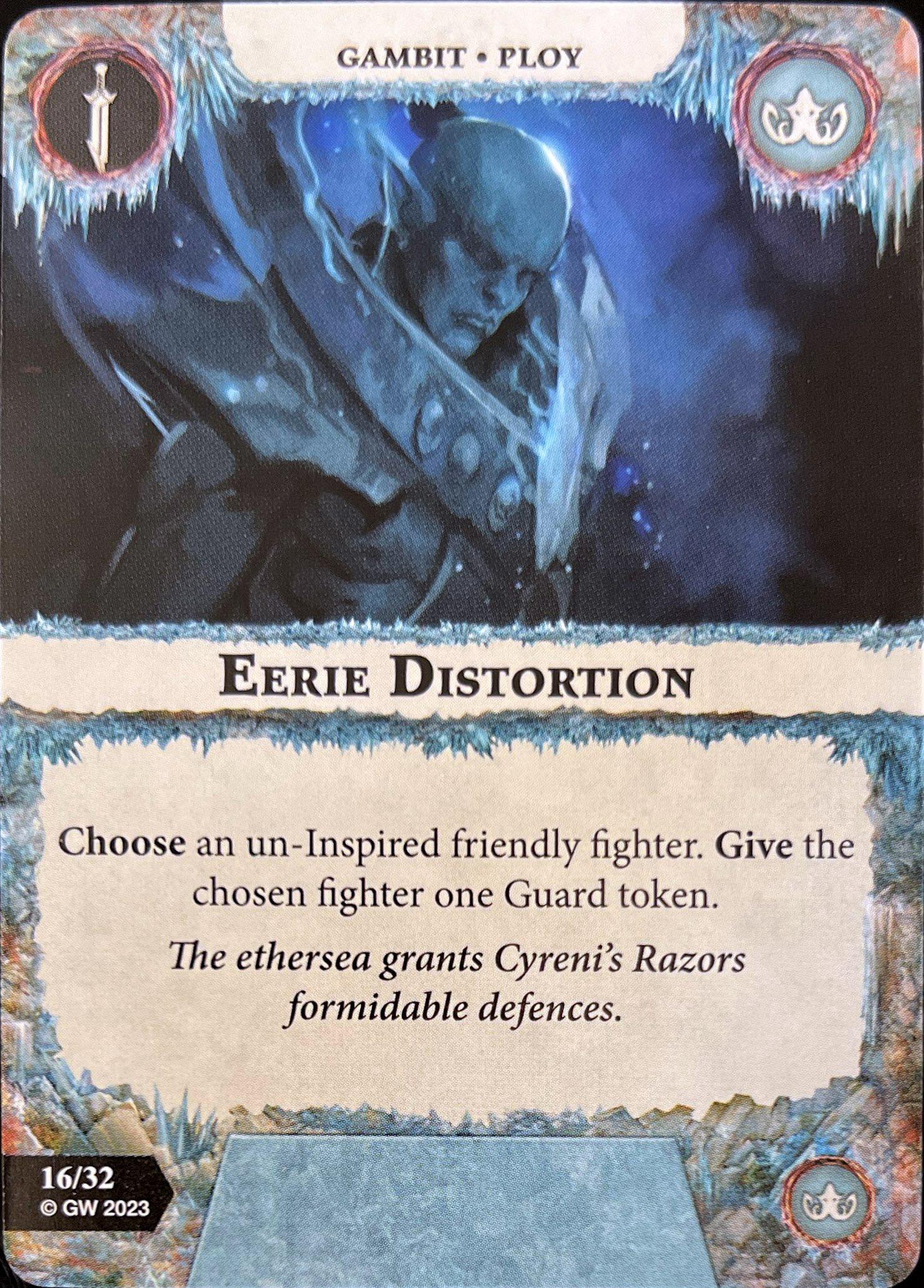 Deep-Sight grants your inspired fighters a small defensive buff in counting the full support symbol as a success. However, most of your fighters only roll one defence die, which, given that accuracy is far better now than in the days of everyone thinking 2H is an "accurate" attack, will often require to crit out anyway. The fact that this has the round dependent issue with your inspire condition further drives down the value for me, I just don't see taking this one.
Power Ceiling: 1, Consistency: 2
Conversely, Eerie Distortion allows you to give a guard token to one of your uninspired fighters. At least you will be uninspired to start every round, so you should get value out of this short of mid-round draw, but again you run into the issue where the warband largely rolls only one defence die. Yes, the no driveback aspect of guard is nice, but independent of the lack of need for guard tech in this warband, there are far better options out there if you really want some tokens.
Power Ceiling: 1, Consistency: 1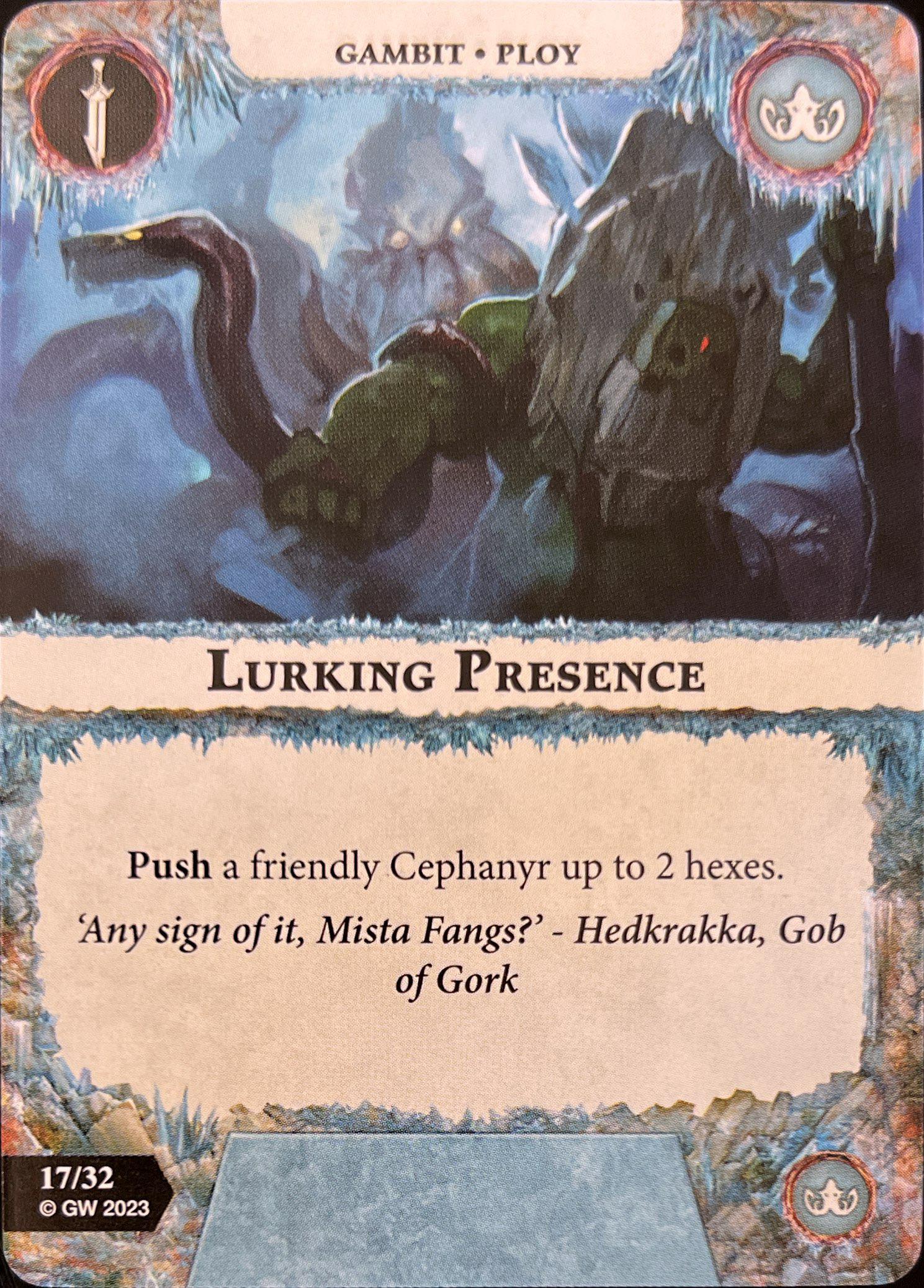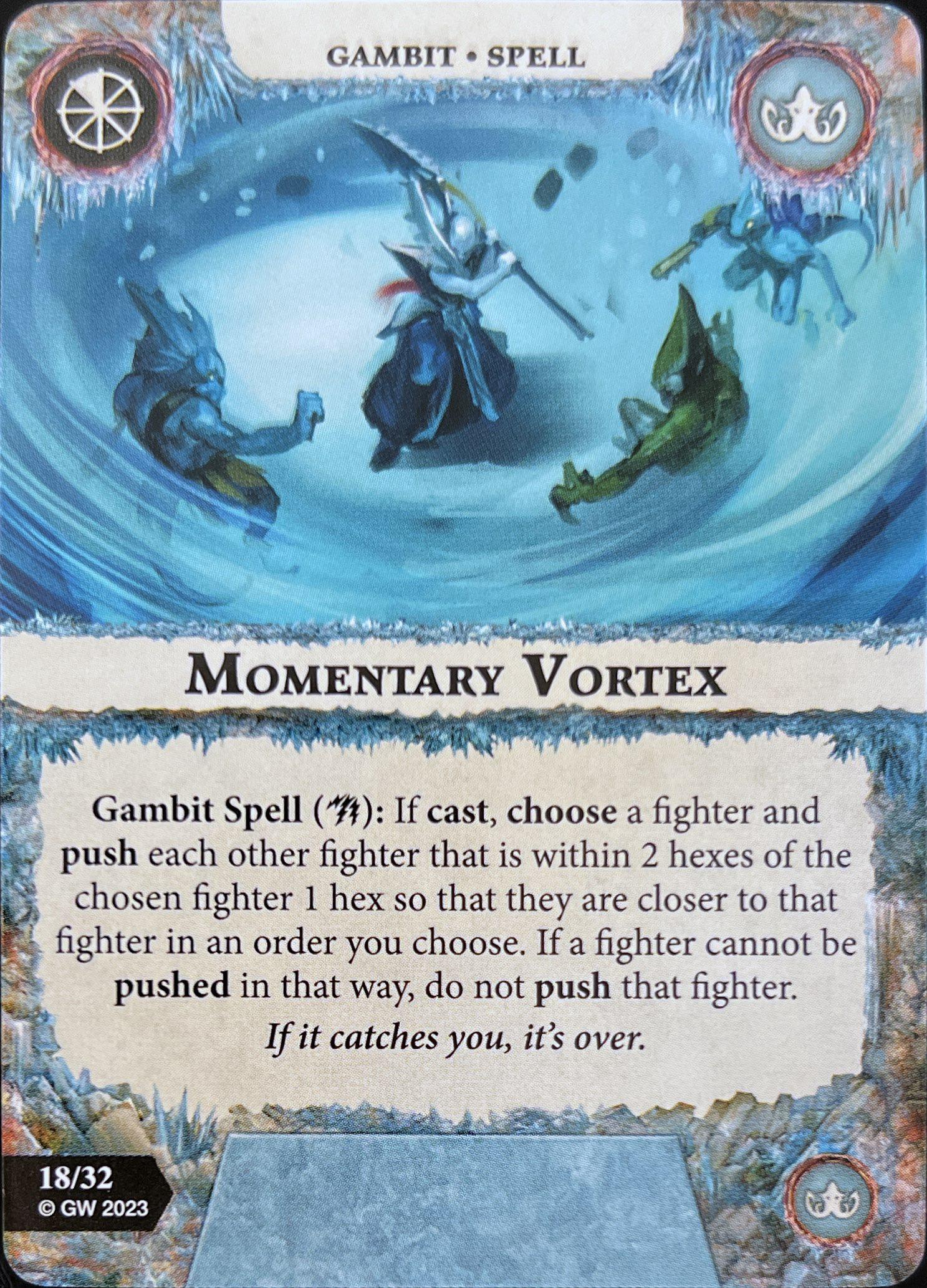 Lurking Presence allows you to push Cephanyr up to 2 hexes. Given he's one of your bulkier fighters, it's not necessarily a huge risk to take this card, but I'd generally prefer to opt for more flexible pushes here. Additionally, with how the more recent design has gone, I don't fully understand why this didn't get restricted to Cephanyr to allow you to salvage it if he's out of action. That increases the likelihood of carrying a dead card pretty significantly compared to a lot of fighter-restricted cards which have even more powerful effects than this. Not a huge fan of this one.
Power Ceiling: 2, Consistency: 1
Momentary Vortex is a gambit spell version of [
Centre of Attention]
 casting on a roll of lightning. Keep in mind that Cyreni does need to maintain LoS to the target in order for this to function correctly, but CoA has been a staple card for a really long time. It has the potential to disrupt the positioning of multiple fighters sitting on feature tokens, deny your opponent desirable attacks, and also set up scything and/or supported attacks for yourself. One of the most flexible pushes in the game, I think the slight reduction in consistency of linking it to Cyreni and a dice roll is hardly enough to diminish its value.
Power Ceiling: 3, Consistency: 2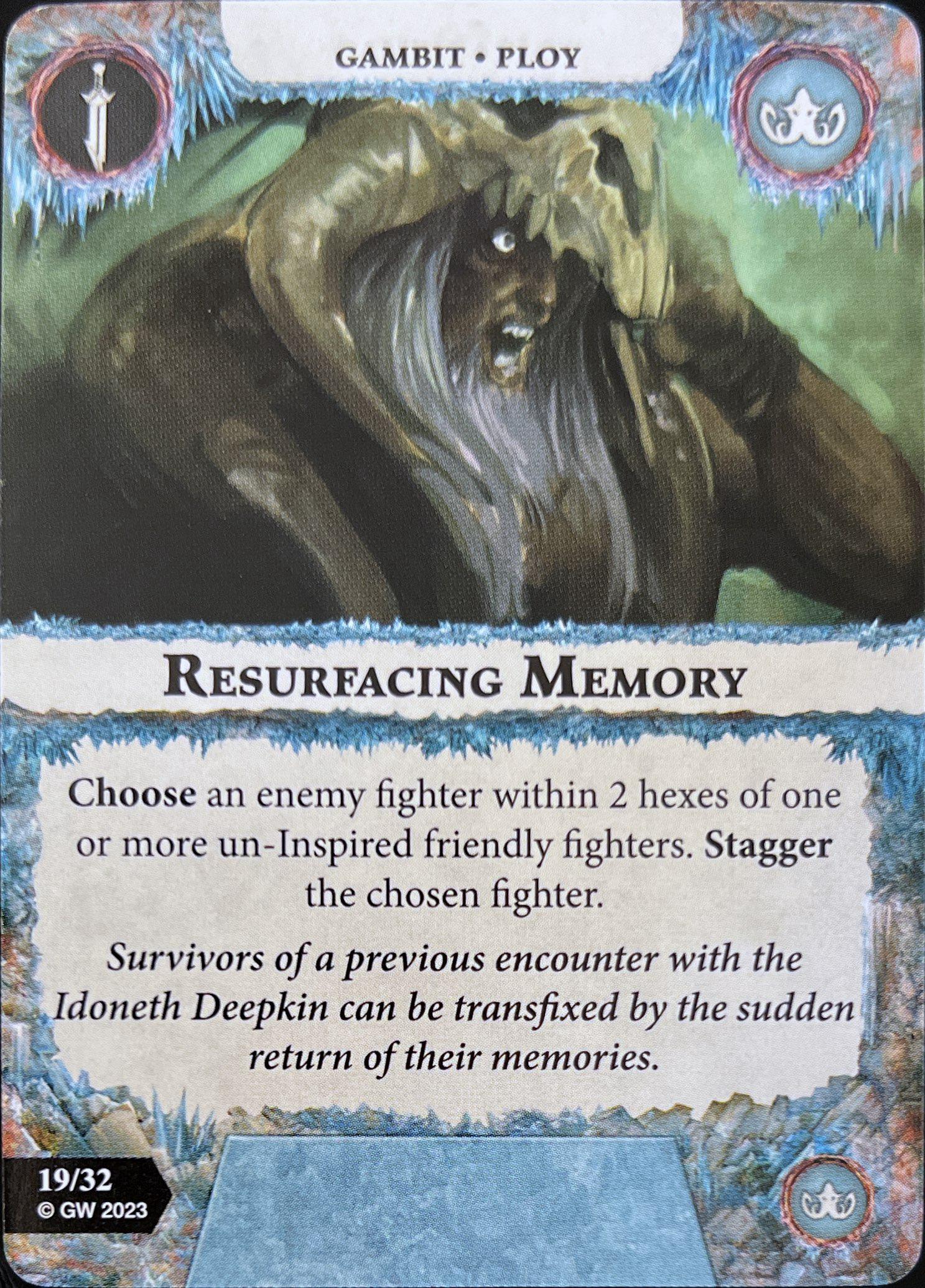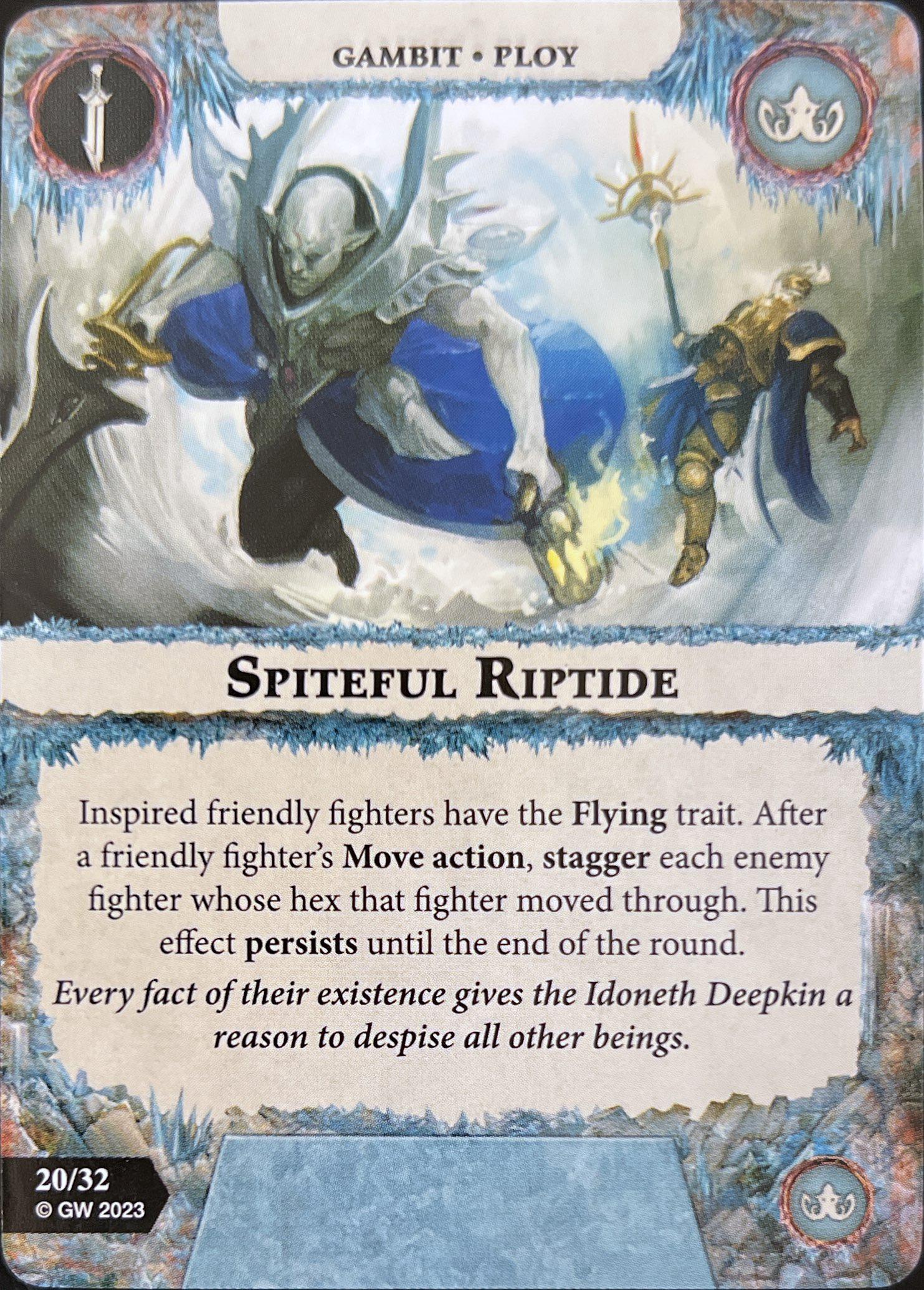 Resurfacing Memory is our next gambit, allowing you to stagger an enemy fighter within 2 hexes of one or more uninspired friendly fighters. This one is fine, it's just a question of how much stagger synergy you want to lean into. If you're playing Sensory Deprivation and/or other stagger synergies, I think this definitely has some value, but you have to be careful in the later rounds about using it before your inspiration kicks in, as you'll have fewer activations to set up the stagger. I do like stagger over re-roll gambits, but +Dice is generally a little easier to set up given the proximity requirement here. Still, a solid card, and you could very well hold onto it in a stagger-centric build around the in-faction objectives and cards like [
Opportunistic Reprisal]
.
Power Ceiling: 2, Consistency: 2
Spiteful Riptide gives your inspired fighters flying for the round while also staggering any enemy fighters they move through. This could be a pretty cute way to spread some staggers around, but it can be a bit slow to get going given the delay until inspiration to make use of the benefit. I don't know if you need this if you're planning to play the stagger objectives, but the increase in blocked hex availability does make the flying end of things interesting, even if it's something you're cutting in Champ.
Power Ceiling: 1, Consistency: 2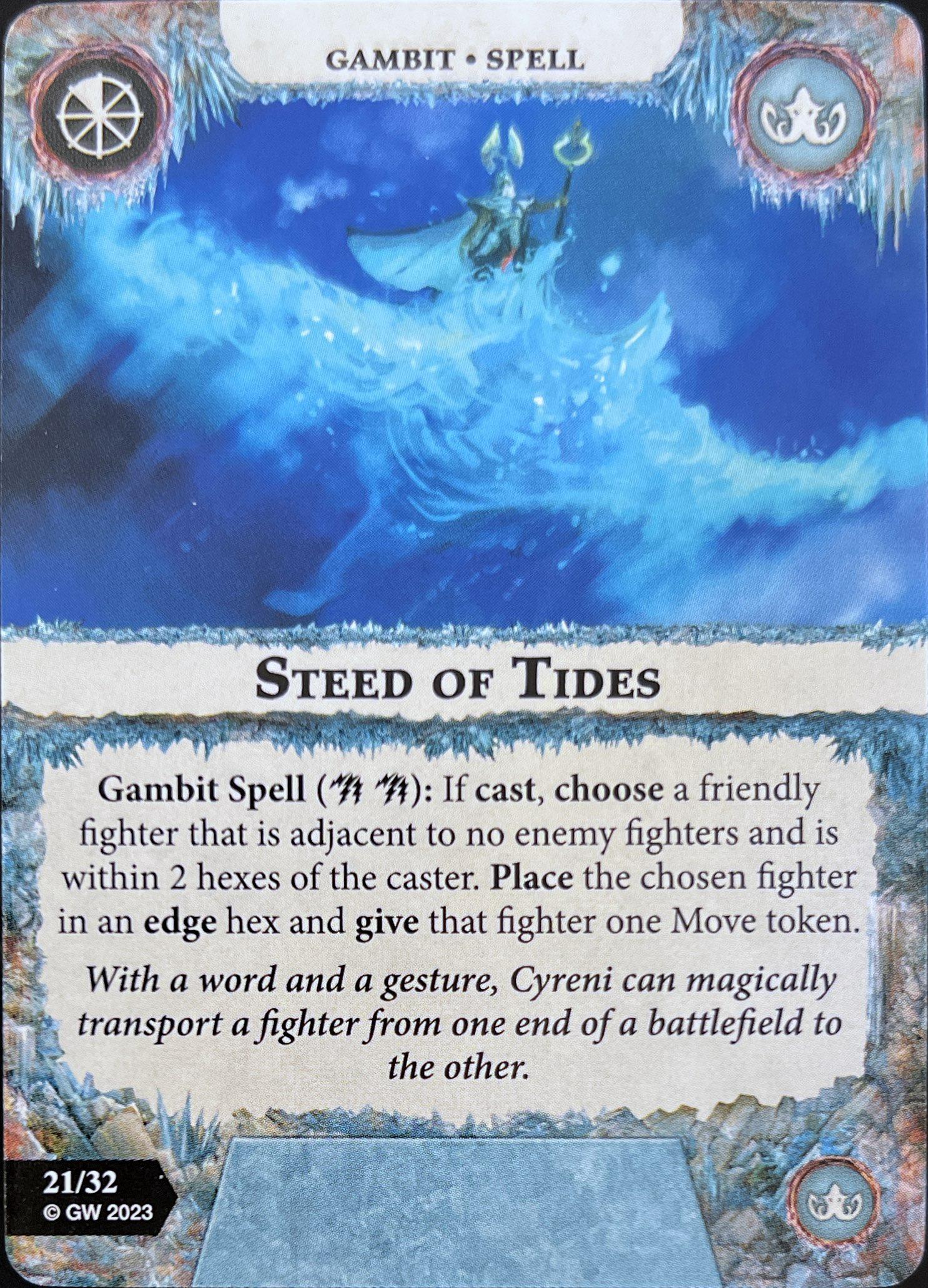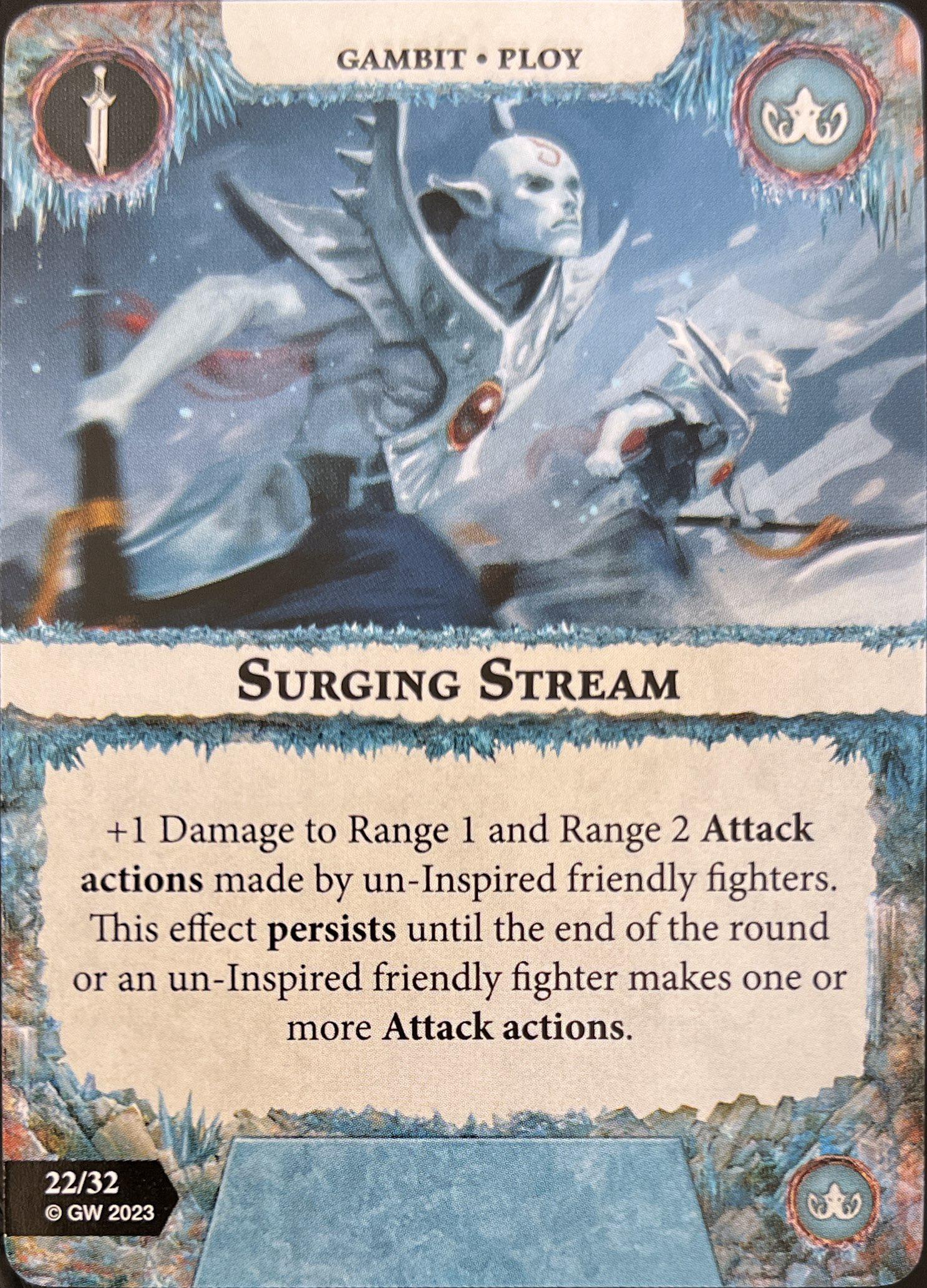 Steed of Tides is a gambit spell that casts on two lightning to choose a friendly fighter within 2 hexes of the caster (and not adjacent to any enemy fighters), place them in any edge hex and give them one move token. When you look at the history of teleportation gambits, things like [
Sudden Appearance]
, [
Deceitful Step]
, [
Lords of Space and Time]
, etc., I do not understand why this is so difficult to cast. Unless you are playing Seismic Shock cards to increase the consistency of your casts, I don't think you can tolerate the inconsistency of this card. The effect is solid and I would definitely include it as just a straight ploy, but it really should have cast on a swirly, or honestly even lightning I don't think would've been overpowered.
Power Ceiling: 3, Consistency: 1
Surging Stream is more-or-less a time-limited version of [
Ferocious Blow]
. You can only benefit from it on your attacks in the early part of the round, which is a bit clunky given that you want to be making your more valuable attack actions during your inspired activations. There is a nice angle of persistence until you make the attack with an uninspired fighter, as this might be able to cover you for cards like [
Freezing Venom]
 that delay your charge, but if it delays you until you're inspired, then you're out of luck anyway. I feel like it would have been far preferable for this to work on inspired attacks, but it really would not have been broken if they had it affect any attack.
Power Ceiling: 2, Consistency: 1
Our Favorites
Mark: Counter-Current
Aman: Counter-Current
Zach: Momentary Vortex
George: Counter-Current
Upgrades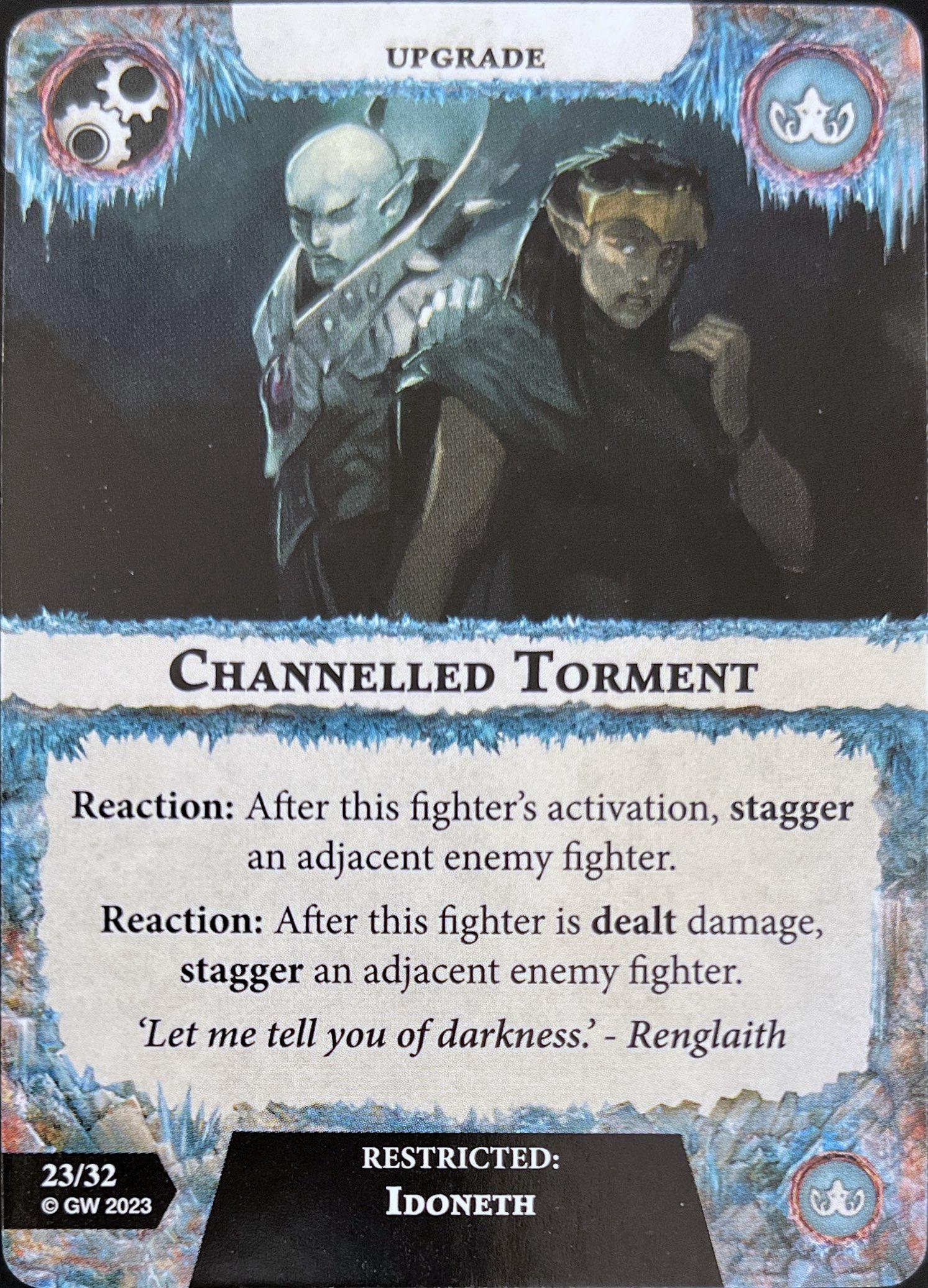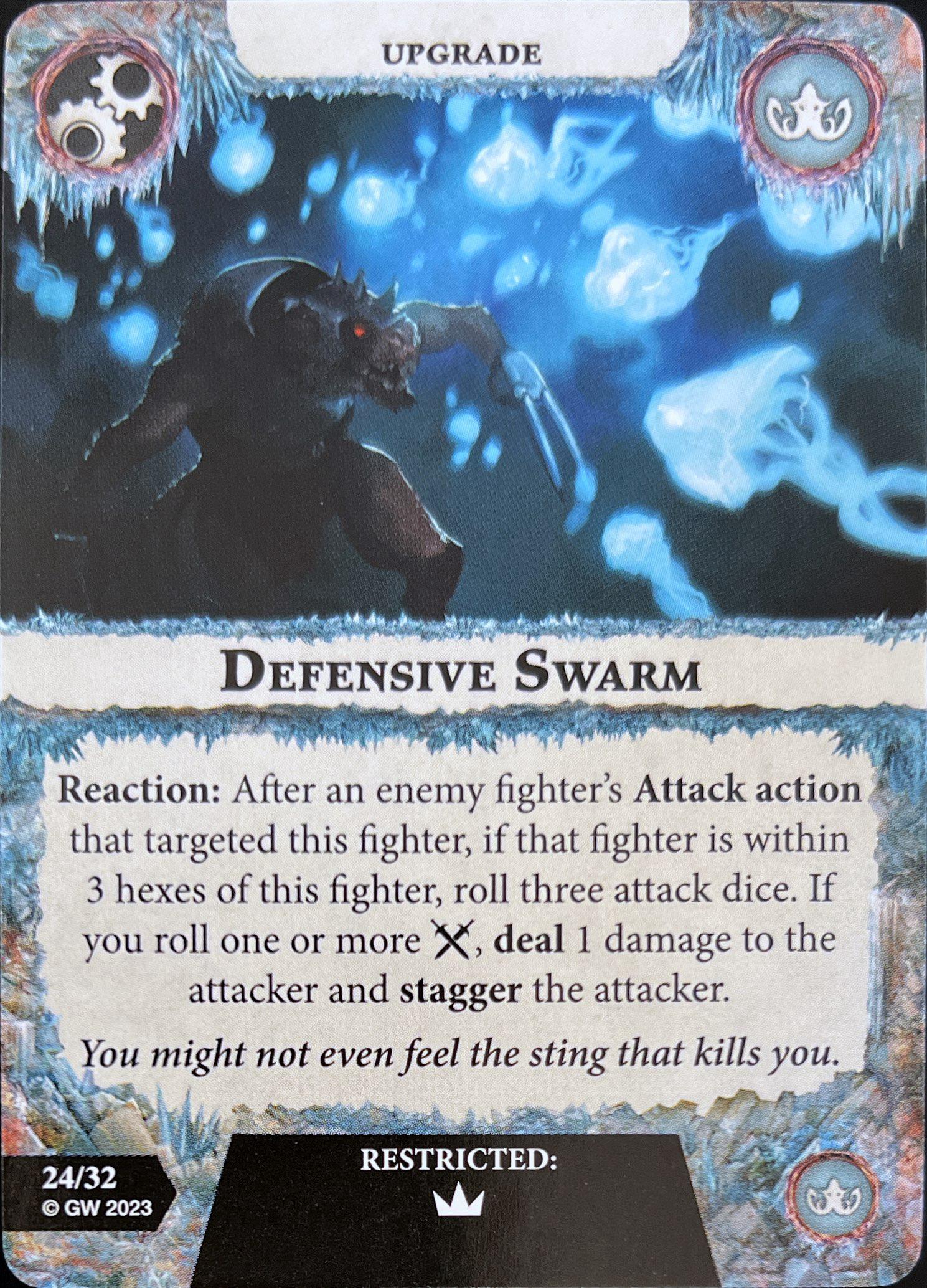 Our first upgrade is Channelled Torment, which gives the equipped fighter a reaction after their activation to stagger an adjacent enemy fighter. Additionally, you also get a reaction to stagger adjacent enemy fighters after being dealt damage. This makes for a pretty decent stagger factory of a fighter, but it can definitely be a bit awkward to intentionally finish activations adjacent to enemy fighters. You get your stagger, but open yourself up to supported attacks on your opponent's side, which is not ideal for such a squishy warband. It's also a bit annoying that the second condition doesn't really punish ranged attackers (unless they had another fighter in there for support).
Power Ceiling: 1, Consistency: 2
Defensive Swarm is restricted to your leader, allowing you to roll 3 attack dice after an opponent targets them with an attack action (assuming they are within 3 hexes of you), dealing them 1 damage and a stagger if you roll one or more swords. The chances are not terrible, but not generally the kind of consistent output you're looking for. There would be a lot more value here if it were just a spell reaction casting on double lightning, as you'd still have a 44% chance of success while potentially also contributing to casting milestones. Note that you can use this after failed attacks as well, which is good, but the downside (besides the poor odds) is that you can't use it as you die to an attack due to the timing.
Power Ceiling: 2, Consistency: 1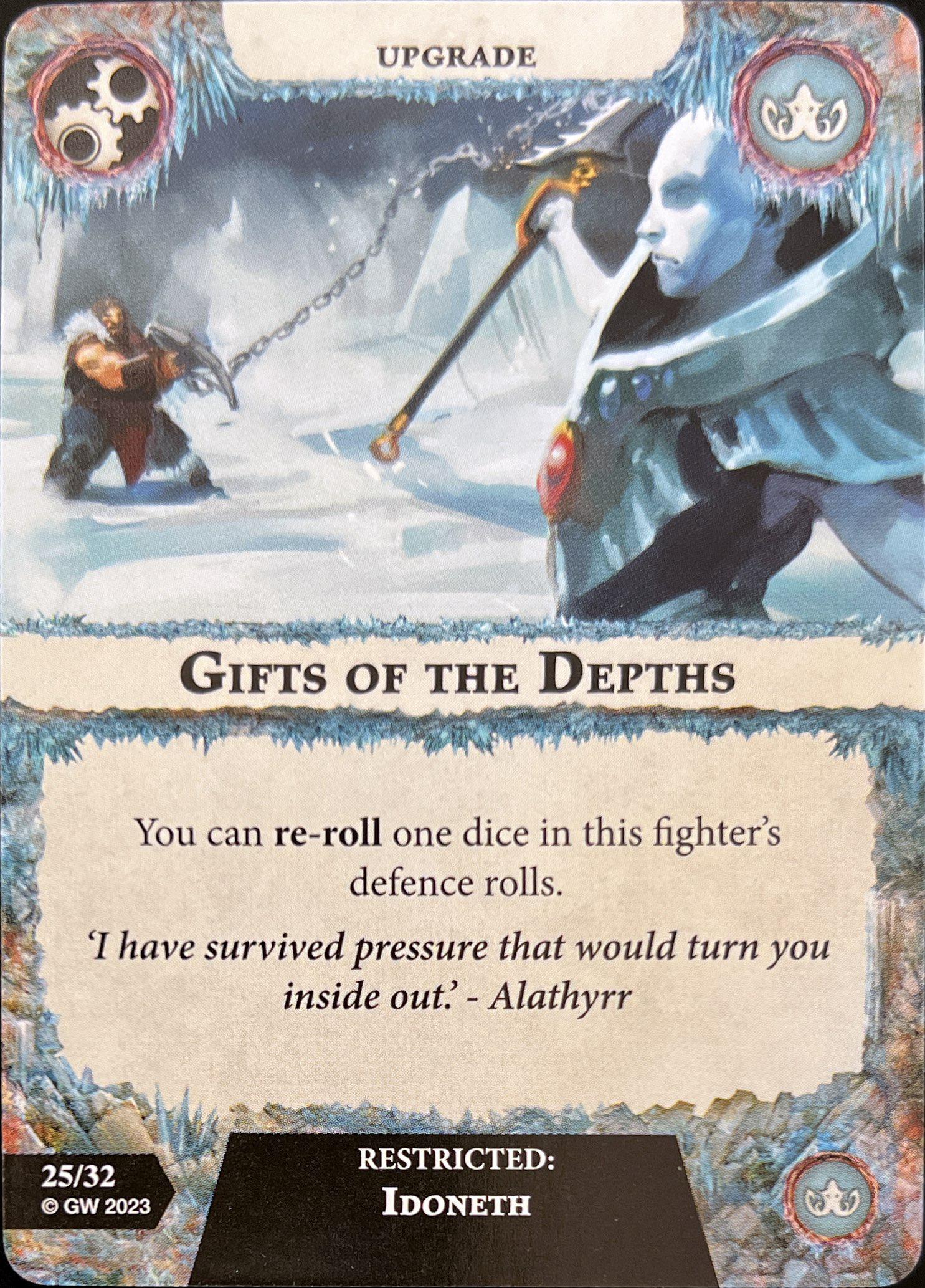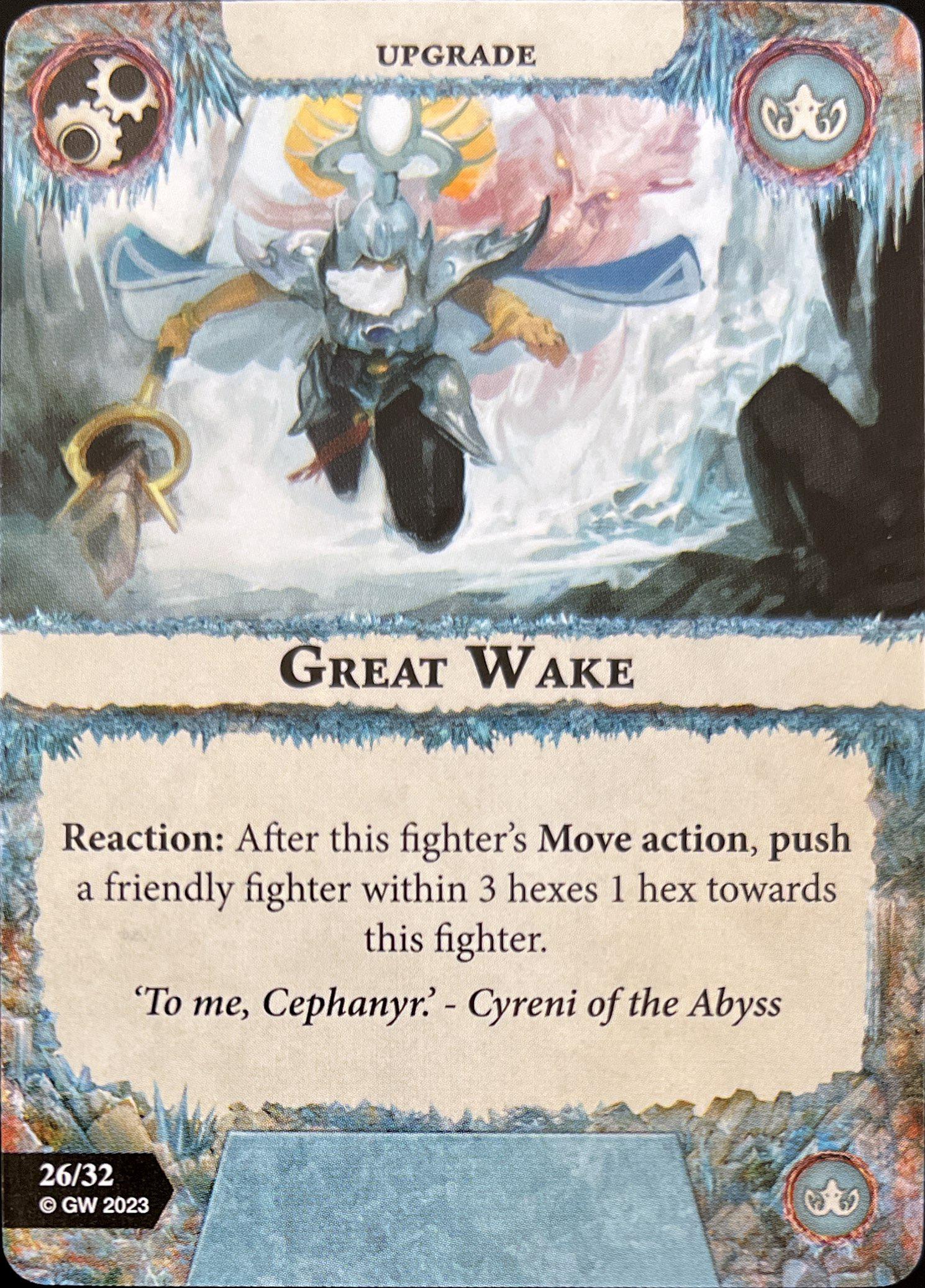 Gifts of the Depths is in-faction [
Champion's Fortitude]
, but restricted to Idoneth only. This means that only your 1S defence fighters are getting the benefit, which seems a bit pointless to me. Yes, you might re-roll into a crit every so often, but the overall defensive buff is marginal for a warband whose schtick is not really defense. You'll also, of course, just take [
Champion's Fortitude]
 first in Championship. Even in Nemesis, though, I'm not sure this merits one of your upgrade slots.
Power Ceiling: 1, Consistency: 3
Great Wake is absolutely fire with the Voidcursed Thralls move shenanigans. This warband could carry four out-of-sequence move actions to proc this reaction in addition to your standard activation move actions. While the outmaneuvering aspect of VCT is nice to have, this warband could almost make it a gameplan. If that's the pairing you end up against across the table, you have to pay even more attention to who has what upgrades than normal. Even outside of that application, the extra maneuverability is fantastic and pushing in supports on charges is, in itself, a solid benefit of the card. One funny way to counterplay a potential outmaneuver from this card would be to run my old favorite card [
Beastcaller]
, whose stock I do think is going up with the release of this box. In any case, a myriad of solid applications here, love this card.
Power Ceiling: 3, Consistency: 3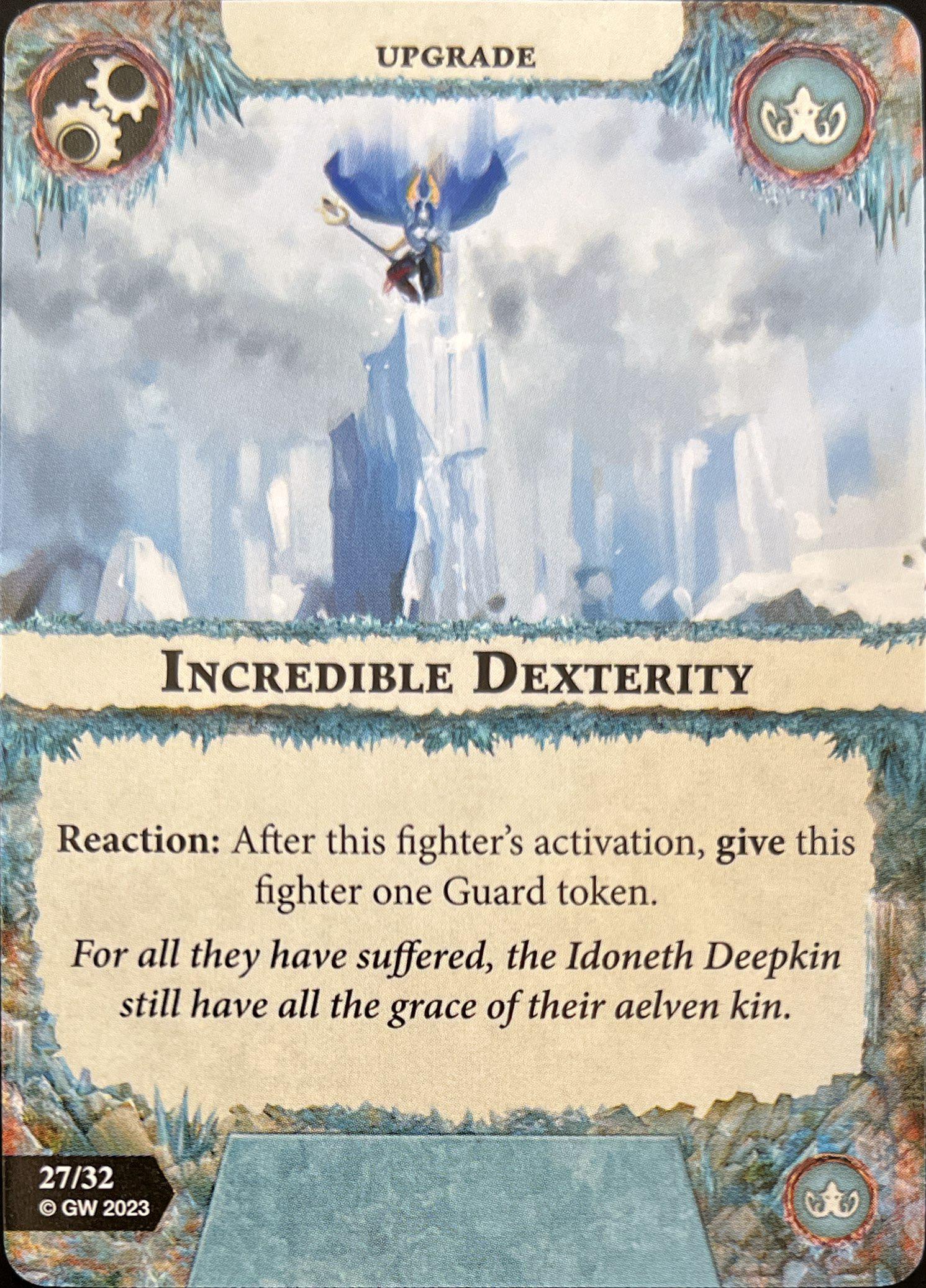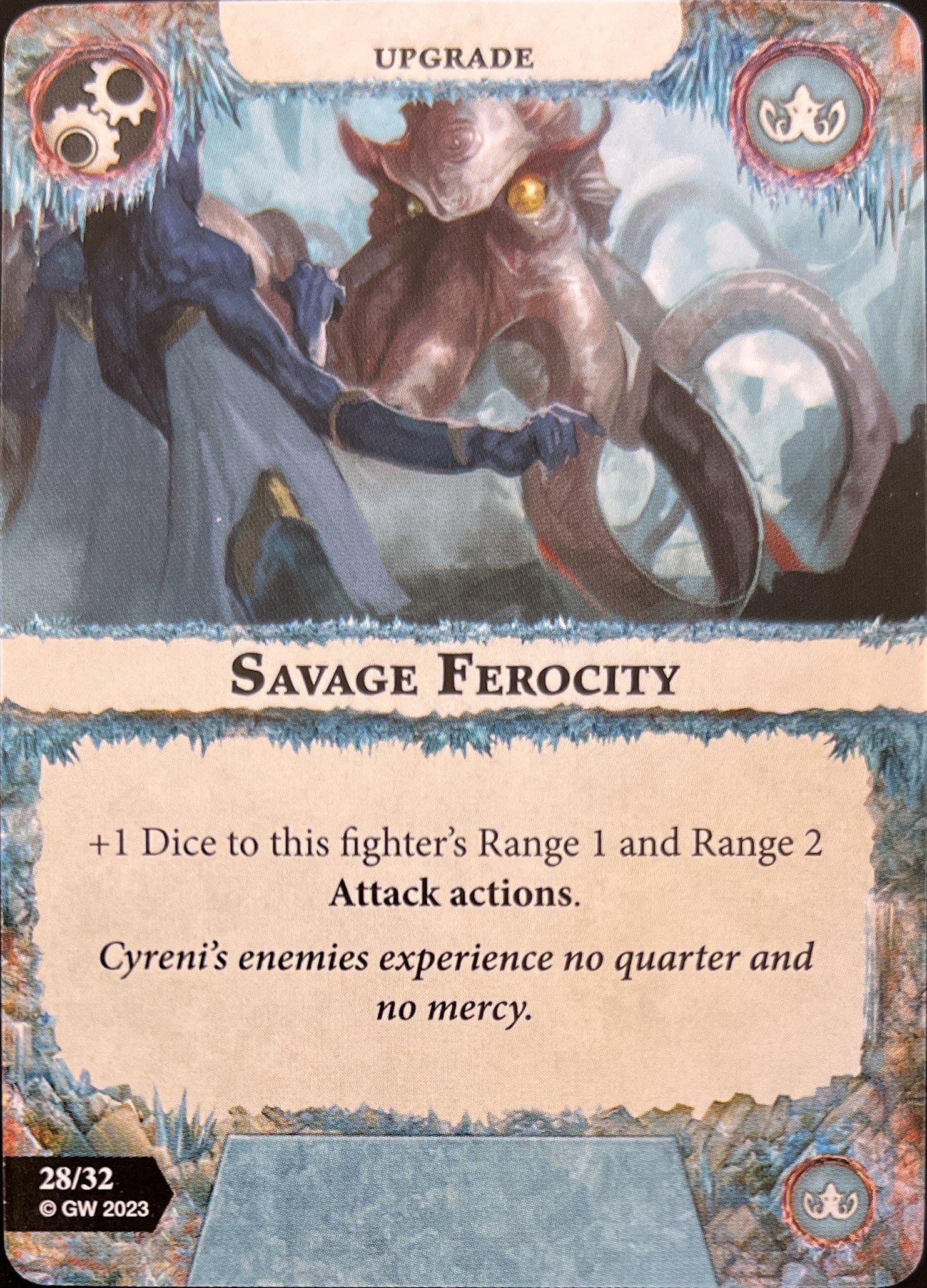 Our next upgrade is Incredible Dexterity, which allows you to react for a guard token after the fighter's activation. Again, you're only rolling 1 die in defence more often than not and you've not that bulky. The driveback denial could be nice in cases where your opponent is hard-pressed for enemy pushes, but this is really marginal value on any of the Idoneth. Inspired Cephanyr does like it, but is that enough reason to spend the upgrade slot?
Power Ceiling: 2, Consistency: 2
Savage Ferocity is +1 Dice on Range 1 and 2 attacks. Guess what?! It's a great card, next!
Power Ceiling: 3, Consistency: 3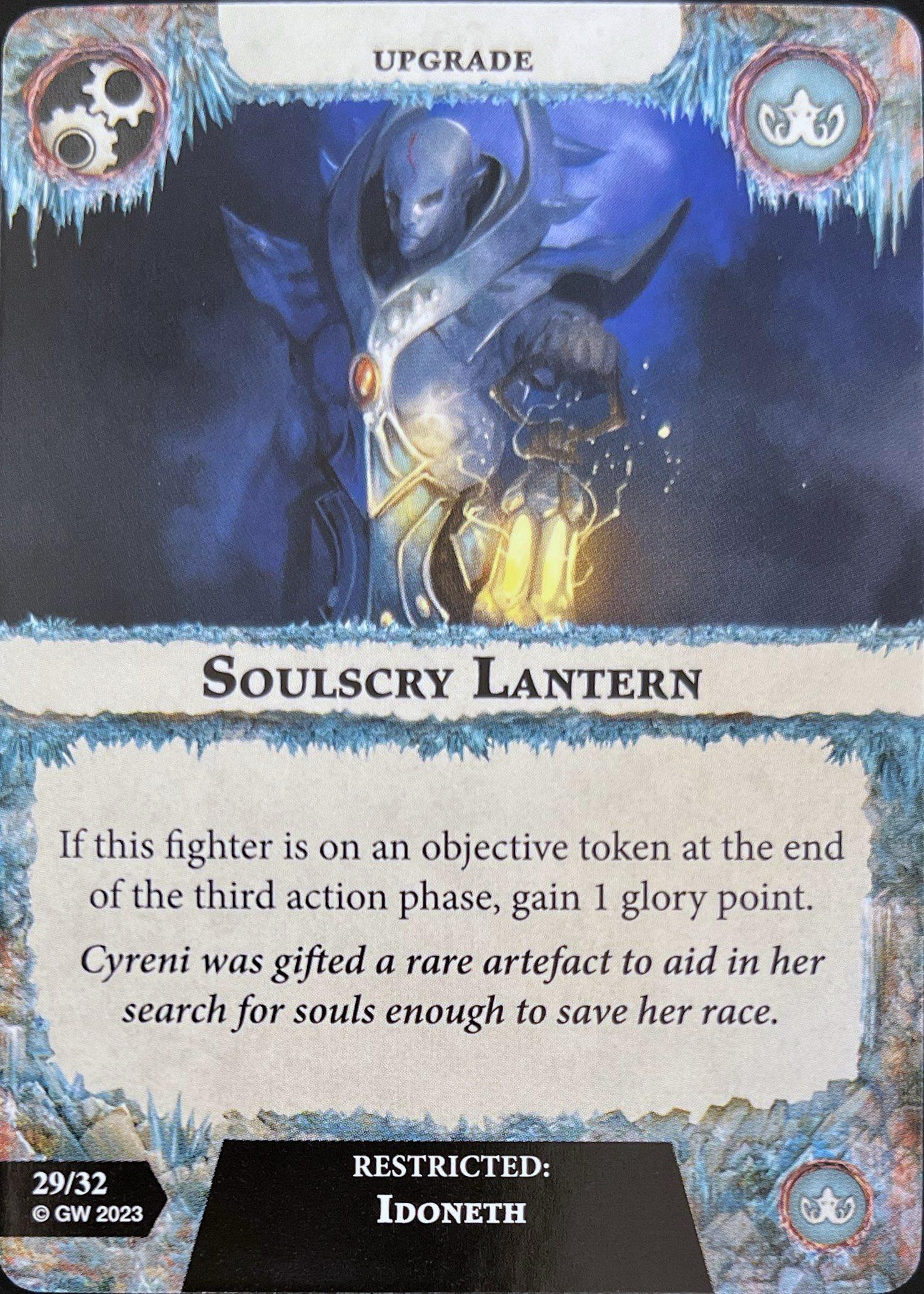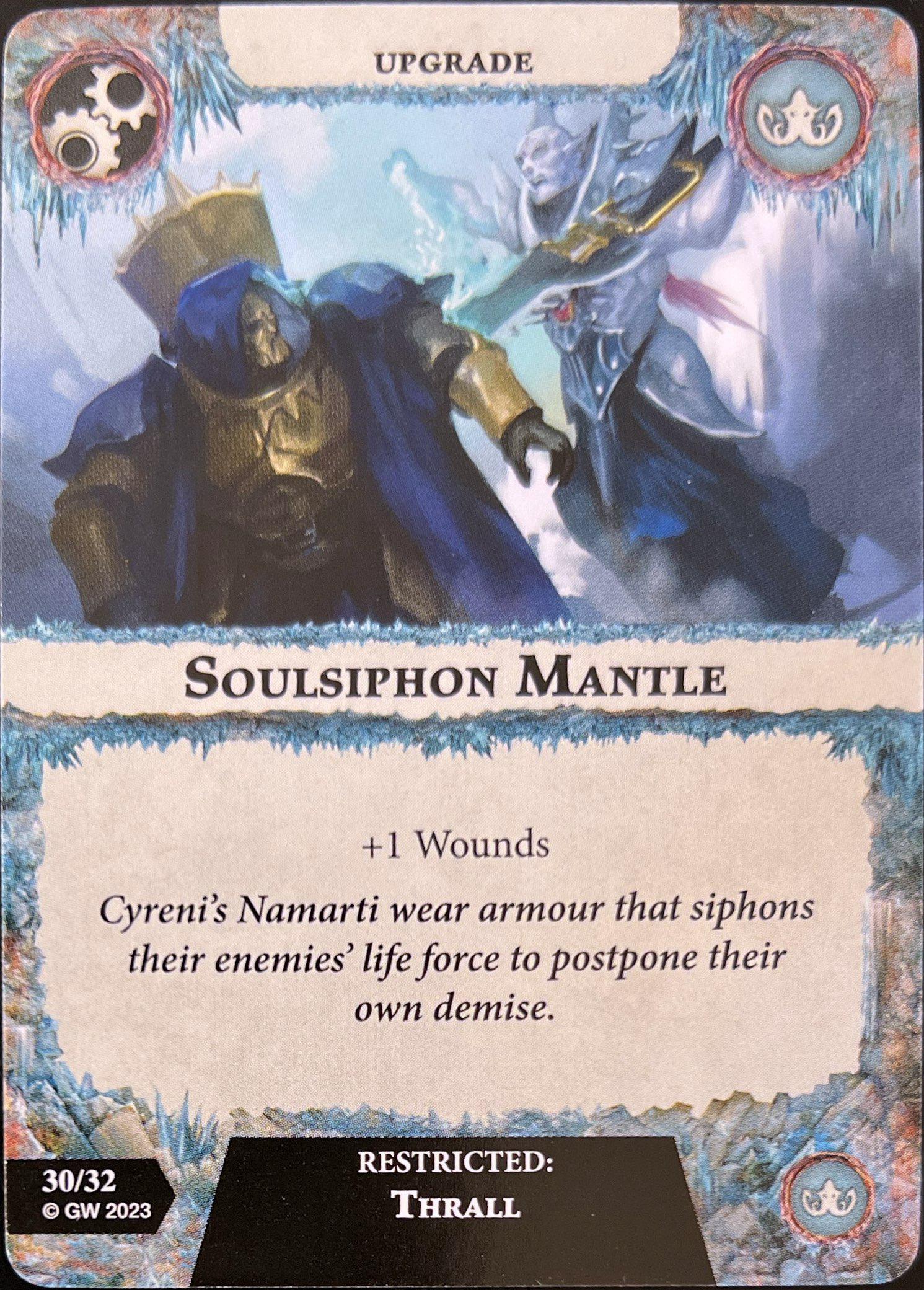 Soulscry Lantern is basically Idoneth-restricted [
Silver Tether]
. Given that there are flex components to the warband, this could very well be something you were planning to do anyway. Power card glory is always an interesting way to augment your glory ceiling, I think you at least take this in Nemesis. You usually get a little stalled out on slots in Championship on things like [
Great Strength]
, Guided by Fate, etc., so it may fall out of favor there, but definitely usable. I do think you'd prefer to mulligan this to a later round, if possible, to make sure the Idoneth that gets it is a little bit clearer to actually live the whole game.
Power Ceiling: 2, Consistency: 2
Soulsiphon Mantle is [
Great Fortitude]
, but somewhat understandably restricted to the thralls. This seems more in the vein of the card restriction advising play pattern, as obviously an additional wound on Cyreni or Cephanyr pushes them into Large fighter territory. That being said, I think there could be cases, on casting-heavy builds, where you might want to throw extra survivability onto your leader anyway, and this card obviously prevents you from doing so. All told, I do prefer this to the other defensive upgrades we've seen, as it has a more meaningful impact on their overall squishiness, but the fighter restriction will likely still push you to take other upgrades instead, especially in Championship where you again have an option that is simply better (with the exception that you could potentially salvage this one).
Power Ceiling: 2, Consistency: 2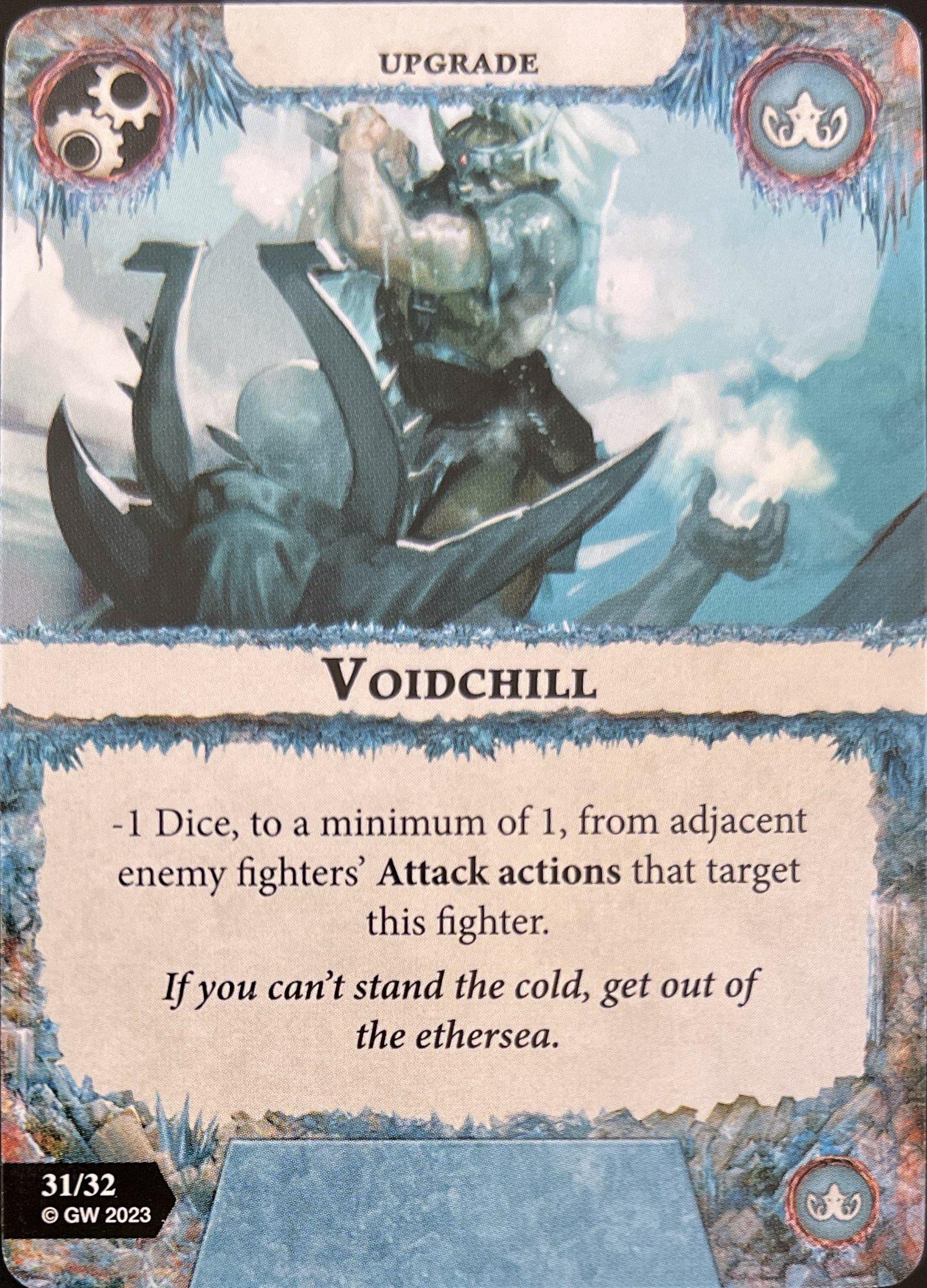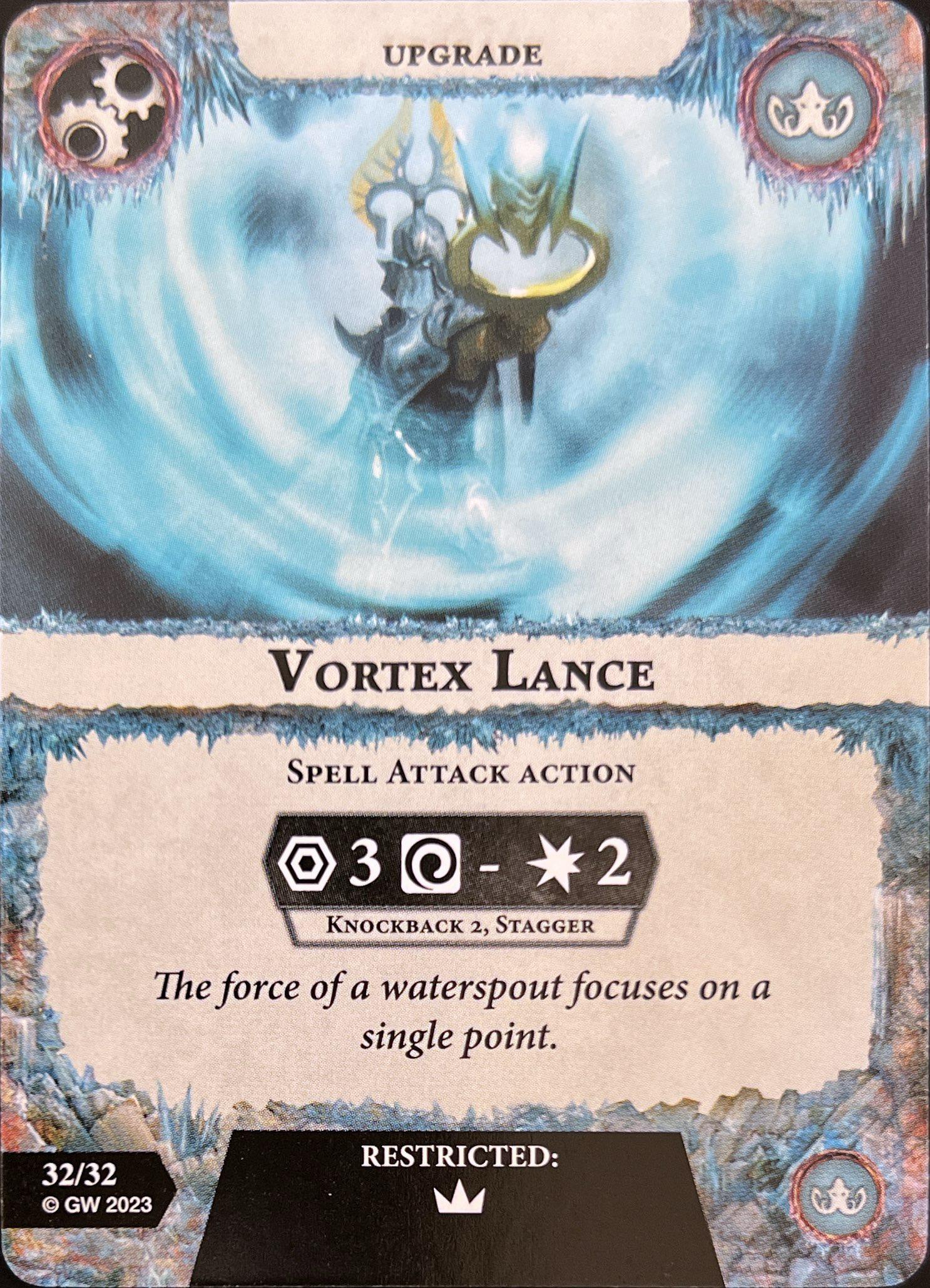 Voidchill gives enemy fighters -1 Dice on attack actions that target the equipped fighter from adjacency. We've seen these types of effects before, but they typically let you impact all adjacent attack actions, not just ones that target the equipped fighter. Maybe they worried that things like Counter-Current would make that too strong, but I feel like they should've just let them have that. I could see this being a way to incentivize people to attack the squid instead of another target, but, outside of a couple move/push reactions, is a bit lackluster in a meta where the predominant threats are attacking from Range 2+.
Power Ceiling: 2, Consistency: 2
Our final upgrade is Vortex Lance, a 3R/*S/2D spell attack action upgrade with knockback 2 and stagger. While the idea of allowing Cyreni to attack from a bit safer/more flexible positioning is cool, I'm not sure there is enough benefit here to merit an upgrade slot, especially since only one of your fighters can make use of this one. I'm probably sounding a bit like a broken record at this point, but I feel like a lot of the warband's upgrades are just a bit underwhelming. They're perfectly usable cards in Rivals, but many of them even get quickly outclassed in Nemesis, so I think you'll end up needing to pick a Universal deck (cough…Voidcursed Thralls…cough) that will fill out your upgrade slots more efficiently.
Power Ceiling: 1, Consistency: 2
Our Favorites
Mark: Great Wake
Aman: Savage Ferocity
Zach: Incredible Dexterity
George: Soulscry Lantern
Conclusion
Overall, I like this warband quite a bit. I am a shill for most Chaos warbands, so I am definitely more interested in the Discord, but there's a lot to like about the kit here. The squid is both a fantastic model and very well-done in terms of gameplay mechanics, the warband's inspire mechanic is both thematic and unique, and there are flavors of popular universal cards sprinkled throughout the deck. I am a bit underwhelmed by the warband's objective and upgrade cards, but there's enough here to build into a variety of decks. As I hinted at a few times throughout the article, I do like the look of Voidcursed Thralls here, but there is definitely synergy with the casting decks and Fearsome Fortress as well. While I probably won't be playing them much myself, I think they'll be a welcome addition to the game without being as oppressive as some of the other recent core set warbands we've seen.
Thanks for reading to this point and of course best of luck on YOUR Path to (surging) Glory!
____________________
Written by: Mark Breault
Edited by: Aman Khusro