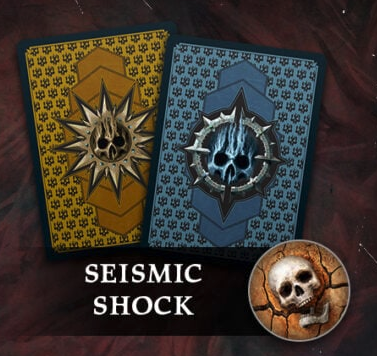 Intro
The release train keeps on chugging, and here we are with my review of the Seismic Shock Rivals deck. I was thrilled when they previewed this deck, I've been clamoring for legitimate magic support for a long time. Magic was largely abandoned as a mechanic in large part due to the ridiculousness of Cursebreakers back in the day. While it does seem like there will definitely be a resurgence of magic in Wyrdhollow, I trust that the devs have had a more even-handed touch with it now, as they have with most of the rest of the recent designs. On top of that, there's no plot card, which is great news for Championship players who want to mix this with other cards in the universal pool to construct their decks! I also want to point out that they definitely made the right choice by releasing this with the core set, not only because both warbands in it are magic-focused, but also because a magic Rivals deck likely would not have been a great standalone purchase due to the limited warband selection. Anyway, that's plenty of fluff, let's get into the cards! As a reminder, I've listed the new criteria I'm using for card grades below. Be sure to let me know what you think!
Power Ceiling – Power output when drawn and/or played at the opportune moment(s) of a game
1 = Effect of card is minimal. Most other cards will provide more value in the same game state.
2 = Effect of card is average. Will provide decent utility, but it doesn't do quite as much as the top dogs.
3 = Effect of card is significantly above average or even overpowered. Game state is significantly altered by its effect.
Consistency – Frequency with which a card is expected to provide value at or near its power ceiling
1 = Power level is highly dependent on game state and draw sequencing. Card will work infrequently and/or has a wide variety of expected outcomes.
2 = Power level is somewhat dependent on game state and draw sequencing. Card has a narrower range of expected outcomes, but is not a guarantee.
3 = Power level is relatively independent of game state and draw sequencing. Card will almost always work as desired.
Universality – General appeal and ubiquity
1 = Card is situational and designed to be played only by very specific playstyles/warband choices (if any).
2 = Card could potentially find its way into any deck, but returns more value on a handful of playstyles/warband choices.
3 = Card value is relatively independent of playstyle or warband choice.
Objectives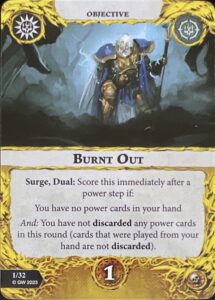 Burnt Out is a surge for emptying your power hand without having discarded any of those power cards during the round. These types of "play your cards" surges have historically been pretty solid in the form of stuff like[
Malevolent Exploits]
 or [
Unexpected Cunning]
. While this does require a little more play, it's another one of those cards that your opponent can do very little to stop. While you don't necessarily want to sprint through all of your power cards early in the round, having the reliable score toward the end of the round seems quite strong to me. This is also great support for illusion builds, which are in a pretty bad spot right now given the state of ping and choose ploys in the game at the moment. This likely won't be enough to resurrect the archetype on its own, but it starts to repair the surge pool for those builds while still providing value in others.
Power Ceiling: 2, Consistency: 2, Universality: 2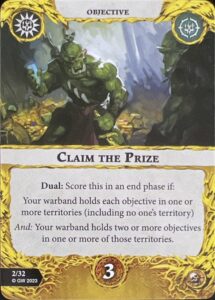 Claim the Prize is some universal HO support (without a plot lock!) for holding all objectives in a single territory (where no one's counts as one) and holding at least two in that territory. If you can pull this off, you get a whopping 3 glory, which is definitely worth the risk in this instance. When facing off against HO matchups, you'll really need to consider where you place your tokens. You don't want to end up in a scenario where your opponent gets to score this just for holding 2 in their own territory, for example. While most of the HO warbands should take interest here, Pandaemonium have a particularly good option with The Will of the Architect, since they could potentially swap out a third objective token they're not holding. Seems like a staple card for HO across the board, but one that has some fair counterplay as well, since your opponent should be expecting it.
Power Ceiling: 3, Consistency: 2, Universality: 2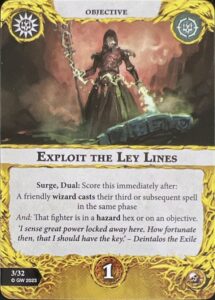 Exploit the Ley Lines is a 1-glory surge for a friendly wizard casting their third or subsequent spell in the same phase and being on a hazard hex or objective. This is a decent hybridization of the classic wizard strategy, which is to passively score for casting spells and holding objectives. We've seen more magic-focused warbands like Eyes or Purifiers follow this track to some success in the past, so it seems to have some pretty solid synergy at face value. Cheating ahead a bit, my concern right now is that, between in-faction cards and the other objectives in this set, everybody and their mother knows that people want to have their wizards hold objectives and will actively be trying to prevent that. If you look at Cursebreakers or Stormcoven, you might think this sounds fine, but since it has to be a single wizard making their third cast, I'm not sure either of these warbands are particularly well-suited to it either. Bit of a trap card here, but probably would've been too easy if it were just "cast 3 spells."
Power Ceiling: 2, Consistency: 1, Universality: 1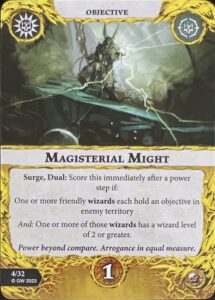 Magisterial Might is another dual surge, this time for a friendly wizard holding an objective in enemy territory after a power step and being at least a level 2 wizard. This was an important caveat for preventing fighters like Kainan from abusing this card, especially since he already has an in-faction surge for holding an objective in enemy territory. However, when you look at the level 2 wizards in the game, you generally don't want to be putting them in harm's way, as they are quite fragile and/or critical to their warband's gameplan. I'm not about to put Vortemis at risk for this, for example. Stormcoven is a warband I could see trying this with since they are all equivalently good spellcasters, so you don't care quite as much if they bite the dust, but even then, I think I mentioned in my review of them that you generally want to avoid the enemy territory stuff if you can. I think the absolute ideal scenario would be on an aggro-inspire [
Blood Chalice]
 Crimson Court build, but even then you're relying on some card combos. Seems like another sort of trap card surge.
Power Ceiling: 2, Consistency: 2, Universality: 1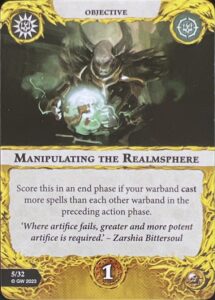 Manipulating the Realmsphere is a solid, consistent objective for spell-heavy decks, rewarding you 1 glory in the end phase for casting more spells in the preceding action phase than your opponent. This definitely has some [
Myriad Incantations]
 vibes as pretty much an auto-include for these builds. However, now that other wizards have actual card support, you can't necessarily bank on having quite so many auto-score matchups for this type of card. Still, it's plenty good enough to include in wizard-centric builds and there will, of course, be plenty of matchups where casting just a single spell in a round scores this for you.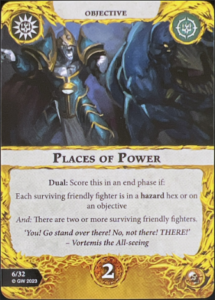 Power Ceiling: 2, Consistency: 2, Universality: 1
It's rare we get a functional reprint of a card so quickly, but Places of Power is exactly Cryptic Clues, just swapping which criterion comes first. Apparently it was a card so nice they wrote it twice! If you were taking the latter already, now you get to build in some redundancy for the same glory output. Pack in both plus Survivalist on a build for a 3 or 4 fighter warband and you've got a pretty solid passive package to abuse. That being said, scoring is not automatic here, there have always been ways to deny the objective (recall back to when Shadeborn were very popular), especially given the two surviving fighters requirement. A solid card with solid counterplay though, nice to see it will still be available even after Nethermaze rotates.
Power Ceiling: 2, Consistency: 2, Universality: 2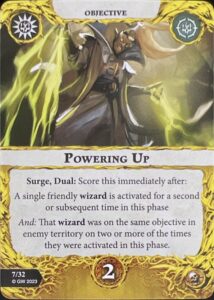 Powering Up is this Rivals deck's big 2-glory surge (seems to be a theme they're trying for with this box) for a friendly wizard making their second or subsequent activation of the round while having been on the same objective in enemy territory for two or more of those activations. I think the most suitable pairing here is for Kainan, as he has more staying power than most wizards. However, even in that case, this is heavily restrictive to his positioning. I would much rather be repositioning him throughout the round while he's taking heads rather than wasting off activations sitting on an objective token. Unless your opponent is foolish enough to keep feeding him targets, this is going to be very difficult to score. On top of that it is nearly impossible in Round 1 without push tech to land you on that objective, as you're otherwise making a Move, then hoping you don't get dislodged from the objective for 2 more activations.  Anti-push tech like [
Darkwater Anchor]
can help here, but still seems pretty difficult and inefficient.
Power Ceiling: 2, Consistency: 1, Universality: 1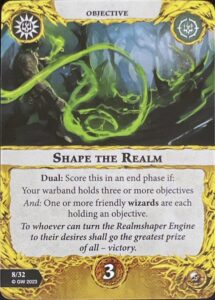 Shape the Realm is [
Supremacy]
, but only if you also have a wizard holding an objective. While they don't have the tankiest wizard, I could see Gitz trying this on to score that coveted double-Supremacy (you can even work in Claim the Prize with it). You would definitely want to carry [
Instinctive Shield]
 in that case, I think. However, there's already not a huge market for "hold 3" objective cards and this is, at best, the second option you'd go for even if you were a warband capable of doing so. Even then, Death's [
Forbidden Ground]
 is, I think, better than this as well, just seems like a bit of a regression in this particular card design.
Power Ceiling: 3, Consistency: 1, Universality: 1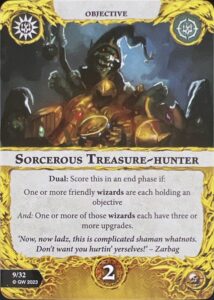 Sorcerous Treasure Hunter is a 2-glory end phase for one or more friendly wizards each holding an objective and one or more of those wizards having 3 or more upgrades. This strikes me as being pretty solid, sort of combining [
Magical Mark]
 and [
Martial Adept]
 into a single card for that coveted 2-glory payoff. Obviously, not every warband has a wizard, but the ones that do and carry any flex or HO component to their deck should love this card. Purifiers have some particularly nice synergy here with the scoring conditions for [
Purifying Light]
and [
Pursuit of Excellence]
. Cursebreakers and Stormcoven are other obvious candidates due to having warbands full of wizards, while Crimson Court also has a decent option here on a less aggro-focused build, as they can either tool up Gorath or Duvalle for the score. On more Voltron-style builds, Eyes and Reapers also make for excellent candidates. To be honest, most of the warbands that have wizards can reap significant benefit from this card, there's just the obvious risk (especially in a Bo3) that your opponent can deny you the score.
Power Ceiling: 3, Consistency: 2, Universality: 1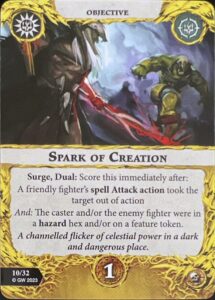 They really love their dual surge objectives in this deck! This time, we have Spark of Creation, which is a kill surge for taking an enemy fighter out of action with a spell attack while the caster and/or enemy fighter is on a hazard hex and/or feature token. We have seen this type of kill surge in the past, but usually it goes unused even without a secondary condition. A lot of warbands that have wizards don't even rely on them casting spell attacks for kills. Even among kill surges, I think you have some way better options to pick from, I'm passing on this one.
Power Ceiling: 1, Consistency: 1, Universality: 1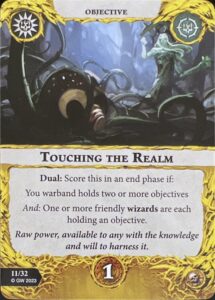 Touching the Realm is a 1-glory end phase for holding two or more objectives and having one or more of your wizards holding one of those objectives. It's fine, but an obvious downgrade from the [
Magical Mark]
 type of wizard objective. For warbands that still have access to that kind of objective (both Tzeentch plus Purifiers), I think you'd rather not limit your glory ceiling by taking both, and this is obviously the lesser of the two options. If you are trying for the full passive "hold and cast" playstyle on an elite warband like Cursebreakers or Stormcoven, maybe you can tolerate the lowered ceiling, but the two-objective requirement starts to get harder in that case. Hard to see enough upside here.
Power Ceiling: 1, Consistency: 2, Universality: 1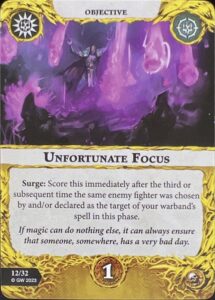 Unfortunate Focus is basically [
Focus Fire]
, but for spells. At least with spells, gambits can help you out a bit here, but focusing this much energy into one fighter is often harder than it appears on paper. You can rarely achieve this on 2-Wound or even 3-Wound fighters since they're liable to die before the third occurrence. I could potentially see taking this on casting warbands that pump out a lot of "deal 1 damage" spell gambits, but even then there are usually options which provide more immediate or higher payoff (things like [
Master of Magic]
 or [
Sudden Demise]
) that you could leverage the same play patterns to score instead. Probably makes its way into Nemesis decks, but not quite Championship-ready to me.
Power Ceiling: 2, Consistency: 2, Universality: 1
Our Favorites:
Mark: Claim the Prize
Aman: Magisterial Might

Zach: Sorcerous Treasure-Hunter

Gambits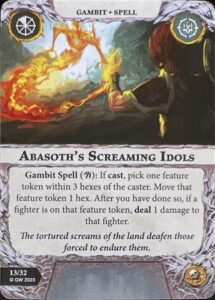 Our first gambit is unsurprisingly a spell: Abasoth's Screaming Idols. Casting on a single lightning, this allows you to pick one feature token within 3 hexes of the caster, move it, and deal 1 damage to a fighter if they are on the token after the push. The combo disruption/ping potential here is really nice. They've finally brought back some tools that allow you to move occupied feature tokens and I'm here for it. We haven't had a good one since [
Swarming Darkness]
, and that got totally neutered once we left Ulgu. While you'll generally just want to use this to move tokens away from enemies, or under them for the ping, there could very well be situations where moving the token under your own fighter is worth it. Maybe your fighter has been slapped with a Freezing Venom and the damage from this can turn the tables by breaking the poison's effect prior to a charge for something like a Bold Sortie score. Speaking of which, warbands that have resurrection mechanics will also enjoy this as a way to move tokens onto starting hexes (Eyes of the Nine come to mind). It's no [
Restless Prize]
, but I think that's a good thing. It still has disruption potential in conjunction with support for HO playstyles while having limitations and potential downsides. Really love this design space. I'm even going to cheat on my universality criterion a bit here since I feel like most warbands with wizards will want to make use of this card.
Power Ceiling: 3, Consistency: 2, Universality: 2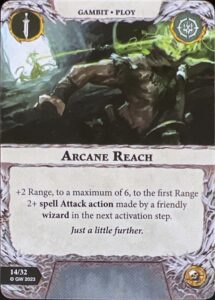 Arcane Reach grants a whopping +2 Range to the first Range 2+ spell attack to be made in the next activation. This is a cute way to give a lot of spellcasters the ability to zap from 5 or even 6 hexes away from their target, saving you the trouble of charging while allowing you to easily post up on a protected objective. For that reason, this has decent synergy with Sorcerous Treasure Hunter. The card is also just generally nice for wizards you want to shoot with multiple times in a round, such as Vortemis, but is it really enough to make your 10? Generally, threat range on spellcasters is long enough that you don't have to worry about reaching your targets, you have to worry more about accuracy or damage. I think spellcasters would be better served investing their gambit slots in those cards instead.
Power Ceiling: 1, Consistency: 2, Universality: 1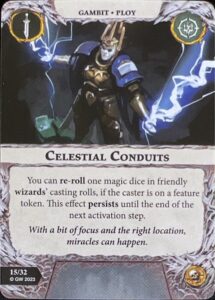 Celestial Conduits allows you to re-roll one magic die in your wizard's casting rolls until the end of the next activation step if they are on a feature token. This is the kind of card you want to throw down if you have a hand full of gambit spells and you plan to start slinging 'em this power step, then maybe even finish off with a spell attack action in your activation. However, the feature token limitation will be, I think, more restrictive than you might first anticipate. Furthermore, there is some tradeoff in the sense that, yes, your spells become more consistent, but you also now have room to take one less spell for having taken this card. Improving dice consistency is great in this game, but only when the opportunity cost is a little bit lower and that consistency is easier to access.
Power Ceiling: 2, Consistency: 2, Universality: 1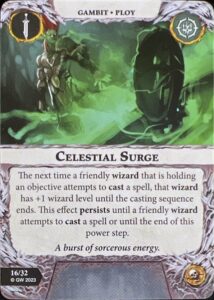 Another consistency card here, we have Celestial Surge, which gives you +1 wizard level the next time a friendly wizard tries to cast a spell if they are holding an objective. However, the effect only lasts until that attempted cast or until the end of the power step. I feel like this is just a straight-up worse version of our previous entry. Re-rolls are about as useful as additional dice when casting spells (if not more useful due to helping avoid backlash) and this particular card can't even help you make spell attack actions. This one at least should not have had any positional requirement.
Power Ceiling: 1, Consistency: 1, Universality: 1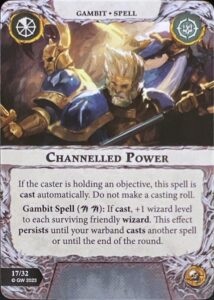 Channeled Power is a really interesting power-scaling gambit spell that automatically succeeds if the caster is holding an objective. Otherwise, it requires a roll of two lightning to cast. In either case, if cast, the spell grants all friendly wizards +1 wizard level until their next successful cast, or until the end of the round. While this is potentially just a flat +1 to spell attack rolls in some cases, the power spike potential here seems pretty significant. Not only is the autocast option a great way to score casting objectives, but it improves the odds of succeeding on additional casts. This multiplies its effect with respect to scoring objectives while also increasing the dependability of your spells. In particular, this can unlock powerful cards like [
Danse of Deintalos]
 which otherwise could be brutally difficult to cast. I think this ought to be a staple for any spell-focused deck, particularly for just how accessible the autocast condition is. One note is that you will want to make sure you are sequencing your casts correctly when you play this card, as you don't want to waste the bonus making a low-impact play when you could instead be punching up on some nasty gambit spells. One other note is that, if you are banking on casting some of these 2-lightning type spells, you'll want to make sure you have more card support for casting (such as cards which grant innate symbols in casting rolls) to build in redundancy so that you don't end up with a bunch of powerful spells in your discard that you failed to cast.
Power Ceiling: 3, Consistency: 2, Universality: 1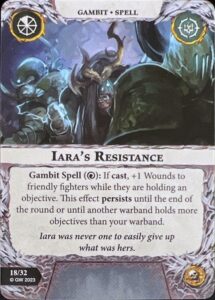 Iara's Resistance is a gambit spell casting on 1 swirly which gives +1 Wounds to friendly fighters holding objectives until the end of the round or until another warband holds more objectives than you. I've never been super thrilled with temporary +Wounds effects, especially if your opponent has some control over when the effect goes away. In this case, the simple act of pushing you off a feature token will immediately negate the benefit, which kind of defeats the purpose if the whole point is to prevent your HO fighters from dying. If you are going to take this card, you definitely need to also tech in cards which will prevent you from being pushed/driven back such as [
Whirlpool]
 or [
Zone of Control]
. Given the direction of pushing toward Nemesis or Rivals, I find it odd that they'd throw in a card that seems to only "shine" as a combo piece with cards that exist outside of its own Rivals deck (with only meager support within). However, even in this edge case I've highlighted, it still really does not return much value, especially with the second cancel condition. Why this is even a swirly cast instead of lightning is beyond me.
Power Ceiling: 1, Consistency: 1, Universality: 1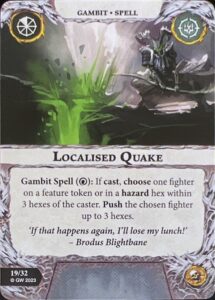 Localised Quake also casts on a swirly, but now it's providing the kind of value you want to see! If cast, you can push one fighter within 3 hexes of the caster off of a feature token and up to 3 hexes. With no requirement about where the fighter needs to end their push, this is a phenomenal effect. Dunk smeone in a lethal, push them into or out of charge range, set up supports, the world is your oyster! It also has the flexibility to work either on friendly or enemy fighters. In terms of niche usage, I wonder if [
Reel 'Em In]
 is starting to become a bit more attractive on warbands with in-faction multi-hex pushes. In terms of general uses, there's probably too many to list here. Flexible tools like this which offer both scoring support and disruption potential are fantastic, love this card. I'm going to cheat the universality score again because there are very few level 2 wizards that would pass this up.
Power Ceiling: 3, Consistency: 2, Universality: 2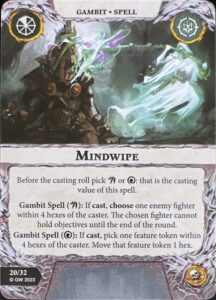 Mind Wipe is heading in the direction of a huge unexplored design space for magic, which is a single gambit spell which can potentially have different effects. In this case, you get to pick whether the spell casts on lightning or swirly. Lightning cast allows you to choose one enemy fighter within 4 hexes and prevent them from holding objectives until the end of the round. For the swirly option, you can instead pick a feature token within 4 hexes and move it 1 hex. While the swirly option is generally the more functional of the two, there are plenty of instances when facing HO warbands where all you really need to do is deny the hold. If this is the case, saving this until the end of the round should be hugely disruptive for their gameplan, especially because that fighter may still be occupying a token they need to hold. Moving tokens can sometimes be risky since they can just push back onto them, so the "no holding" angle can often be more debilitating. Flexible token interaction cards like this are always very intriguing, especially when they can either support your own hold or deny your opponent's. This one strikes me as being quite powerful.
Power Ceiling: 3, Consistency: 2, Universality: 1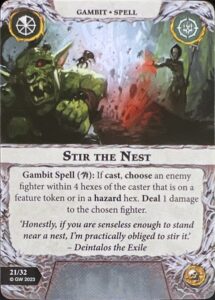 Apparently, I was very much wrong on the going rate for "ping a fighter" gambit spells, as Stir the Nest also casts on a roll of lightning. At Range 4, the downside of needing fighters to be on feature tokens/hazard hexes I don't think does enough to offset the ease of casting, especially given the resurgence of positional scoring that I expect to see in this new meta. Very solid ping card, beware the magic matchups, you're going to be eating a lot of out-of-sequence damage.
Power Ceiling: 3, Consistency: 2, Universality: 1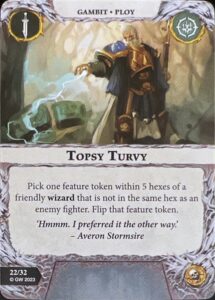 Topsy Turvy is our final gambit, allowing you to flip a feature token within 5 hexes of your wizard that is not occupied by an enemy fighter. This is a cute way to support scores like [
Sudden Revelation]
 or provide cover for your own fighters without delving, but not working on tokens occupied by enemy fighters definitely limits the spike potential of the card.
Power Ceiling: 1, Consistency: 2, Universality: 1
Our Favorites:
Mark: Localised Quake
Aman: Mindwipe

Zach: Abasoth's Screaming Idol

Upgrades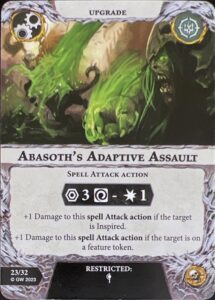 Abasoth's Adaptive Assault is a spell attack action upgrade for 3R/*S/1D. However, it can start spiking damage in the right situations, as it gains +1 Damage if the target is inspired, followed by another +1 if the target is on a feature token. My issue is that a lot of spellcasters who focus on dealing damage from their pew-pew already pack profiles along the lines of 3R/*S/2D (at least when inspired). Having played a good bit of [
Pawns of the Gods]
, banking on enemy fighters being inspired is incredibly matchup-dependent. "On a feature token" is a bit easier, but still I think I'd prefer the dependability of a normal spell profile beefed up by something like [
Gloryseeker]
. I think I'll pass on this one.
Power Ceiling: 1, Consistency: 1, Universality: 1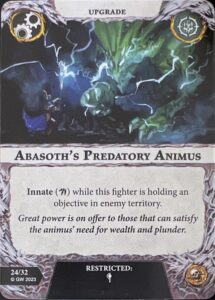 Abasoth's Predatory Animus grants the equipped fighter innate lightning while holding an objective in enemy territory. Whenever you see innate cards, your ears should pop up, but I think they've done a good job offsetting the benefit on this one, maybe even too good of a job. By forcing you to put your (presumably squishy) caster at risk to obtain the innate, you actually quite heavily limit the number of warbands that can use this effectively. If you've ever desperately wanted to play spell bomb Kainan, this is the card for you! More seriously, I think Stormcoven and Cursebreakers are two of the better options here, as they are able to actually take a hit and fighter back. Another thing to consider, however, is that you really want this to also benefit you on your spell attack actions in addition to your gambit spells. Unfortunately, many of the casters with powerful spell attacks hit on swirlies instead. Maybe this is neat on a [
Vortex Staff]
 build for those casters? Interesting option, but definitely not as enticing as a standard innate card might be.
Power Ceiling: 2, Consistency: 2, Universality: 1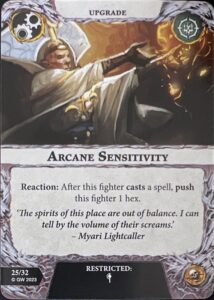 Arcane Sensitivity allows you to push the equipped fighter 1 hex each time they successfully cast a gambit spell. This is a nice multiplier for the power of each of your gambit spells in particular, as they all have the potential to tack this on to their written effect. One caveat here, however, is you can't just assume you will want to be pushing this fighter every single time they cast. Having played with combos like [
Shrewd Wits]
 plus ­all the scatter tech, I can say the issue with these types of cards is not satisfying the precondition to use the push, it's the desire to use the effect. The reason [
Sidestep]
 is and always will be good is just how often a single hex push can satisfy whatever function you need it to perform. For example, you get knocked off a feature token, but you can scramble right back onto it. However, it is rare that your fighter is so out of position that you really need the advantage of pushing them several times in quick succession. That's not to say I think this card is bad or that there will never be situations where you want to rip off several pushes in a row, just that it will return less value than you might expect it to when you actually get into that situation where you're thinking about rattling off 3-4 spells in quick succession.
Power Ceiling: 2, Consistency: 2, Universality: 1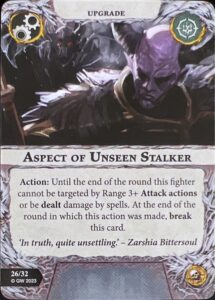 If you really despise all the spellcasting and pew-pew unlocked by this deck, Aspect of Unseen Stalker allows you to take an action to make the equipped fighter unable to be targeted by Range 3+ attack actions or dealt damage by gambit spells for the rest of the round, then break the card. The price here is just too much to pay. Spending an action and breaking the upgrade after just one round? You're already bringing in a tech card just for a very specific archetype, let's at least allow it to last the whole game! At the cost of an upgrade slot and an activation, I think that would be a fair price to protect a single fighter for a whole game. If it's going to break at the end of the round, they should've just made this an illusion upgrade and not had it require the activation. As written, it's even not all that useful against the decks it's designed to counter, and then is likely to be useless in a wide variety of matchups.
Power Ceiling: 1, Consistency: 1, Universality: 1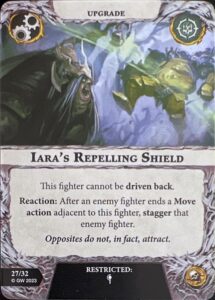 Iara's Repelling Shield is restricted to wizards but does not require any casting to obtain its effect, which is to prevent the equipped fighter from being driven back while granting them a reaction which allows them to stagger an enemy fighter after they make a move action that ends adjacent to the equipped fighter. This is a nice option to deter your opponents from targeting your wizard (at Range 1) while also giving them potential to punch back. The more melee-inclined wizards like on Stormcoven, Thorns or even Reapers can use this to boost their accuracy for some really effective counterpunch, especially given the lack of driveback. It's too bad Clawpack can't make use of this, it would've been really solid support both for their stagger stuff and to drop on Slynk for [
Way of the Hidden Paw]
. Anyway, I do like this card, it seems solid, though maybe it is one of those that lands in your 11th slot quite often.
Power Ceiling: 2, Consistency: 2, Universality: 1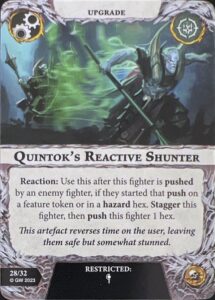 Quintok's Reactive Shunter is another wizard-restricted upgrade which allows you to counteract an enemy pushing your wizard off of a feature token/hazard hex at the cost of taking a stagger token. While I do like the support for all of the end phase "wizard holds an objective" stuff, wouldn't you just rather take anti-push tech instead? Each of Deadly Depths, Tooth and Claw, and Fearsome Fortress had upgrades which could prevent enemy warbands from pushing your fighters at all, so you should be able to access at least one such card to suit your playstyle if this is the kind of effect you need. Sure, you don't need to push back to the same place with this card, but the cost of leaving your more vulnerable due to the stagger is just higher than you ought to pay for that slight increase in flexibility, such as it is, when compared to a card like [
Darkwater Anchor]
 (which also provides a secondary benefit).
Power Ceiling: 1, Consistency: 1, Universality: 1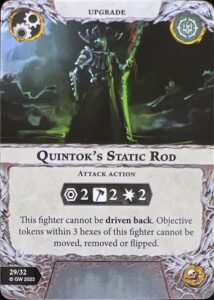 Quintok's Static Rod is a very unique attack action upgrade. The attack itself at 2R/2H/2D is nothing to write home about, but the ability is not like anything we've seen before. Not only does it prevent the equipped fighter from being driven back, but it also prevents objective tokens within 3 hexes from being moved, flipped, or removed from play. This could be a neat little control piece to negate delving synergies, especially in situations where your opponent might delve but intend to flip back later to score some HO cards. It's also just generally useful for tankier HO warbands to maintain favorable board states once they've started caddying objectives. I think going the extra step of "this fighter cannot be pushed by enemy warbands" would've brought this card into a pretty competitive space, but it is still teetering on the edge of that space as it is. It's a pretty decent attack on top of a pretty decent effect, so I could definitely see considering this in a Nemesis build or maybe as a flavor option in Championship.
Power Ceiling: 2, Consistency: 3, Universality: 1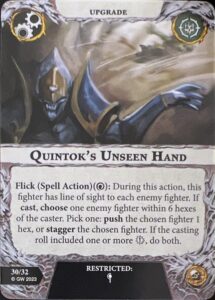 Quintok's Unseen Hand grants a rare spell action that is not an attack. On a roll of swirly, choose one enemy fighter within 6 hexes and either push or stagger them. If you rolled a crit in the casting roll, do both! Definitely some cool ideas in the department of rewarding variable casting results differently, I like it! As for the action itself, I think it is tough to give up one of your 12 activations for, especially given how bad it will feel if you fail to cast. While this certainly has some decent disruption potential, [
Distraction]
 effects are often accessible through gambit slots instead, which are infinitely preferable to using actions. I do want to see more cards in this kind of design space, but this doesn't quite meet the usability threshold I'm looking for.
Power Ceiling: 1, Consistency: 2, Universality: 1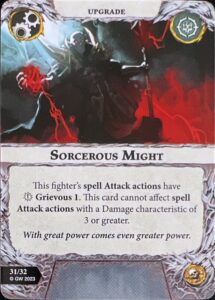 Sorcerous Might grants grievous to all of the equipped fighter's spell attack actions, with the exception of those which already have Damage characteristics of 3 or more. I think this restriction was probably important to limit the "unfun" potential of a wizard who just keeps one-shotting all of your fighters from Range. As written, the card is still beneficial to most spell attacks (they are generally 2 Damage maximum anyway). I think it's still worth considering [
Fighter's Ferocity]
 in its R slot instead of this if you are in desperate need of ranged damage, but in more limited deckbuilding formats or situations where you feel you need the R slots elsewhere, it's not unreasonable to drop this in your deck.
Power Ceiling: 2, Consistency: 2, Universality: 1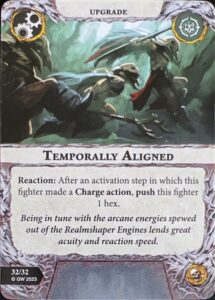 Our final card in the deck is Temporally Aligned, which is just a slightly worse [
Duellist's Speed]
. Those pushes often provide more value for setting up more attacks anyway which you're not likely to pull off following a charge anyway. While it might be alright in Nemesis, it still doesn't even stack up to the effect of [
Dowsing Limb]
, which would be its most direct competitor in the format. It's fine, but it wouldn't be worth building in as a redundancy and it's obviously not as strong as the cards I just mentioned, so it will often find itself not leaving the box in Championship.
Power Ceiling: 1, Consistency: 2, Universality: 3
Our Favorites:
Mark: Iara's Repelling Shield
Aman: Arcane Sensitivity

Zach: Quintok's Static Rod

Conclusions
If you look at the universality criteria, you'll see a lot of 1's throughout this article, but I think that is mostly just enforced from how I've defined my rating system. Since spells can't be used by every warband, that score will automatically take a hit for spell-related cards. Please don't mistake those grades for me being down on the deck as a whole, I think this is pretty much exactly what you want to see for a magic-focused Rivals deck. It's great to see magic being a thing again and this deck definitely has enough pieces to get you rolling if that's the kind of playstyle you enjoy. I also love that the deck is not plot-locked, as you will not be forcing casting warbands into choosing between their spells and something like the positional scoring options in Daring Delvers or Fearsome Fortress, they can do both! While that's a big deal in Championship, it may be an even bigger deal in Nemesis, where there were literally 0 gambit spells available in the universal Rivals decks prior to this. Since those are the main attraction of the deck, I'd say mission accomplished. However, it is worth noting in Rivals or Nemesis that I feel the upgrade pool to be pretty weak here overall, but the gambit and objective support are likely the main features for your deck anyway. Still, I am just so glad to see magic having a place in the game again (watch me eat my words in 3 months when every game is a passive spellcast fest) and I love the more flexible design spaces they've started exploring with cards like Mind Wipe. Hopefully we see magic continue to be supported as an archetype in later releases.
That's all I've got for you this time. Thanks again for reading and best of luck on YOUR Path to Glory!
____________________
Thank you to Games Workshop for providing us with the free preview copy. If you'd like to read the new Wyrdhollow rules, the PTG team has uploaded them here.

If you think this warband would make an excellent addition to your collection, be sure to head on down to your local Warhammer Store or FLGS to order yourself a copy of the Wyrdhollow box set. If you prefer to shop online, check them out here on release day this upcoming Saturday (at time of posting).