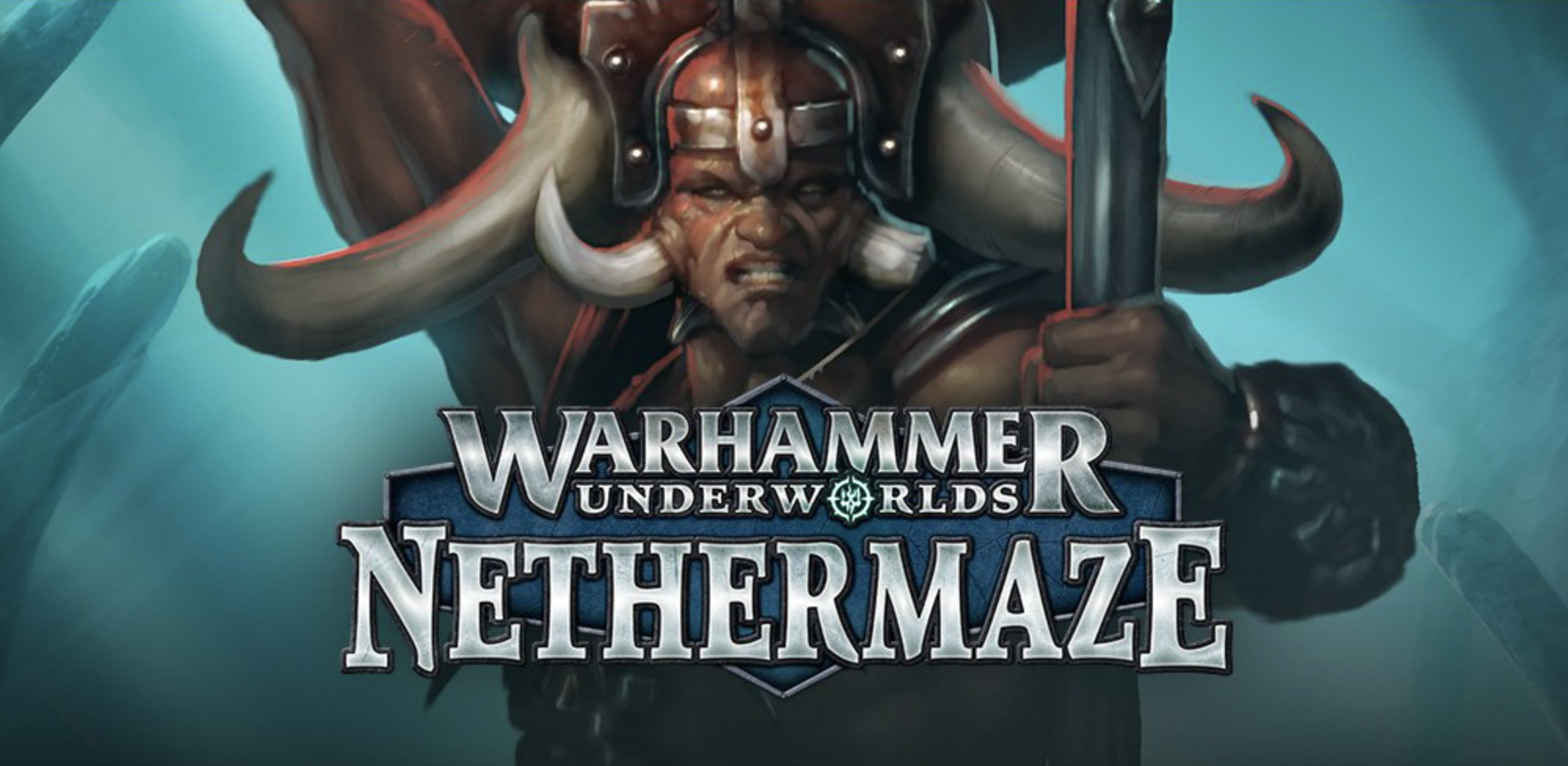 The final warband of the Nethermaze season has arrived! The Gorechosen of Dromm seek to commit the ultimate act of violence by wounding the realm of Ulgu itself. It's been a while since we've had a Khorne warband and they certainly live up to their murderous reputation.
In today's article I'll be covering everything you need to know about the Gorechosen of Dromm. This includes the fighter cards, 32 faction specific cards, and the miniatures themselves. I know a lot of people are excited for this warband as they look absolutely gorgeous. It's been a while since we've had some Khorne in our life.
I'll drop my thoughts on the universals cards included in this set, and the Deadly Depths rivals deck, over the next couple days. But if you rather listen to reviews, we have 2 episodes up on the podcast – 1 for the Gorechosen of Dromm and other for the 64 universal cards, including Deadly Depths, up already.
A special thank you to Games Workshop for providing me with this review copy ahead of time for free.
Kill! Maim! Burn! Blood for the Blood God!!
____________________
If you're not interested in reading the article and simply just want to check out the cards, then click on the links below for an unfiltered experience:
If you'd like to take the time to read the article below, I just want you to know I really appreciate it. 
____________________
Fighters: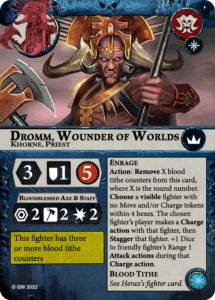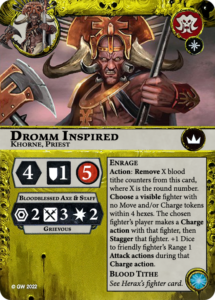 Dromm is a priest of Khorne who is on a mission to enact a blood ritual that actually maims the realm of Ulgu itself. Wild.
He's got a move of 3, 1 block, and 5 wounds. That's about an average stat-line for most bulky chaos warriors. The 5 wounds is nice but also a penalty as he gives up 2 bounty if/when he is eliminated. Still, being survivable is a boon. He's also sporting an excellent range 2, 2 smash, 2 damage attack. We've feared this attack profile since season 1 and for good reason.
When inspired, the Wounder of Worlds jumps to 4 move and his range 2 attack actions "improves" to 3 fury and gains grievous. That's a nice buff but not necessary.
This warband inspires via a blood tithe mechanic. It's actually quite reminiscent of Morgok's Krushas. Each fighter starts the game with a counter and gains additional counters after an activation in which a fighter dealt damage or was dealt damage. Note that you cannot gains counters due to lethal hex damage. While that is unfortunate, it probably leads to a more balanced experience. There are also cards that assist in generating additional blood tithe counters.
Every fighter has a way in which they can spend blood tithe counters innately but I personally don't think you should be spending them on many things, if at all. It's going to be hard to inspire these guys so make sure the ones that you do want inspired hold on to those blood tithe counters.
The thing that stands out the most about Dromm is his enrage action. It's quite interesting. You can force other fighters, including enemy fighters to make a charge action. This is a double edged sword. In some instances, this can win you the game. You can force a key enemy fighter, or the last surviving one, to charge and effectively end their ability to act for a third of the game. The positioning benefits and denial you can earn from this are vast. And, if you pick one of your own fighters, they get a neat accurate boost via an extra die for range 1 attacks.
There are challenges to this. The less concerning challenge is that whichever fighter charges gets staggered. While this is great when selecting enemy fighters, it can be an unfortunate side effect for your own fighters. They become easier to hit. While that may not matter as you've got some tanky boys, it is something to consider. The bigger challenge is you are forcing enemy fighters to charge your fighters. Again, this can lead to blood tithe counters but it also can be frustrating to take damage on your 3 man warband. Every man, and in fact wound counter, counts.
There are going to be games where you never use it. But when you do use it, and time it correctly, it can be backbreaking for your opponent. The design and innovation around this rule is awesome. And again, it can be game winning.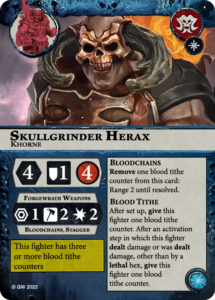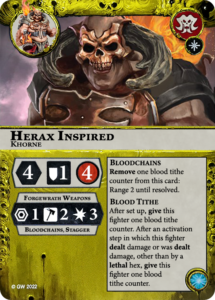 Herax also has the Khorne keyword and proves that you don't need to be shredded to be a devoted follower of the blood god. In fact, he's rocking the best dad-bod we've seen in the Underworlds. The skullgrinder has the lowest wound pool of the bunch but in return he is the fastest with 4 move. He's also on 1 block.
His melee attack is range 1, 2 smash, 2 damage (like the Fiends) and he has the ability to make the attack range 2 if he spends a blood tithe counter. It's not mandatory though (although some people on the internet would have you think otherwise). Once inspired, his attack bumps up to 3 damage. The attack also staggers regardless of inspiration. Overall that is a pretty respectable attack profile.
Herax is arguably the weakest fighter in the group but doesn't mean you should underestimate him. He's sharing a threat range of 5, like Dromm, but can bump it up to 6. That's pretty scary for a decently accurate fighter.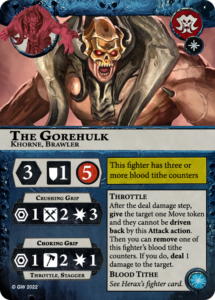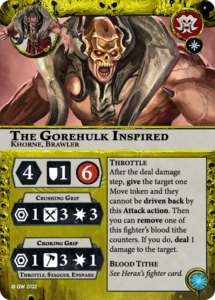 Last but not least, we have the artist's favorite fighter (one can assume as he is on most of the card art), the Gorehulk. As one would figure by looking at his miniature, he's rocking 5 wounds, 1 block, and a move of 3. He's got 2 unique attack actions. His first one gives us Gristelwel flashbacks/PTSD – it's a range 1, 2 fury, 3 damage attack.
The second attack, choking grip, is an interesting one. It's a range 1, 2 smash attack that only deals 1 damage. He trades accuracy for damage. This attack also has the throttle rule which means the target gets a move token and cannot be driven back. If you spend a blood tithe counter, it can deal an additional damage to the target.
It's interesting because you can just use the weaker attack to try and nail a 2 wound fighter early. There is also the idea that he can "control" a fighter by slamming that move token down. This sets up multiple plays in which you hopefully take advantage of swinging into you foe. It's almost like an extended combo play over multiple activations. It's a utility piece that will be awesome when the right situation pops up.
Upon inspiring, he jumps up to 6 wounds which is pretty nice. He also goes to 4 move and his 3 damage attack bumps to 3 fury. Choking grip also becomes even more accurate by improving to 3 smash and gaining ensnare.
I like this fighter a lot. He is your bruiser and has the ability to ruin your opponent's game plan – especially if he rolls a lucky, and early, critical hit. Give him Ferocious Bite and watch him thrive.
____________________
Objectives: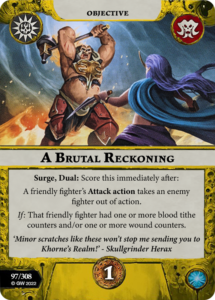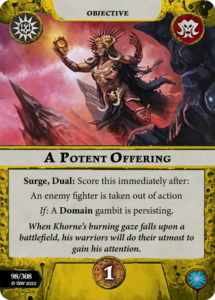 A Brutal Reckoning: This is great. You start the game with blood tithe counters on all of your fighters. Just get a kill early enough in the game and you're good to go. If you happen to have used your blood tithe counters, the wound option is a nice backup. I have started to shy away from surges that require an elimination (dice are going to dice) but this is still a solid card.
Rating: A
A Potent Offering: This is certainly the weaker of the two options. However this warband has access to a bunch of domains and this can be done if you really want it. Again it requires an elimination so keep in mind this can stall up your hand if the dice do not cooperate. If you are going to run this, you'll have to commit to at least 2-3 domains in your power deck which lowers it's stock for me.
Rating: C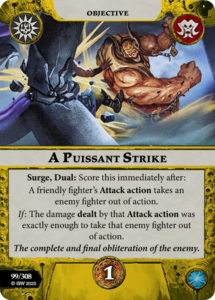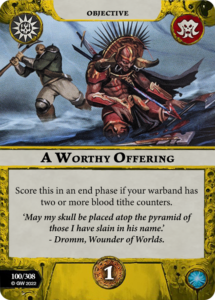 A Puissant Strike: You have the ability to deal 1, 2, and 3 damage off the bat with this warband. Landing the attack may be the hardest part but dealing exact damage when taking out a foe is a classic card in Underworlds. When it was a universal in the old days, it was restricted. While things have changed since then, this is still reliable enough to take it.
Rating: B
A Worthy Offering: Early game, this is awesome. You start the game with 3 blood tithe counters. Even if you lose 1 fighter in round 1, you can still score this. As the game rolls on, you should be able to score this even with 1 fighter.
Rating: A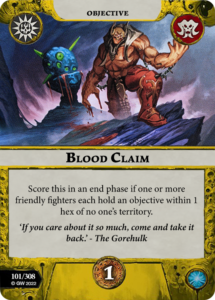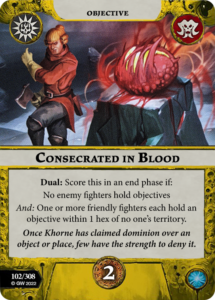 Blood Claim: Pairs well with Horrors in the Dark which makes sense in this warband. Placing an objective in that region does tip your hand a bit but I really think this is doable. It doesn't particularly excite me. I think I'll get frustrated having to discard this card once canny opponents realize they can most likely out-push me in the mid-board and deny me my glory. I think you can find better 1 glory end phase cards in the universal pile.
Rating: C
Consecrated in Blood: 2 glory is tempting! This is similar to the previous card but also much harder. Enemy fighters tend to stand on feature tokens, and often score off the objective side. In the current meta, this might be impossible to score.
Rating: D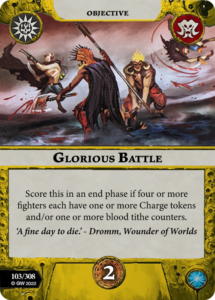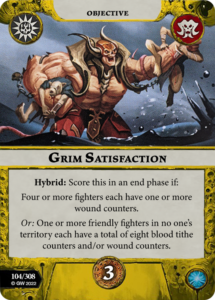 Glorious Battle: This is really fascinating. You can't double dip but having 4 fighters with a combination of either charge tokens or blood tithe counters is pretty doable. You start the game with 3 blood tithe counters. As the game progresses, charges are going to happen. While it's not the first card I am going to go for, it might be my 5th of 6th end phase objective. 2 glory makes it worth it.
Rating: B
Grim Satisfaction: I don't see how you can reliably get four or more fighters to each get one wound unless you slam ping cards into your deck. The 3 glory certainly tempts you. Even then, it might not be consistent enough. The second condition is probably never going to happen so forget about it.
Rating: D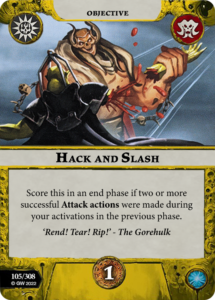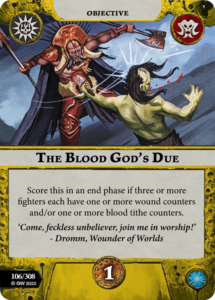 Hack and Slash: A pretty decent card overall. Worst case scenario, you make 3 charges, and fail 2 attacks. That feels bad. Late game, you might only have 1 fighter left and maybe they physically can't make more than 1 attack. It's not reliable enough to take every game. Sure, there are going to be games where you score this as an afterthought but you probably are winning at that point. I'd most likely shy away from this one.
Rating: C
The Blood God's Due: A weaker version of A Worthy Offering. I don't think you take both and you definitely take the aforementioned card over this one.
Rating: B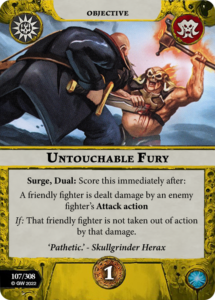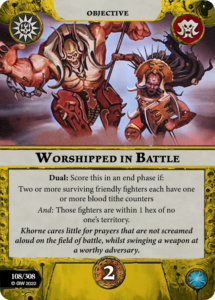 Untouchable Fury: This cards is awesome. Crimson Court (got restricted for them) and Madmob have proven that. Take it and enjoy the easy, and inevitable, glory.
Rating: A
Worshipped in Battle: This is a solid way to get a good end phase score in rounds 1 and 2. You're going to need to have some pushes to support this. I'm also going off the assumption you won't be spending your blood tithe counters so liberally, at least in the early game. But in a meta that enjoys brawling in the center of the board, including scoring Horrors in the Dark and Fearless Seekers, I think this is a solid and reliable score.
Rating: B
____________________
Gambits: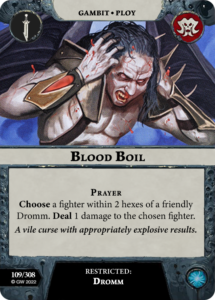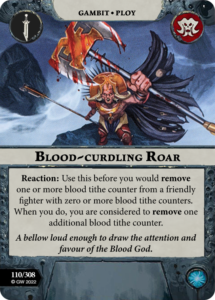 Blood Boil: Ping damage is awesome. While limited in range, this can be a great initiator or finisher. Dromm can hit at range 2, deal 2-3 damage, and then ping to finish the job.
Rating: B
Blood-Curdling Roar: Effectively you have to spend at least 1 blood tithe counter but if you do, you can count as if you spent 2. Or 3 if you actually spent 2. It's a good way to get some great mileage out of your abilities, gambits, and upgrades. It just gives you the flexibility if you need it. However, you won't take this if you aren't taking cards that want you to spend these counters a lot.
Rating: C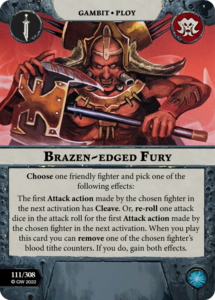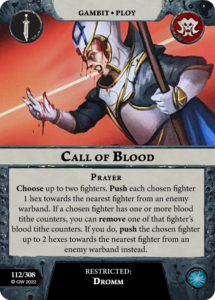 Brazen-Edged Fury: While cleave is good, it's not worth a gambit in most cases. The re-roll is nice but not groundbreaking. Personally, I like re-rolls but this card competes with Determined Effort. Not many people are taking that card at the upper tables.
Rating: B
Call of Blood: It's cool. There is no range restriction and can work in a couple of combinations. Double distraction, double side step, a combination of both. It's nice because it is always 2 pushes.
Rating: A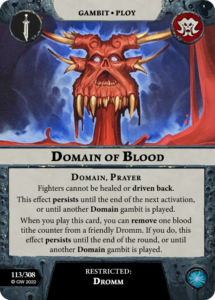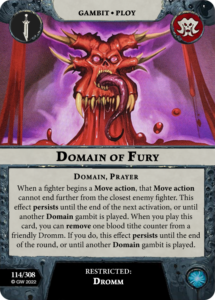 Domain of Blood: An interesting tech card that can help in certain metas. Turning off healing is interesting but I don't think it is worth a card slot. It also doesn't stick around for much which counters the idea of domain cards. Sure you can play a blood tithe counter but it's not worth it for me.
Rating: D
Domain of Fury: This is better, much better. Spending the blood tithe counter hurts but not as bad as the other two options. I just don't think it is worth it for the limited time frame. Also not worth the blood tithe then.
Rating: C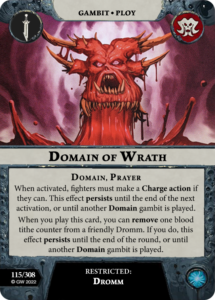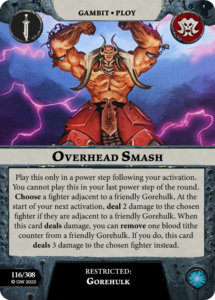 Domain of Wrath: This is my favorite of the bunch. Sure it gets countered by another domain (read: Drifting Tides) but I like the tech options this provides. I think there are a lot useful situations in which this can come up. Game winning in many instances. I like it.
Rating: B
Overhead Smash: Finally a card not restricted to Dromm. There is a lot to unpack here. It is effectively an attack that happens over two activations. It is hard to pull off but when/if it works it is great. I like the fact that this can help take care of stick enemies whose defenses are hard to get through. I think this card is probably a trap card but if you have the pushes to make it work it is very powerful. And in some cases I think the threat and idea of the card may be more powerful than the card itself. Opponents might burn pushes to get out of the way. That could force favorable positioning maybe. I like it despite being suspicious of it.
Rating: C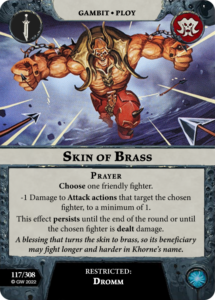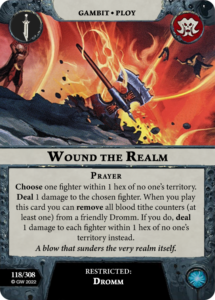 Skin of Brass: This is a great card. Damage reduction is worth it's weight in gold, especially when protecting fighters with larger health pools.
Rating: A
Wound the Realm: This is a ping card with some strings attached. In some matchups, it has great potential to quite a bit of area damage. Worst case scenario, this deals 1 damage which is still good. Since this warband likes to live in the mid-board this is going to come up often.
Rating: B
____________________
Upgrades: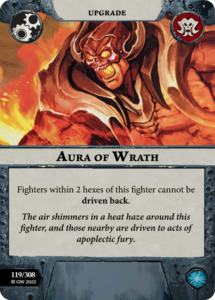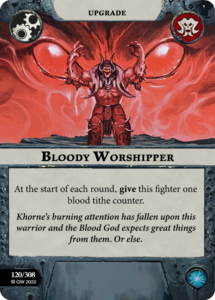 Aura of Wrath: I like the idea of it. For a warband that wants to brawl and fight, without charging too much, it can aid in engagement and help with control. I think this won't make my 10 though. There are better and more reliable cards in the factiond deck and outside it.
Rating: D
Bloody Worshipper: This is neat if you want to lean into the blood tithe counters. This mostly is going to be used for Dromm as he has the most ways to spend the counters. It really empowers his prayers and turns on enrage a bit more. Also helps with the inspire if you get this earlier.
Rating: C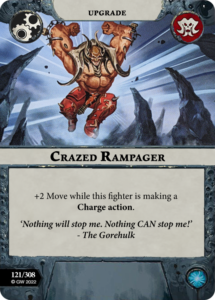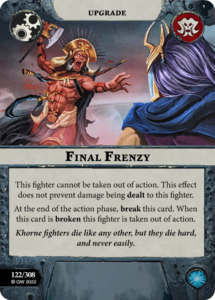 Crazed Rampager: This is solid. I think Outrun Death is probably better but the engagement is nice for a slower warband.
Rating: B
Final Frenzy: I love this card, the idea of it at least. It has the potential to be amazing but you're giving up 2 glory (large tax) to maybe get an additional attack, or 2? Maybe you can just YOLO one of your fighters out into the board when you know they're going to go down. This can lead to a crazy and fun turn if you time it right.
Rating: C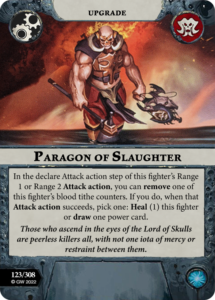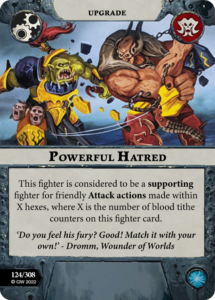 Paragon of Slaughter: Heals are relevant and welcome, especially for bigger boys. The draw option is nice, too I suppose. Problem is, I don't think you're ever going to have enough blood tithe counters to use this effect more than 1-2 times.
Rating: C
Powerful Hatred: This is pretty nice, especially early game. It just gives you a slight bump in accuracy. While I think +1 dice and +1 damage cards are better, it is cool to see some area augmentation.
Rating: C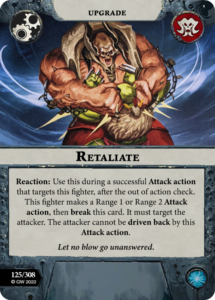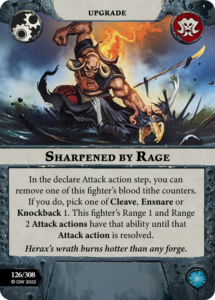 Retaliate: You telegraph this card from a mile away and so I rarely believe you opponent will give you the free attack. Still, the upgrade might be enough of a deterrent to keep your fighter alive. And worst case scenario, you get to swing on your way out. It's a good card, Creepers have something similar that works great.
Rating: B
Sharpened by Rage: Picking cleave or ensnare before swinging is great. Just ask Slythael. The challenge is this requires a blood tithe counter. Again, those are hard to come by. Maybe you reap the benefits 1-2 times. That's good but Slythael gets it for free every time. In the tough competition the upgrade deck hosts, I think this card falls to the wayside.
Rating: C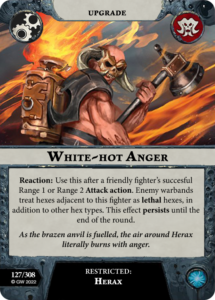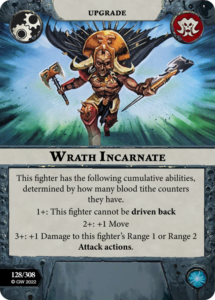 White-Hot Anger: This is effectively Thundrik's reaction ability but just for Herax. I'm personally not that big of a fan. Sure it comes up and you can catch your opponent a bit unawares should they forget. I tend to just avoid single fighter upgrades unless they are absolutely amazing. This isn't.
Rating: D
Wrath Incarnate: The best part about this card is the +1 strength buff. However you need 3 blood tithe counters to get there – which is a tall task. Good thing there are 5 other +1 damage upgrades you can pick from.
Rating: C
____________________
Rivals/+:
From a rivals perspective, I think this warband might struggle a bit. While they have solid gambits and the domain strategies do work, there just isn't enough consistency spread throughout the warband. They're going to hit hard and they'll win games when their dice perform above average. However, I think the blood tithe mechanic is a bit lackluster. If there were ways to spend it more efficiently, then I think the warband would have had a better chance in the Rival format. The upgrades are also sorely lacking.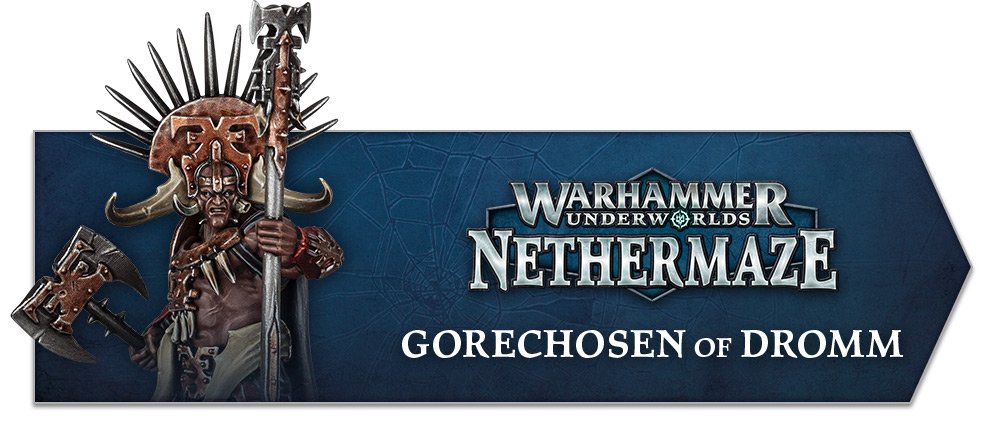 Rival+ is a different conversation. Gaining access to better end phase, damage, accuracy, and wounds is going to be a huge boon for them. While I don't think they'll be top tier in either rivals format, I think they'll perform well in the hands of a good player who has put in the practice. If you don't want to go Essentials because it might be too strong in this format, I think Deadly Depths could provide a decent alliterative.
____________________
Final Thoughts:
I'm really enjoying thinking about this warband. First off, I am glad they didn't just make another charge forward and try to kill stuff warband. It's easy to do that with Khorne. I love the fact that this warband requires a bit more finesse while offering a bit of control in some respects. They hit hard, too.
I do feel like their limited abilities are a symptom of Morgok's Krushas. The Krushas were a menace during Beastgrave and had too many tools, offensively and passively, which lead to them being nerfed quite a bit. This warband, who shares many similarities to them, seems to have been created in a manner in which they won't be a problem to the game – like the big ork boys were.
In terms of objectives, they've got a solid couple they can rely on. A Brutal Reckoning, A Worthy Offering, and Worshipped in Battle are standouts to me. That's 4 reliable glory, including a surge which is great when considering how well some of the universal cards can supplement that.
Gambits are an interesting topic. Ultimately, there is an over reliance on Dromm. To me that seems like a balance choice as it further weakens the enrage ability. There is a huge risk versus reward aspect to him. If you use the ability too much, it can be frustrating for your opponent. However you must also keep Dromm safe in order to truly appreciate what the warband can do.
In terms of cards, I like Blood Boil, Domain of Wrath, and Skin of Wrath. It's a good mix of control, damage, and damage reduction.
The upgrades are probably the weakest link for me. It makes sense though. You can't have big boys that hit hard with upgrades are too good. Retaliate and Crazed Rampager are probably the best out of the lot which isn't saying much. However, the universal pool is more than adequate to give them some great options.
In the end, I am looking forward to playing with these big boys. They've got some surprising depth and nuance to them which makes them different from their khornate predecessors while still maintaining the rage and flavor of their patronage. This warband is going to be a lot of fun and I am excited to see how people build their decks and execute upon them in the Nethermaze, and beyond.
Lastly, just wanted to thank astro_pol, mcrat, and Davy. If you know, you know. <3
___________________
If you are looking to read more reviews, check out the following:
___________________
If you think this warband would make an excellent addition to your collection, be sure to head on down to your local Warhammer Store or FLGS to order yourself a copy of the Gorechosen of Dromm. If you prefer to shop online, check them out here this Saturday (later today at time of posting). 
Thanks again for taking the time to read my review. Thank you to Games Workshop as well for sending me this preview copy.
As always, best of luck on YOUR [
Path to Glory]!
Aman