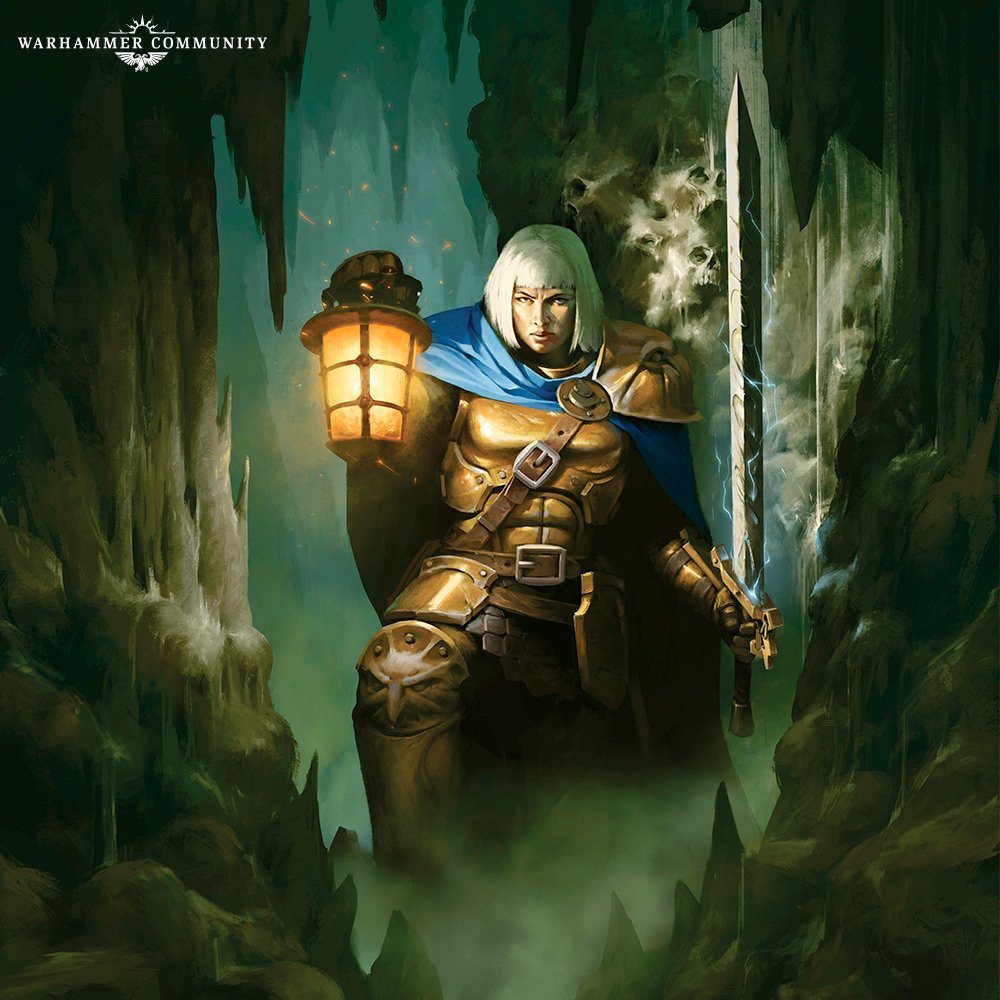 Alrighty, time to power through 64 universal cards. We will skip through the pleasantries as I'm sure you already seen all the cards. If you haven't, check out my Gorechosen of Dromm review. There I have links to all the cards.
If you rather listen to the reviews, check out the podcast.
Thank you to Games Workshop for sending this in advance for review, for free.
____________________
Gorechosen Universals: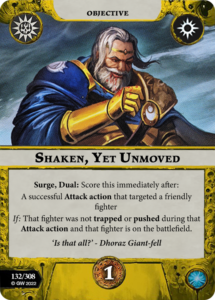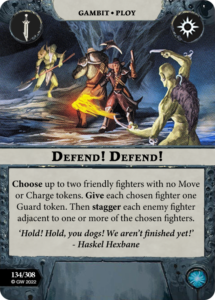 Shaken, Yet Unmoved: Starting things off with Order, and a James Bond reference, we've got a fairly decent surge here. Ideally if you are investing in the guard mechanic, especially though upgrades. Order does have a lot of way to go on guard. I think it's fine. Obviously having a survivable fighter is paramount here but this can be countered quite easily by your opponent.
Rating: C
Defend! Defend!: I think this is pretty good for Starblood Stalkers. Those skinks are vulnerable, especially in the early game. This card makes you more survivable and helps you stay on objectives. To me, this isn't a stagger card. This is a put 2 fighters on guard card.
Rating: B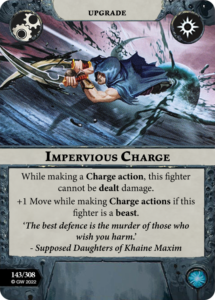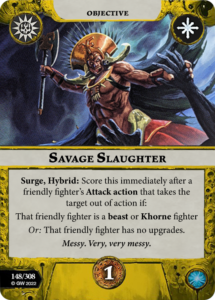 Impervious Charge: I understand the intent behind this card but I don't think it's worth taking at the moment. If we see more lethals in the future, this could be useful but for now you should pass.
Rating: D
Savage Slaughter: I think this is a great card for Chaos. Most warbands in this grand alliance tend to want to get some kills in, especially the Khorne variety. For them, it's probably an auto-include. If you aren't worshipping the blood god, that's fine – this just requires an early kill which is quite doable.
Rating: B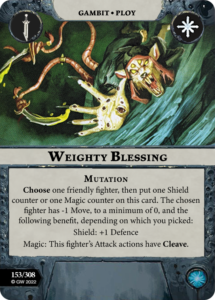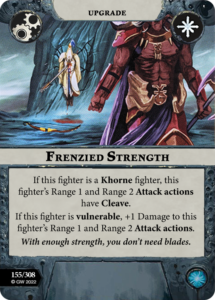 Weighty Blessing: You will never use the magic counter. Giving your fighter +1 dice in perpetuity is incredible. It is essentially a free upgrade. The -1 move is unfortunate but if you have a fast warband, think Skaven, this is amazing. Even if you drop to 3 move, once you're in the thick of things – you can afford the movement tax. Happy to see some great Chaos options.
Rating: A
Frenzied Strength: Cleave isn't bad but rarely is worth attaining via an upgrade. Fiends also have a lot of innate cleave so a bit redundant there. In regards to the damage boost for being vulnerable – it's not bad. However, it is hard to reliably become vulnerable and honestly there are so many better +1 damage cards in the card pool.
Rating: C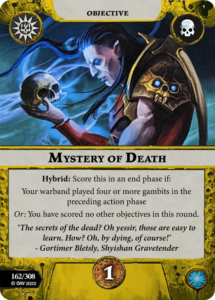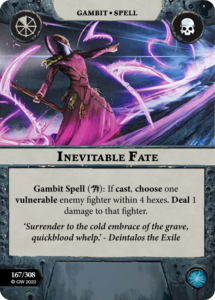 Mystery of Death: It's not bad. I do think this can force you to overplay your gambits in efforts to score this card – that isn't fun when you have to effectively "waste" cards. However if you have a hand without surges, this is effectively an auto-score because you score this first, then the rest of your cards. Maybe this allows you to not aggressively mulligan for surges when the draws are not in your favor. It's not the best, but is passive and can work in the right strategies.
Rating: C
Inevitable Fate: Spell ping damage is welcome and death wizards can reliably roll channels if they are level 2 or higher. The vulnerable stipulation isn't much of a worry here because this is a finisher spell. If you warband has low damage output, like Exiled Dead or Thorns, this could work. But there will be times where this doesn't come up and you end up discarding it. Can help with Chum the Waters though!
Rating: C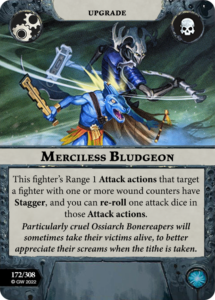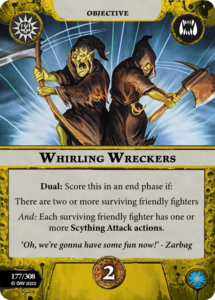 Merciless Bludgeon: Re-rolling is fairly strong, even in on range 1 attacks. I think this is pretty good in Exiled Dead. Start with Deintalos, stagger the opponent, and then your next fighter, say Coyl, gets 2 re-rolls in his attack. This could also be a good backup if Deintalos' attack fails. Outside of that example, I think this is a pretty okay card. On a side note, good to see Death not have the best cards this time around.
Rating: C
Whirling Wreckers: The first warbands I think of when seeing this are Mollog's Mob, Krushas, and Rippa's. It's still hard to line up because you'd have to lose the Stalagsquig, Bat Squig, Mean-Eye, etc. You'll also probably need an upgrade to make this reliable. Tempting for 2 glory but maybe too hard to set up consistently. The upgrade below can help, even Rampaging Killer can help.
Rating: C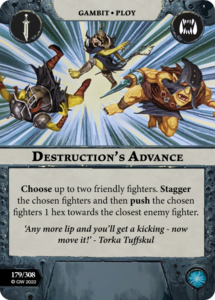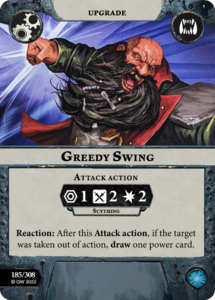 Destruction's Advance: Early game, I think this is great. Staggering your fighters, who are in the backline – think Gitz, Madmob (who make scoring Bring It On easier) and Kunnin' Krew, it doesn't matter when you can push them onto feature tokens. Could help bait a swing on Rippa. It gets worse as the game goes on, especially when facing an aggressive warband maybe. Still, I like it for the movement and the downside isn't too bad if you time this correctly.
Rating: B
Greedy Swing: This feels like it was included to help set up the objective above. With accuracy this can be pretty decent. Not particularly compelling however. There are also better card draw options out there.
Rating: D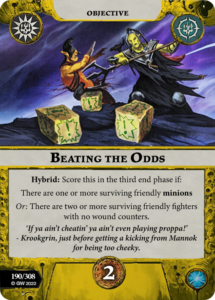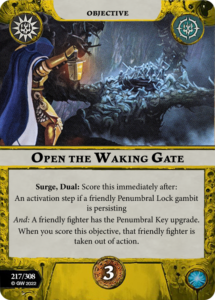 Beating the Odds: Breaking the 4th wall here by rolling some dice! I think this is pretty good for larger warbands, especially warbands that can resurrect their fighters. Third end phase does mean it can clog up your hand but it seems fairly decent for Guard, Spiteclaw's, Eyes of the Nine, etc. There is a lot of potential here.
Rating: C
Open the Waking Gate: This is such an interesting card. A 3 glory surge is quite nutty but it requires a lot of setup. You need to specifically take 2 other cards, pack in some draw to make sure you get them, and invest a glory for the upgrade. This is also only a +2 net gain as you give up a glory when your fighter kicks the bucket. You can maybe play around the glory tax by scoring this off one of the doggos from Hexbane's. Lot's of setup, though but when it works, it works!
Rating: C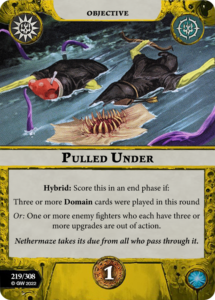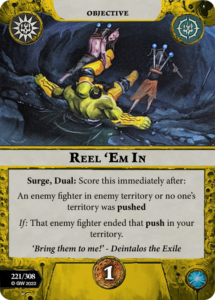 Pulled Over: Taking 3 domain cards isn't the best strategy, especially for a measly 1 glory in the end phase. The second condition is something you can't control which kills the card for me.
Rating: D
Reel 'Em In: This requires a lot of setup but with Hypnotic Buzz and Centre of Attention being fairly ubiquitous, and the tendency to fight on the mid-board, means this it can happen more often than you think. I like surges that allow you to score by just playing gambits. Also your opponent will just score this for you from time to time.
Rating: B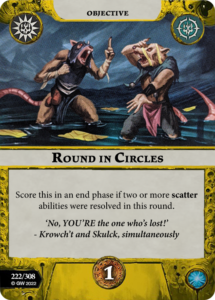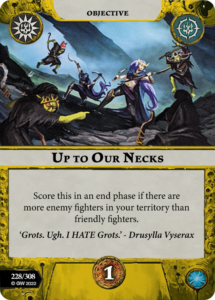 Round in Circles: Good for Zarbag's Gitz. But also puts even more reliance on Snirk who tends to be focused down often enough. I think you take Obliterated over this. And either way, you are still banking on Snirk having a decent game, which he doesn't always have.
Rating: D
Up to our Necks: This is quite meta and faction dependent. Decent for passive warbands that are on 4-5 fighters strong. I think there are better options out there.
Rating: D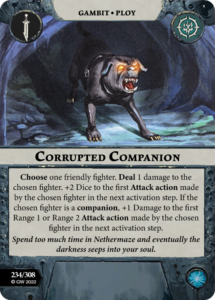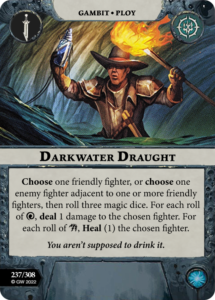 Corrupted Companion: I really like this card, accuracy is important. If you are a low wound fighter, taking the damage doesn't matter. Great on Taros, Ratspike, Grotbiter, Duke's Harriers, and even Lighaen as it makes them 3 fury, 2 damage attacks regardless of the flavor of your companion. I can see plenty of situations where you'd even take the damage on a 4 wound or larger fighter to help tilt the odds in your favor to land a hit, especially with grievous in the mix. This is excellent in Hexbane's Hunters and also Blackpowder's Buccaneers.
Rating: A
Darkwater Draught: This is more a heal card than a damage card and even then not very reliable. You also don't want to accidentally heal your opponent's fighter or damage one of your own. Quite a hard sell.
Rating: D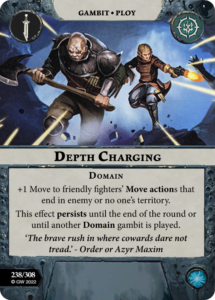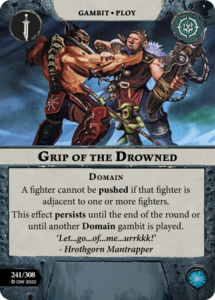 Depth Charging: I think this is one of the better gambits we've seen. This is pretty good for warbands who like being aggressive but are on the slower end. I think this competes with Eternal Chase but that card is probably better. However this does help counter other domains cards while still providing you solid utility. Hexbane's and Exiled Dead will enjoy this card quite a bit.
Rating: B
Grip of the Drowned: I think this is a more a defensive card than an offensive card. I don't think this is going to come up very often and there are plenty of distractions out there to counter what you are trying to do here. If someone wants you off an objective, this card probably won't stop them from doing so.
Rating: D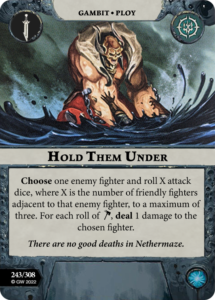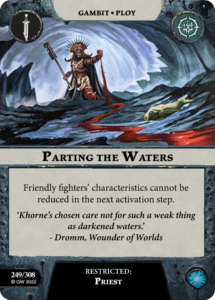 Hold Them Under: This is interesting for warbands who like ganging up on enemy fighters. The way I see it, this helps you get through fighters who have powered up defensively meaning they are hard to hit. I think the chances here are in the high 60's in terms of a percentage to get at least 1 smash. Is it better than Lethal Ward, etc.? I think it really depends on what your goals are. I think it could be worth considering.
Rating: C
Parting the Waters: Not every many priests out there but this card is interesting. But how often are you getting debuffed? I think in certain situations, it could be a decent tech piece. I think this card is a bit too early in terms of power. It could get better as the game evolves. Or it won't. For now, not compelling.
Rating: D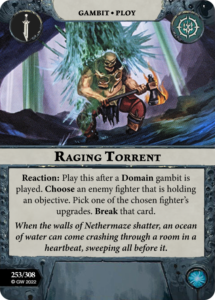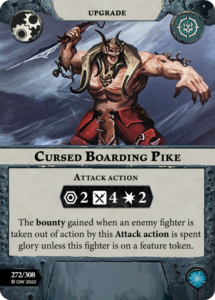 Raging Torrent: If you're running 2-3 domains in your deck, I think this becomes okay. I think it's a lot to commit to your deck without a game breaking effect. Like when it comes up, it could be awesome but it's also a combo piece and you would be diluting your deck to make this reliable enough.
Rating: D
Cursed Boarding Pike: This is one hell of a stat line. I don't care that the bounty is spent. If you need to give someone a great attack and you need a fighter gone, this can help you get there.
Rating: A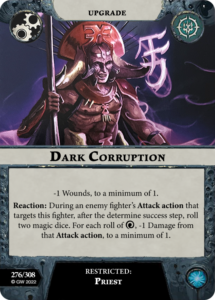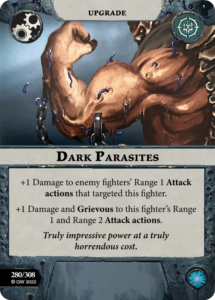 Dark Corruption: This is a bit weird because you give a wound to reduce the number of wounds you get in the future. In order to gain an ROI on this, you'd need this to proc twice – which is hard because rolling a focus is a 33%. I guess you could play this on a 5 wound fighter, Dromm, because this doesn't make him large anymore. Meh.
Rating: C
Dark Parasites: I think this card is amazing. Great for low wound fighters and fighters who can come back. Often times, you might slap this on going into your attack, if you get the kill then the drawback isn't as significant. But seeing this on a rat, a zombie, or ghoul is going to be scary. Their offensive output will go through the roof. Great for glass cannon warbands too like Godsworn, Reapers, Hexbane's, etc.
Rating: A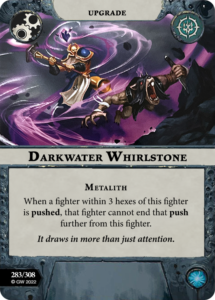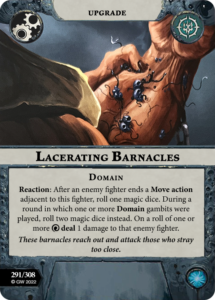 Darkwater Whirlstone: I think this is fairly decent for Profiteers and Farstriders because they tend to operate in the 3 range sphere. Your opponent can just move away from you, doesn't stop them from doing that. But it could be annoying for your opponent in some situations.
Rating: C
Lacerating Barnacles: I think this cards requires too much setup, and luck, to even be decent. While I'd love to say more, I am not sure what else there is to add.
Rating: D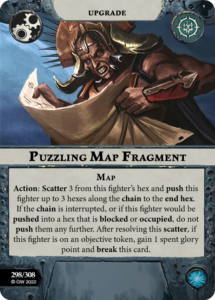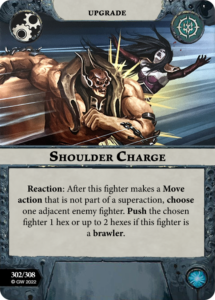 Puzzling Map Fragment: It's not bad if you are looking to invest in the map strategy but it's not reliable. Dice are going to betray you when you need them the most. I feel like for me, when it works it works great because of the glory and positioning, but I think it is okay at best.
Rating: C
Shoulder Charge: I kind of like this. This allows you to guarantee a push without hoping for the right dice outcome. Is it worth an upgrade slot? Maybe, especially if you have a strong positioning denial strategy. I don't think it is bad but also not sure if it wil make you 10 upgrades.
Rating: C
____________________
Deadly Depths: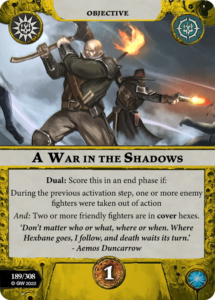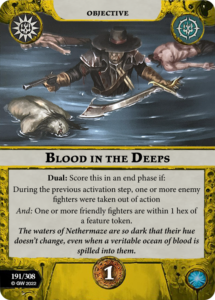 A War in the Shadows: Kill an enemy and two fighters on in cover hexes isn't a bad card. It is similar to Path to Victory but maybe if your strategy revolves more around cover. That makes it a decent option for those strategies.
Rating: C
Blood in the Deeps: Another solid card. I think this works excellently with Path to Victory and is probably more reliable and ubiquitous than the last one because it doesn't matter on whether you are gunning for cover or objectives.
Rating: B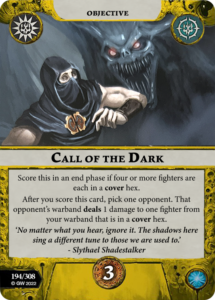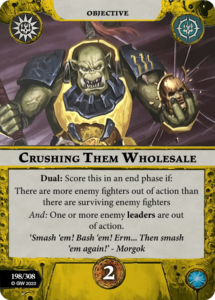 Call of the Dark: I think this is pretty good. Cover is everywhere, Shadeborn especially will love this card. Your opponent might inadvertently help you score this as well but I wouldn't rely on that. The damage is worth it for 3 glory. People run Master of the Abyss which takes you 75% of the way there with the damage tax. This could also warp the meta to where people avoid cover hexes, maybe. Regardless this card is attractive and I expect a lot of people to try it because this is any end phase 3 glory.
Rating: B
Crushing Them Wholesale: We've seen this card a lot, you have to wipe out more than half the enemy warband. I think this is a win more card because if you've already taken out that many fighters you are in a good spot. This is also requires you kill an enemy leader who is generally the hardest to take out. I'd pass.
Rating: D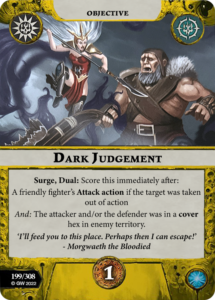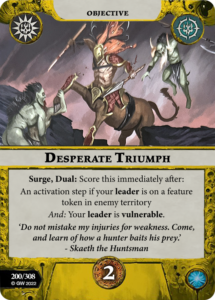 Dark Judgement: I think this is pretty good for Shadeborn due to the teleport. I think nowadays looking for surges that require kills can be tempting. However Destruction is on the rise right now due to damage reduction and healing, so this could be harder to pull off than you think. The cover stipulation also might add another layer of complexity that turns you away from the card. It's is doable, though.
Rating: C
Desperate Triumph: Not good guys. 2 glory makes me think but you can't rely on vulnerable. I guess you 3 wound leader could run through lethals twice but still you need to hope they don't have ping damage or pushes to waste your efforts.
Rating: D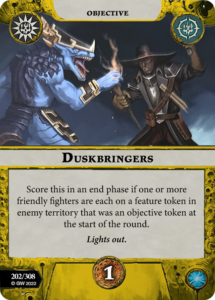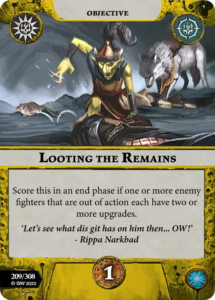 Duskbringers: I think this is decently reliable. You can't score this round 1 but it does align with your flipping in the later stages of the game. But you do like cards that you can score in any phase and this can't. Mulligans help, but again I don't like it.
Rating: D
Looting the Remains: You can't control this and it is only 1 glory. Pass!
Rating: D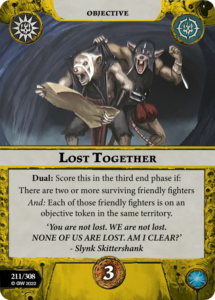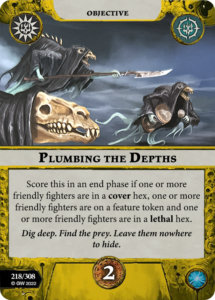 Lost Together: I actually don't mind this. Third end phase makes things a bit iffy but often times when you are playing a horde warband, you generally have at least 2 surviving fighters alive even if dice don't go your way. Even mid-size warbands like Mournflight and Dread Pageant can do this decently enough. Banshees probably won't take it though because they have better faction cards. But again, if you want a third end phase card and your packing pushes this does work well enough.
Rating: C
Plumbing the Depths: I like cards like these because they influence board choice and you're going to have pick cards that offer those red hexes. Often times, you can double dip because a cover hex can is a feature token as long as isn't the printed hex. I'll take a damage for 2 glory! Warbands like Gorchosen and Profiteers can also use their in-faction abilities to work around the lethal hex limitations. Thundrik especially due to his built in reaction.
Rating: B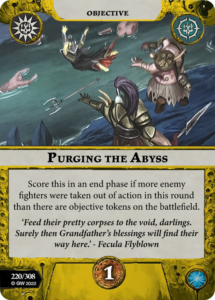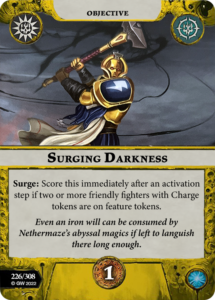 Purging the Abyss: That's a tall order for 1 glory. It can come up but best 2/3 your opponent can counter this very easily. And then as we have mentioned before, if you get a lot of kills in a round then you don't need this card anyways.
Rating: D
Surging Darkness: This is a great card. This pairs great with Horrors in the Dark and ranged fighters make this even easier to score. I expect to see this everywhere especially with aggressive warbands ,who have access to range, like Soulraid and Hexbane's.
Rating: A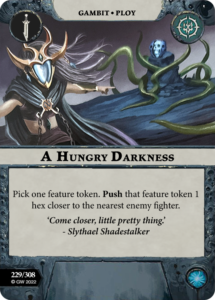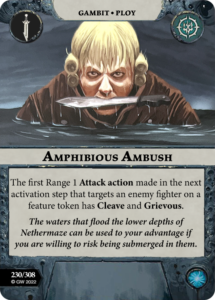 A Hungry Darkness: I guess you can use this, positioning permitting, to pull a feature token back under you. It is definitely a big brain card but when it works you are going to look like a genius. Also helps score Chum the Waters and Call of the Dark.
Rating: C
Amphibious Ambush: Cleave again isn't very exciting when it requires a card but it can help when facing blocking warbands. Grievous is nice but you are less likely to hit because they will most likely be on a cover hex.
Rating: D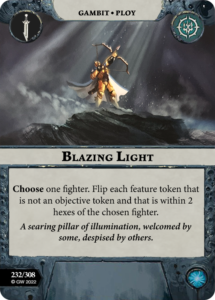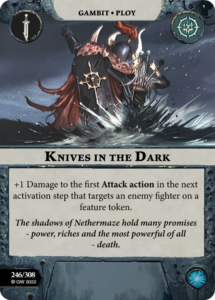 Blazing Light: This can score Sudden Revelation by itself in niche situations. However that card doesn't need much help to score it. This could stop your opponent to potentially score off cover but more people want to see the objective side in the end phase. This could also be an accuracy card because it denies cover but that is also niche.
Rating: D
Knives in the Dark: I this is card is awesome because there is no range limitation. Ferocious Blow is a popular card but only works with range 1 and 2 attacks. Also because most people will be on cover hexes, this will come up a lot. If you are going to take the chance to hit on cover, dealing +1 damage at any range is worth it for early momentum. Great with Exiled Dead and Hexbane's too because they get a lot of supports. Profiteers like it, too!
Rating: A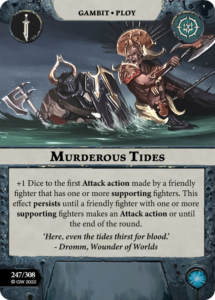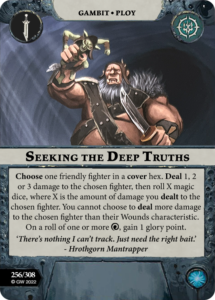 Murderous Tides: Determined Effort with a restriction. I guess it does persist which is a nice thing because it counters an opponents potential debuff. But I think there are better accuracy cards out there. This is quite mediocre.
Rating: C
Seeking the Deep Truths: This scares me with Mollog. Deal 3, gain a potential glory point, inspire your warband, slap on an upgrade ,and the go to town. He always packs heals as well so the damage is mitigated. Also works with Soulraid, you get a 33% chance to get a glory off the fish with no downside. Same with a dog from Hexbane's. There is risk though that you get no glory so it gets a slightly lower rating on the whole. Interesting game design though, I do like that.
Rating: C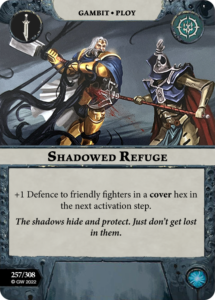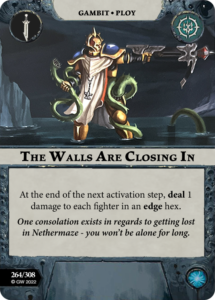 Shadowed Refuge: If this persisted, it would be better. Opponents can play around this, too. I guess Gitz and banshees jumping to 3 dodge for a round could be nice. But it's very okay.
Rating: C
The Walls are Closing in: This is delayed ping. You hit an enemy fighter, they take damage, and then you slam them back. If they don't have a way to move their fighter out of harms way then I guess it works. I find this hard to consider this a great option given how highly counter-able it is.
Rating: D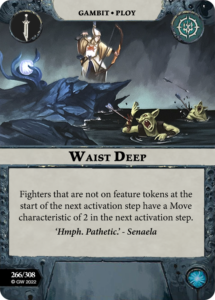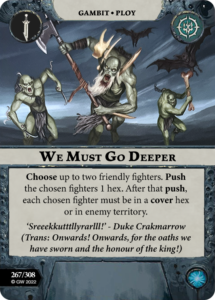 Waist Deep: I don't think this card is very good. I see the utility behind it – if you are holding objectives this can help slow down the aggression coming your way for a turn. Denying a charge, or even delaying, it for a turn can be useful. My concern is that the effect isn't powerful enough to deserve a slot in your deck.
Rating: D
We Must Go Deeper: This is great, especially early game. Set your fighters up with feature tokens in front of them and push them on – kind of like how the Madmob do it. This is also a great way to push your fighters up the board if aggression is on your mind. Also helps with scoring the myriad number of surges that need you to be standing on features tokens. Excellent.
Rating: A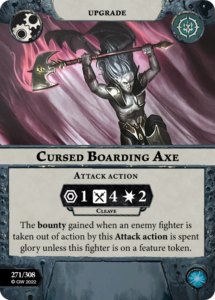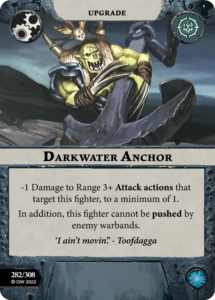 Cursed Boarding Axe: Another cursed weapon with another favorable stat-line. Range 1, cleave, 4 fury, 2 damage is sexy. Like the pike, I like this card. Doesn't matter on the bounty too much as sometimes you just need a good takedown. This can help you get there.
Rating: A
Darkwater Anchor: If you want to use this at all, it's most likely for the second effect. Beastgrave had a card like this but it also made you quarry. It worked fairly well in some decks, especially if you need to stay glued to a feature token. The first effect is a nice to have but even when facing ranged warbands, I doubt it will come up much. Most ranged attacks are 1 damage anyways.
Rating: C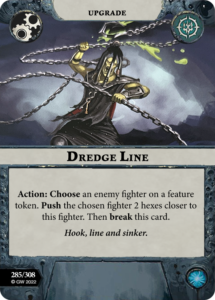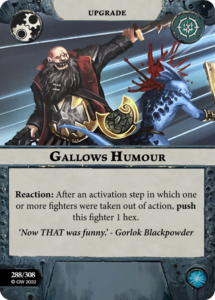 Dredge Line: Look, I usually hate upgrades that are actions but I don't mind this card. An action for a limitless distraction can win you games. I think this is going to be situationally excellent. Push 2 is so good – it counters an opponent's sidestep as they need a bigger push, or multiple cards.
Rating: B
Gallows Humor: The fact that this requires taking an enemy out of action makes it super unreliable for a lot of reasons. And sure, it doesn't have to be this specific fighter taking enemies out of action, but I still don't like it. While not doing the same thing, Silent Step is better 90% of the time.
Rating: D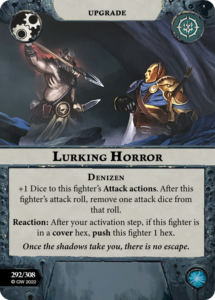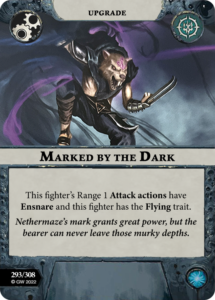 Lurking Horror: This card is fantastic. You get the accuracy buff in that you roll the extra die and then throw away your "worst roll." You can equate this to just a re-roll which is super nice. Even without the reaction, I'd rank this very highly. It combos exceptionally with Darkening Stone, too.
Rating: A
Marked by the Dark: Flying is interesting because it is really good into Exiled Dead. Mmm. I don't know if I want an upgrade that only gives me ensnare and flying. Ensnare can be good in certain metas, though.
Rating: D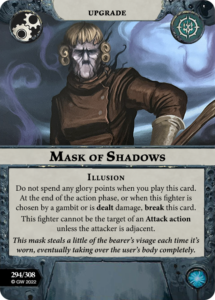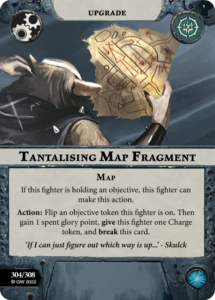 Mask of Shadows: It's definitely a meta dependent card. Like if Creepers, Profiteers, etc. are top dog then I think you could consider it. But as an illusion, I'm not too keen on it. One choose card and you lose the utility.
Rating: D
Tantalising Map Fragment: This is solid, I think this might be the best map. 1 glory, 1 activation – that makes sense to me. I do like how it breaks so it can't be abusable. Mollog likes stuff like this too as he ignores his first charge token anyways when inspired. Regulus can also do this and still move due to Puppeteer.
Rating: B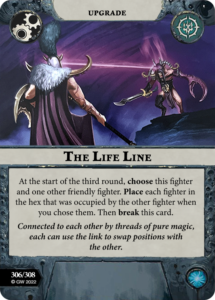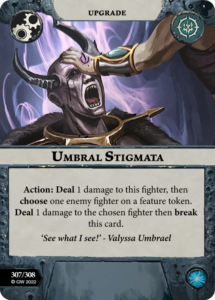 The Life Line: It's like Step Between the Shadows but with a better effect, but you also telegraph the play. It's a strong effect but because it is an upgrade it requires a bit of investment and your opponent gains the ability to counter play. Ultimately I think there is too much set up for it to work as fluidly as I'd like.
Rating: C
Umbral Stigmata: I don't think spending one of your 12 activations in your game is worth dealing 1 damage to an opponent and yourself. Situationally it could be decent. I mean Kixi-Taka has the same option and when it comes up, sure great but how often does it really come up?
Rating: D
____________________
Final Thoughts:
As a rivals deck I don't know if Deadly Depths is that strong by itself. It certainly has some good cards but I doubt it is better than most faction decks. I think it is probably on par with Silent Menace. From a Rivals+ perspective I find this to be an excellent choice. It is hard to compete with the Essentials Pack but I think there are some solid cards in here that can augment any warband.
Overall I do think it is worth the purchase. Championship and Rivals+ players should definitely do so because there are some great options in here. If you are playing strictly Rivals, then I am not sure if it is mandatory.
Holistically, the inclusion of these 64 cards is going to shift the meta. While I don't think we'll see major shifts in terms of the warband hierarchy, but I think middling warbands might find some gas in here to help them jump to the upper echelons – or at the very least be a bit more competitive.
In terms of Grand Alliance cards I think Chaos is the clear winner which warms my heart. I am looking forward to seeing them hopefully improve as I think they were the worst performing grand alliance.
I'm pretty happy with the releases overall and I am looking forward to seeing how the meta evolves and the community engages with the cards. Obviously there are some clear standouts but it's the cards that people often overlook that I find the most interesting.
___________________
If you think this warband would make an excellent addition to your collection, be sure to head on down to your local Warhammer Store or FLGS to order yourself a copy of the Gorechosen of Dromm & Deadly Depths. If you prefer to shop online, check them out here this Saturday (later today at time of posting). 
Thanks again for taking the time to read my review. Thank you to Games Workshop as well for sending me this preview copy.
As always, best of luck on YOUR [
Path to Glory]!