Hello, Gloryseekers!
Jonathan here, writing about one of the two new warbands found in the Direchasm box set! Games Workshop was find enough to send me a copy of the boxed set to review, so I've had some time to mull over the warband and I am excited to share my thoughts with you!
For more information on the contents of the Direchasm box and the season in general, check out our other articles here:
Let's get into the warband. Pain and Pleasure await!
____________________
The Dread Pageant bring with them the long awaited entrance of Slaanesh into Warhammer Underworlds. The wait was definitely worth it though as these miniatures look fantastic. This warband has been drawn to the tunnels of Direchasm to exploit and feed off the mountain's suffering – only the most extreme and exquisite pain can excite them.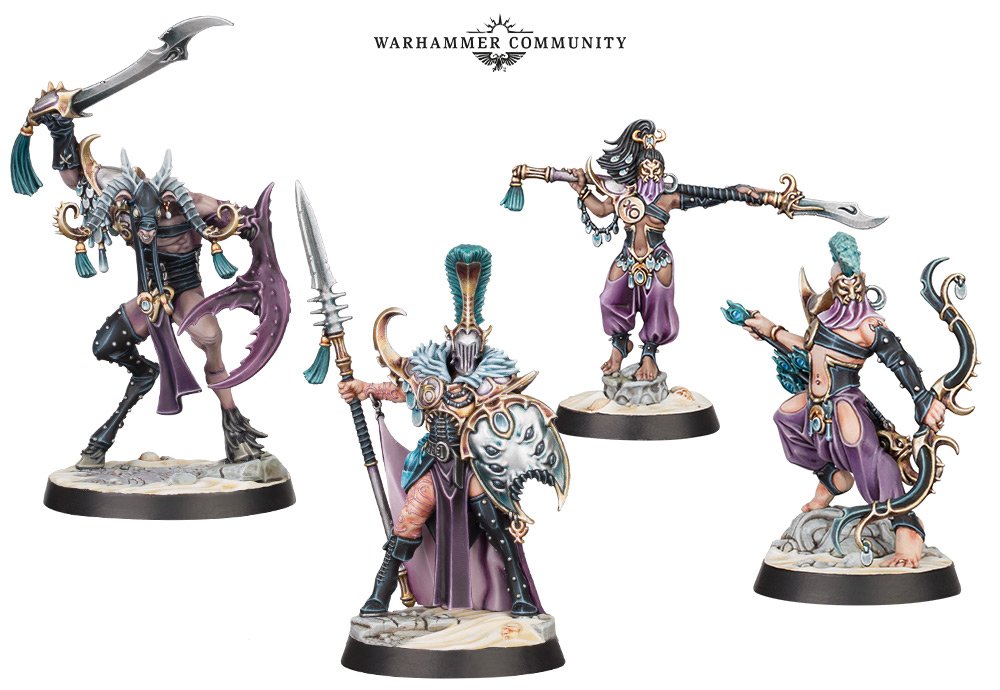 ____________________
Inspire Mechanic:
Inspire Mechanic: Like many other warbands in the past, the Hedonites inspire condition is worth talking about before anything else because it has a large impact on deck building and the way they operate on the tabletop. 

Fitting for a warband so focused on sensations at any cost, the entire warband inspires when: After an activation, surviving fighters have 6 or more wound counters. 
This is a very interesting inspire condition, because it means that the warband doesn't mind having wound tokens on it's own fighters, and may actually prefer not to kill enemy fighters in situations where doing so works against inspiring. 
For those wondering about the timing on the inspire, the current Beastgrave rules check for the inspire condition after the activation but before any reactions, meaning you could inspire the warband if the condition was met before a card like Pit Trap (which is rotating out, but still) or an additional attack action like a Snarlfang Jaws reaction kills a fighter, but not if the killing damage is from a reaction during the attack action with cards like Snare. Another thing to keep in mind is that the "after an activation" wording also means that, unlike the Wurmspat, the Hedonites cannot inspire before their activation via ping damage in the power step, but would have to ping, then activate, then inspire. 
There is also a fair amount of counter-play open to stopping the inspire if you are playing against the warband via killing wounded fighters (your own or the enemy's), which some warbands will be better at than others.
Ultimately I think this inspire condition is a hard one to achieve, and might not be something you do in every game, although the warband does have a few tricks to help it, and you can always run your fighters through lethal hexes to reach that Slaaneshi number 6.
Now that we've covered the inspire condition, let's talk about the fighters!
_______________________
The Fighters:
Vasillac the Gifted: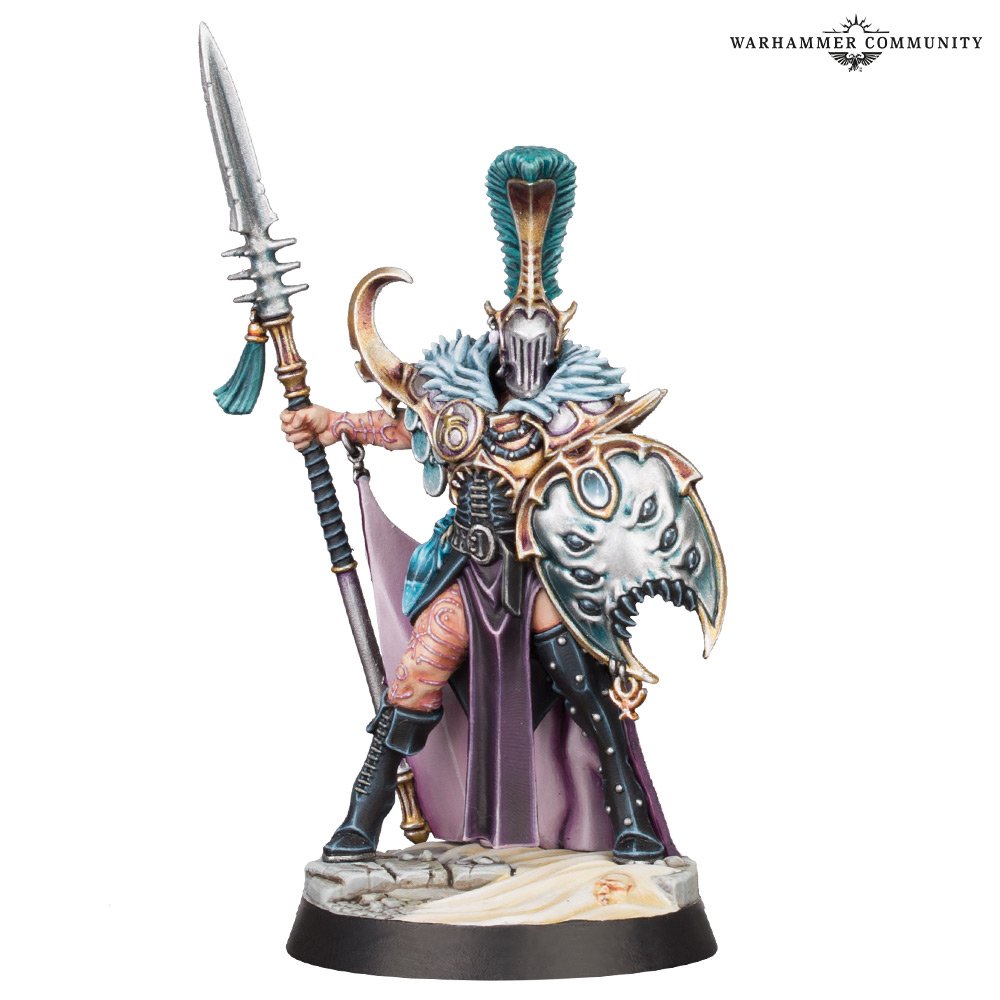 Vasillac the Gifted is the leader of the Hedonites and is fittingly the most powerful of it's fighters. His base stats and attacks put him in a similar space as powerful fighters like the Duke, Briar Queen, or Skritch, and I think he behaves similarly on the tabletop. 
Vasillac starts out at Move 4, 1 Block, with 4 wounds, with a Range 2, 2 Smash, Damage 2 Agonizing Spear attack action. These stats make for a very solid fighter, able to kill smaller fighters in one shot, put all important inspiring wounds on larger fighters, be fairly durable with 4 wounds, and move across the board fairly well. He also has a very interesting reaction built in, allowing him to either damage or heal himself after making a successful attack action. In the early game, this reaction allows him to assist with the warband's inspire condition at the cost of possibly putting himself in kill range, and later on in the game makes him much harder to chip down as long as he is able to continue making successful attacks. 
Once inspired, Vasillac gains +1 Move, and +1 Damage and Cleave on the Agonizing Spear. This makes him very deadly with a few upgrades, and these stats are the primary season you want to inspire the warband in the first place. 
His main weakness is only ever having one defence dice, which means that he is not particularly hard to hit, and will have to rely on positioning, sneaky power cards, and defensive upgrades to help him stay alive. He is worth stacking upgrades on, though, and can become quite scary with the right combinations.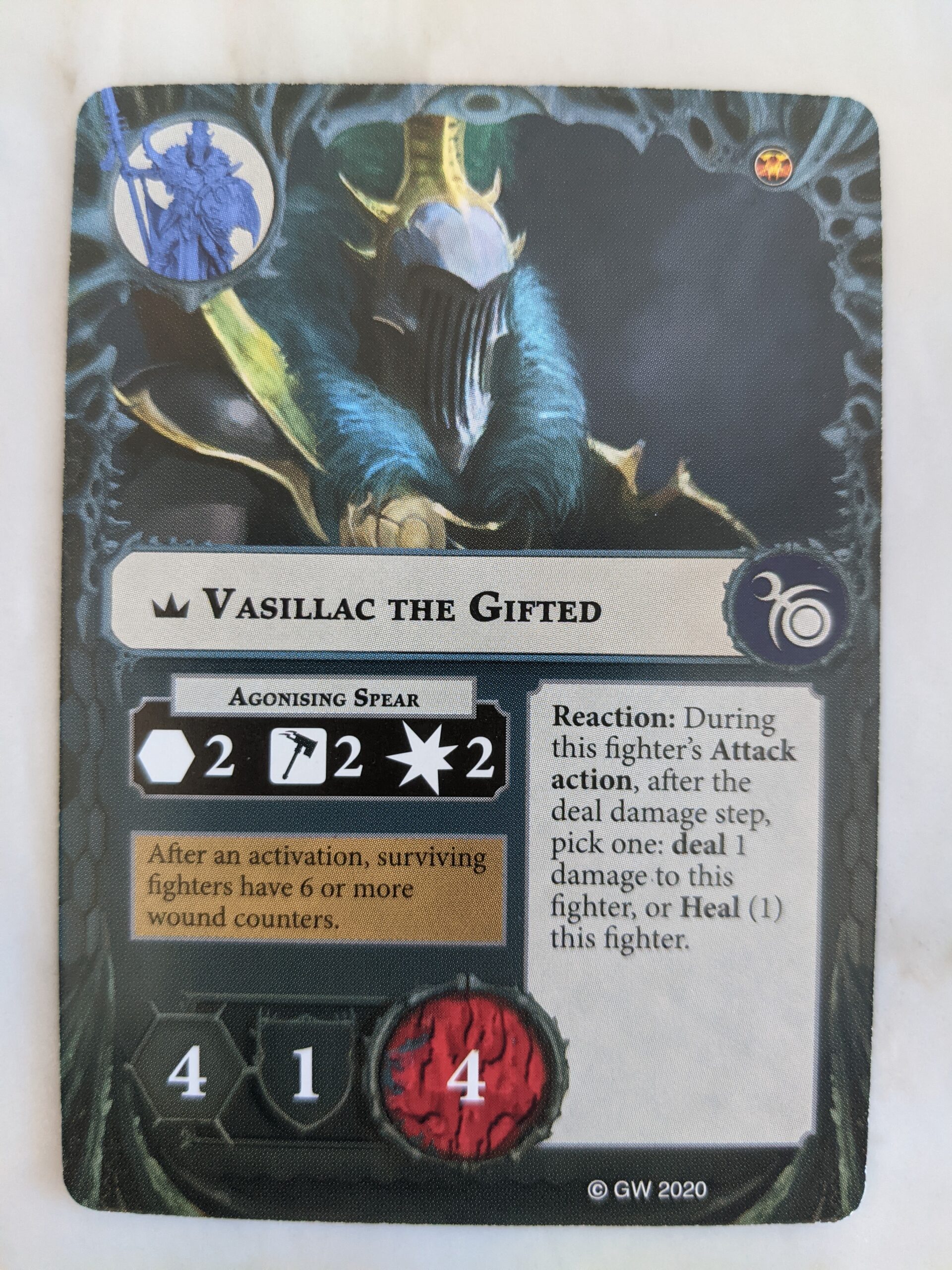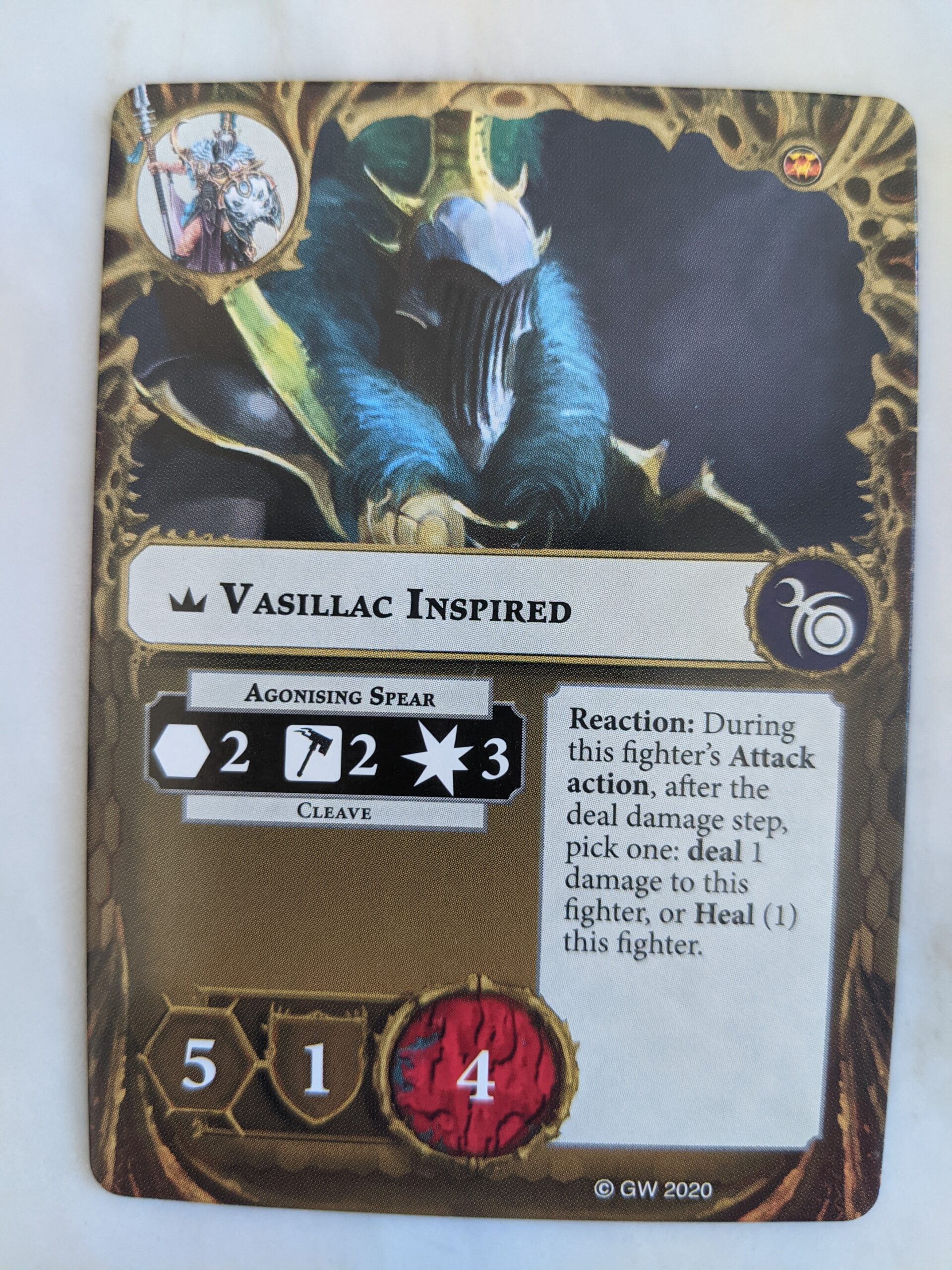 Slakeslash: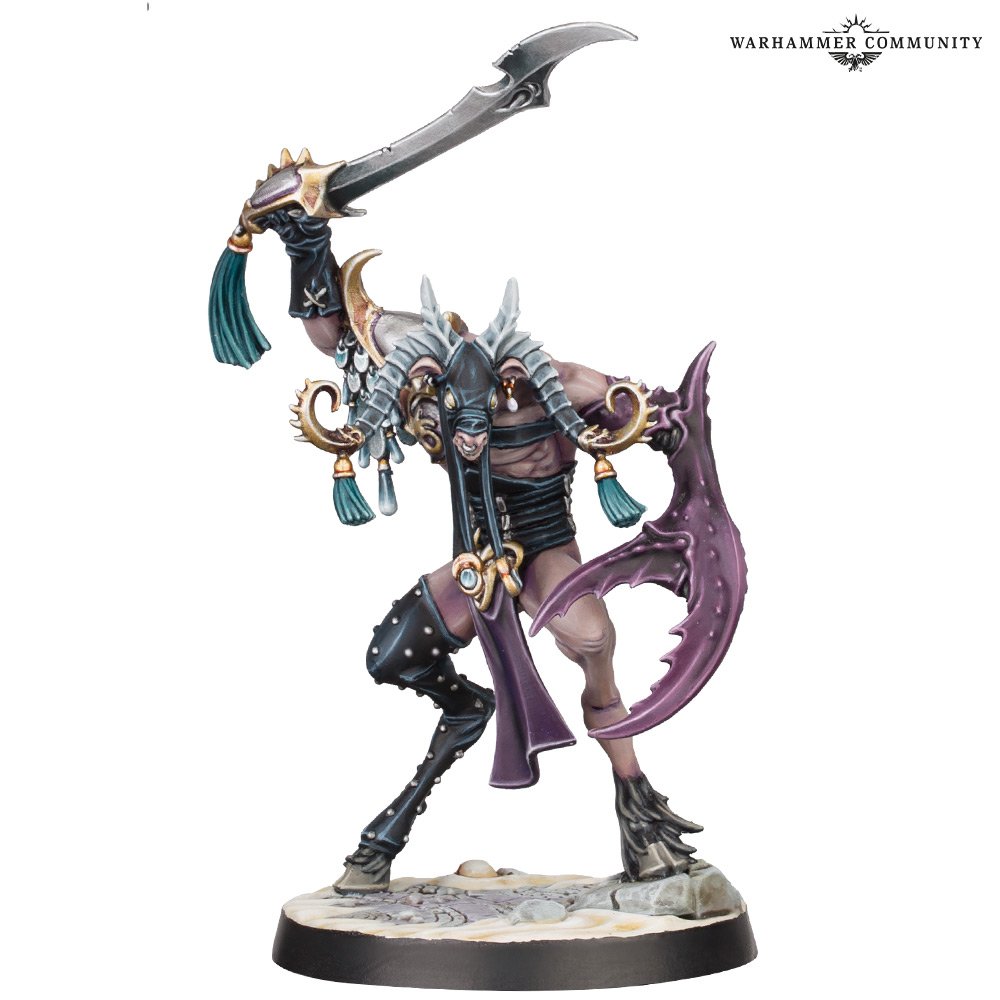 Slakeslash the Slaangor is the tank of the warband, with a stat-line previously reserved for the "Biggest an' da best" ork models like Gurzag, or those seen in the Krushas warband. With Move 4, 1 Block, a whopping 5 wounds, and legs for days, Slakeslash is quite mobile and takes a solid effort to kill. 
Slakeslash's has the same damage/heal reaction as Vasillac, and his only attack action is the Lethal Flurry, which is a Range 1, 3 Fury, 2 Damage attack. This is also the first fighter we have seen that has both the hunter and Quarry keywords, which is neat, and may allow for interesting Quarry builds. 
Once inspired, the only thing Slakeslash gains is another dice on the Lethal Flurry.
To me, the purpose of Slakeslash in this warband is to soak damage to assist the inspire condition. With 5 wounds, it is fairly difficult to kill Slakeslash in one hit, meaning it will be fairly common to see 2-4 wound counters on the Slaangor's card as the enemy tries to whittle it down. This makes it much easier for the warband to inspire via ping and ranged attacks, and may even mean that some enemy warbands ignore Slakeslash in order to slow the inspire. If Slakeslash survives to see the warband inspired, he may be a solid candidate for upgrade stacking (though you do want to be careful when to push him over 5 wounds due to the new rule giving extra glory when fighters with 6+ wounds are taken out of action), particularly against larger warbands where his low damage will not be as much of an issue, and his healing reaction may allow him to stick around for a long time.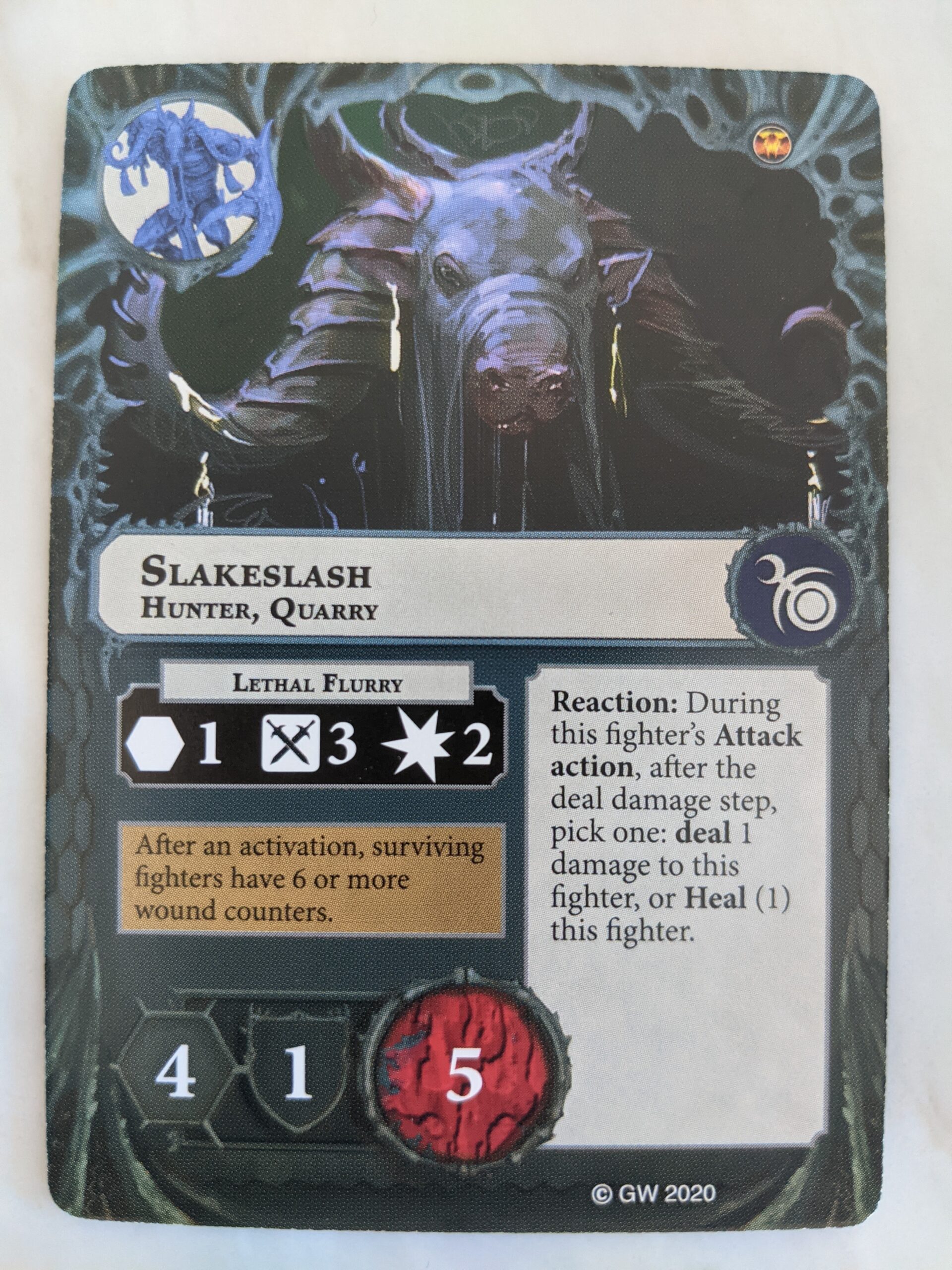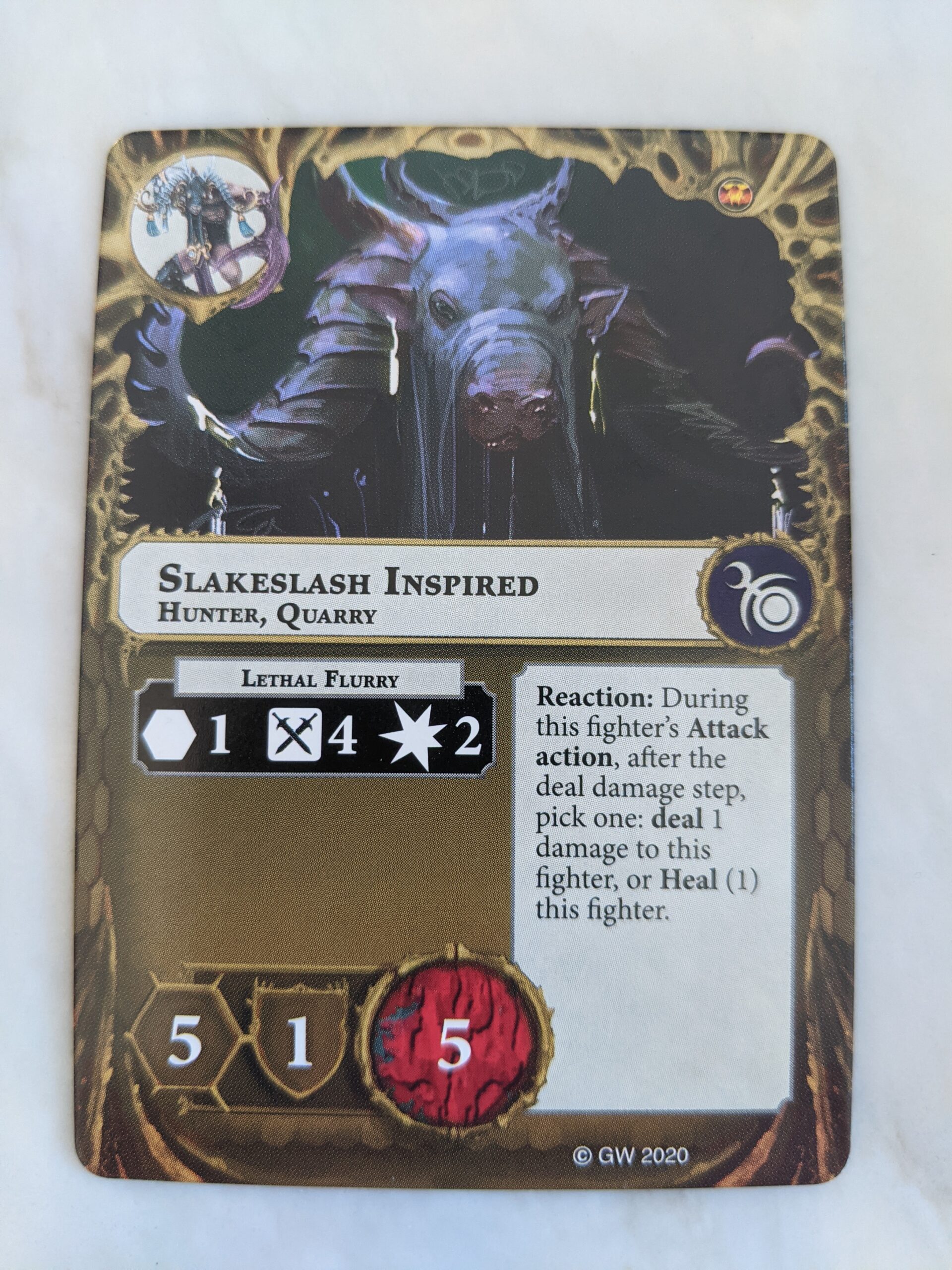 Glissette: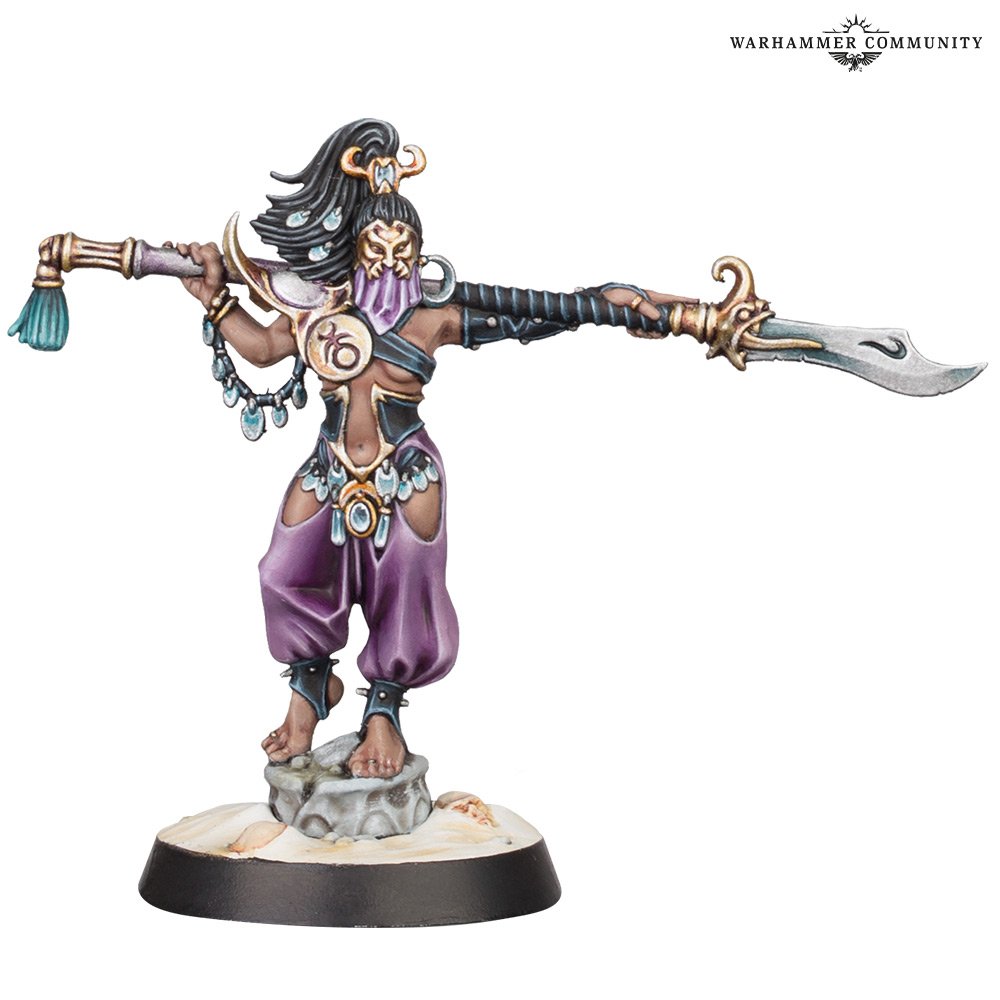 Glissete is the dazzling dancer of the Hedonites. Her stats are interesting, because she is not capable of soaking very much damage with only 2 Wounds, but is VERY hard to hit with 2 Dodge, and the passive ability to always be on guard, allowing her to also defend on blocks, and never be driven back. It also means she is the most difficult uninspired fighter to hit in the entire game. With this and 4 Move off the bat, I think this makes Glissete the ideal early aggressive objective holding fighter until the warband inspires. Her Range 2, 2 Fury, 2 Damage Dazzling Glaive attack action is fairly inaccurate uninspired, but her durability is great as long as the other player doesn't have Cleave to get past the guard. 
Once inspired, she gets marginally better with Move 5, 3 Fury on her Dazzling Glaive, and a new Range 1, 3 Fury, 1 Damage Scything Whirling Glaive attack action. With some damage upgrades both of these attacks can be something to worry about late game, and Move 5 means she will be very hard to avoid. If she gets hit she is probably dead, but I feel like there will also be games where her 2 Dodge + Guard keep her alive for an infuriating long time.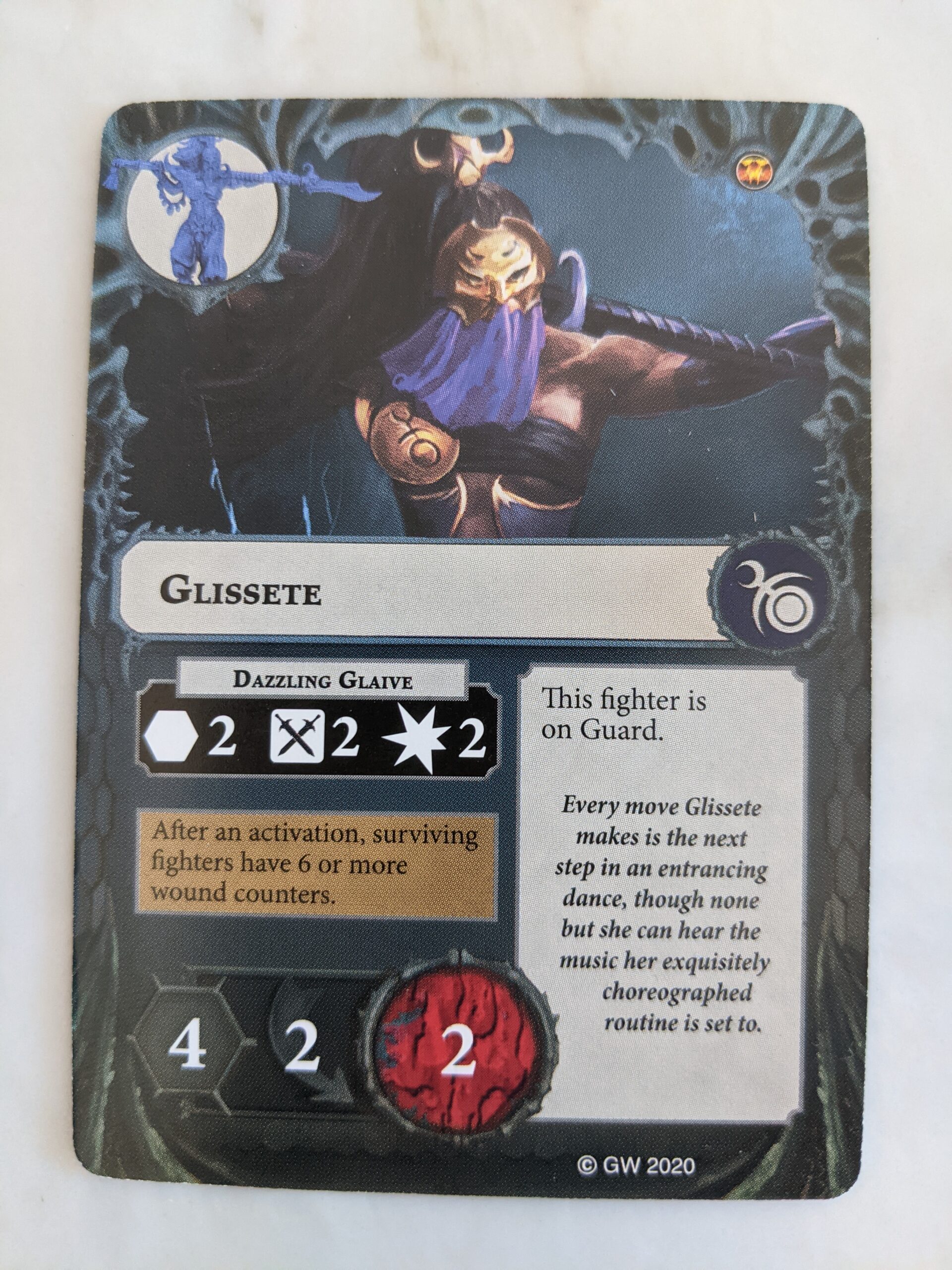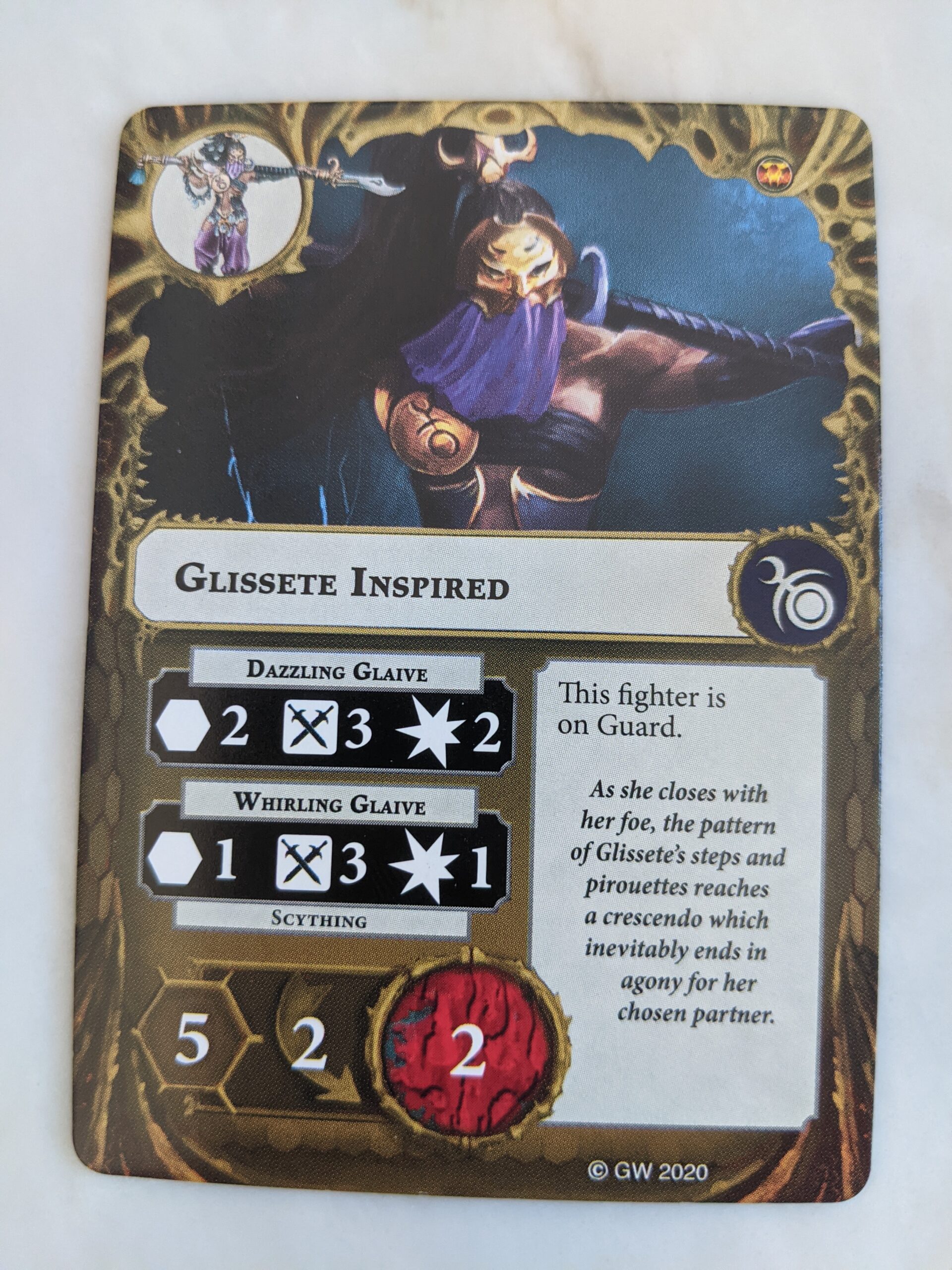 Hadzu: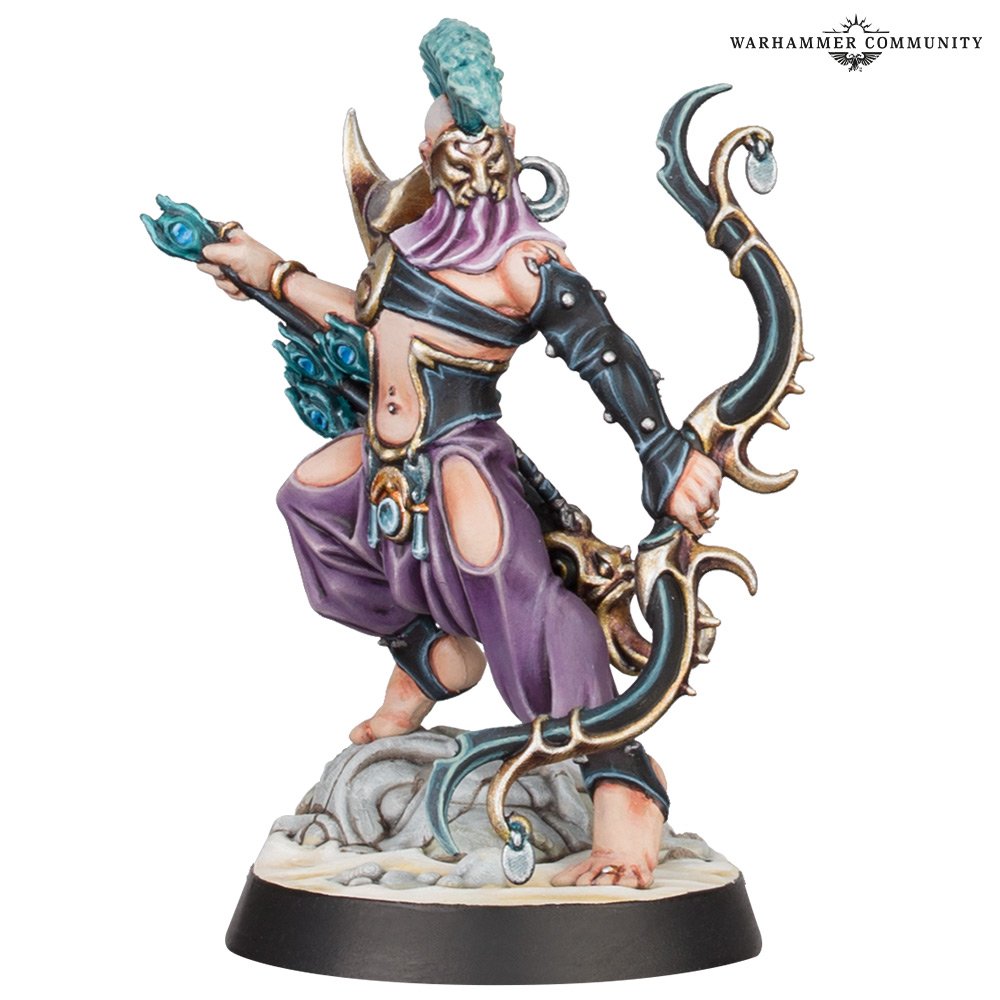 Hadzu is the archer of Hedonites warband, and looks like he REALLY enjoys it. His Arrows of Desire attack action is Range 3, 3 Fury, 1 Damage, with a cool reaction that allows him to push an enemy fighter 1 hex instead of driving them back, making for all kinds of cool possibilities in conjunction with lethal hexes. His stat-line is Move 4, 1 Dodge, 2 Wounds, meaning he really does not want to be attacked, as he is very likely to die immediately. 
Once inspired, he goes to 2 Dodge, Move 5, and Range 4 on the Arrows of the Desire, making him a bit more survivable, and increasing his threat range significantly. 
Hadzu is also a Hunter, which might mean you can consider other Hunter cards, though it feels a little risky to me.
Overall, I think Hadzu's job in this warband is to try and stay alive in the back of the board holding an objective until the warband inspires, and then possibly shoot a few people into lethal hexes. If he can do that, he'll be doing a good job.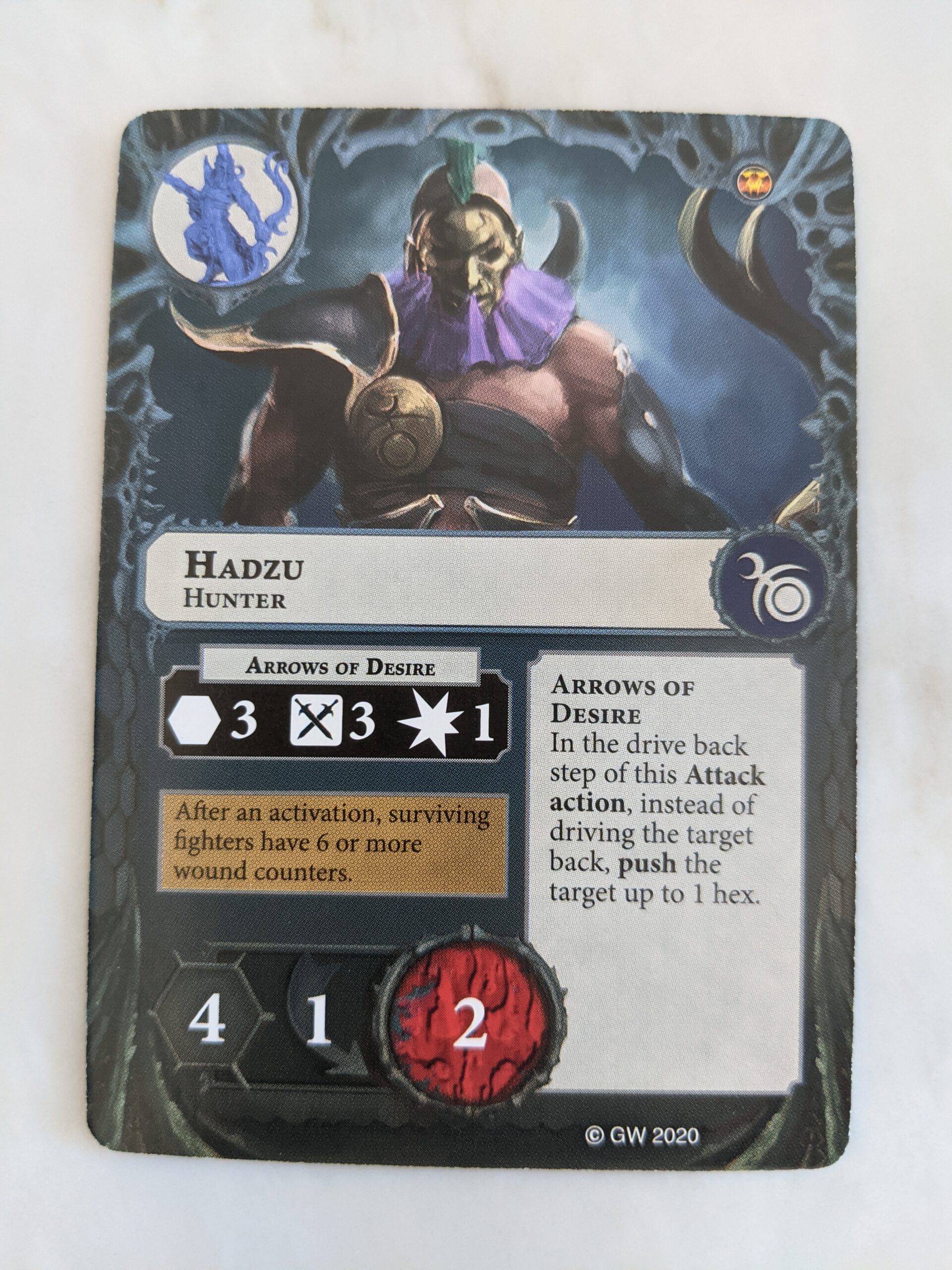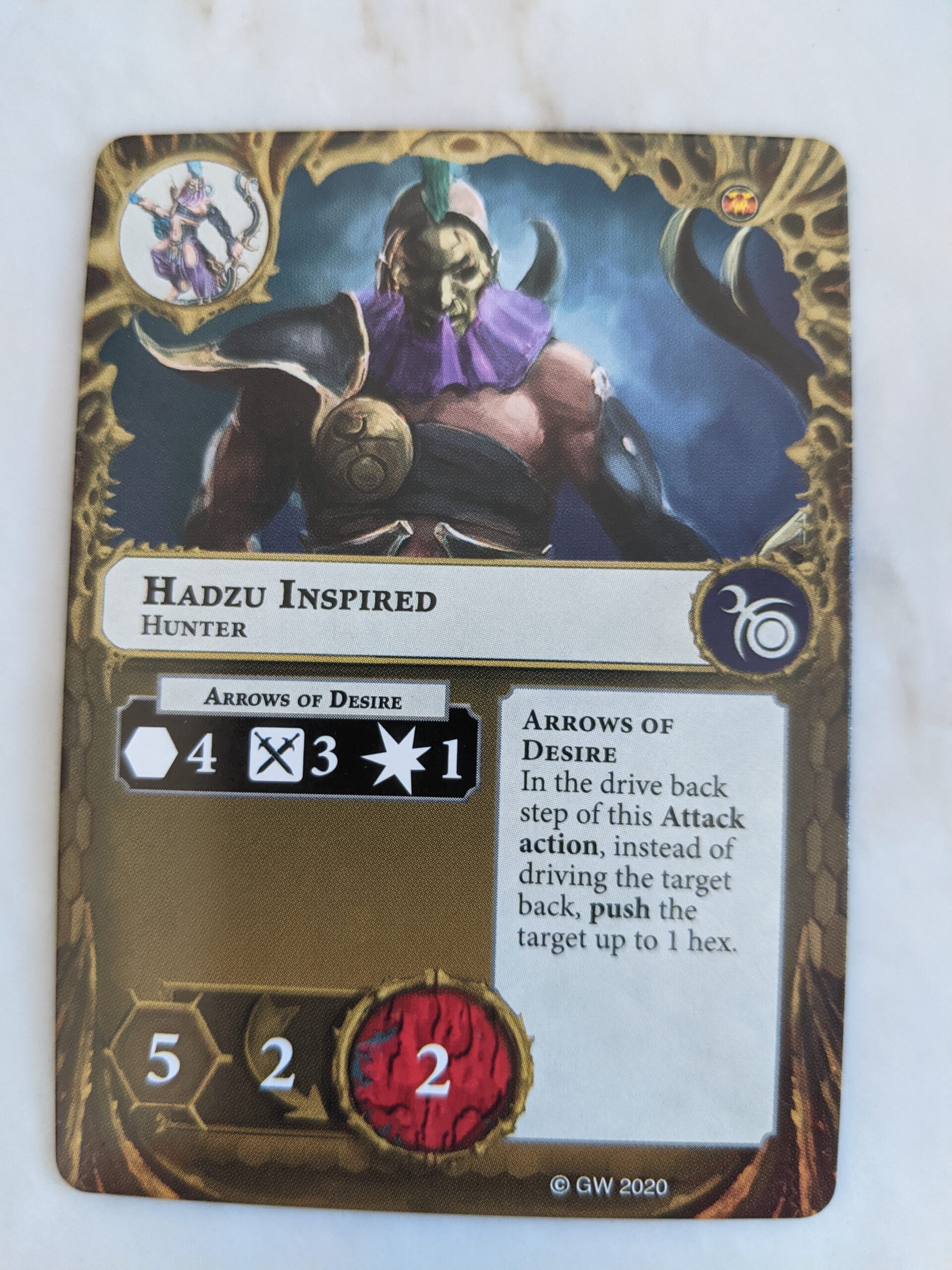 _______________________
Faction Objectives:  
For this review, I'll be using the following rating system. 
A score of "A" means that the card is very powerful and should almost always be included in your deck builds. "B" means that the card is strong and will usually be included, but not always. A score of "C" means that card can be good in certain situations but will usually require extra support. Lastly, a score of "D" means the card is on the weaker side of things. It doesn't mean that it is inherently bad but perhaps can be considered hard to use or counter intuitive to your game plan.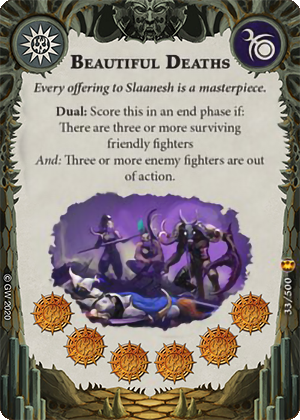 Beautiful Deaths: Despite the amazing glory reward, I think this card is too hard to reliably score for this warband. With only four fighters to start with, I think it will be hard to keep three of them alive past the first round, and killing three enemy fighters in the first round is very difficult and match-up dependent.
Rating: D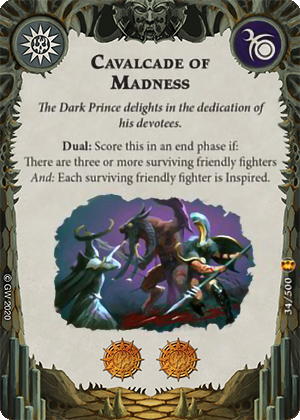 Cavalcade of Madness: A good reward, but hard to score past the first round if you are losing fighters, and this warband doesn't have the most reliable inspire. I think it's playable, but probably a bit too difficult to rely on. 
Rating: D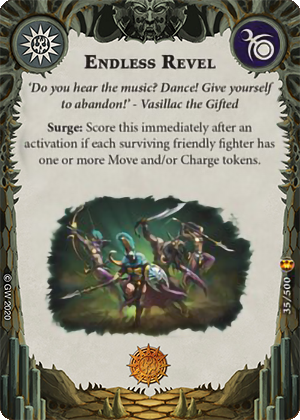 Endless Revel: This is a solid surge card that actually gets easier to score as you lose fighters. It's main weakness is scoring it in the later rounds when you might not want to activate all of your fighters, but you may also have fewer fighters then, making it easier to score. I expect to see a fair amount of this one. 
Rating: B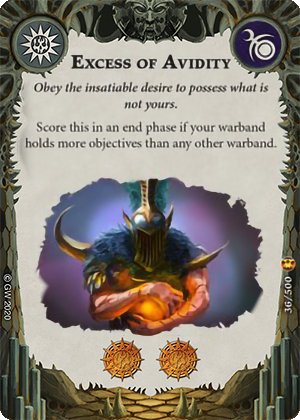 Excess of Avidity: I love this objective card! We've seen this card before in Lady Harrows Mournflight, and although it can require some set up, it's very scorable with the right card support, and I think it fits into the cagey playstyle of this warband and gives the two smaller fighters in this warband something to do without putting themselves at too much risk. 
Rating: A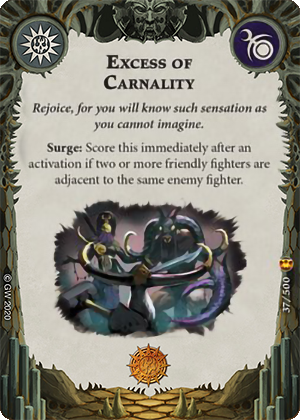 Excess of Carnality: I like the design of this card, since I think it is reliably scorable, but will usually put the fighters involved at some risk. It might be too situational, and doesn't work very well if you are killing the fighters you charge next to. 
Rating: C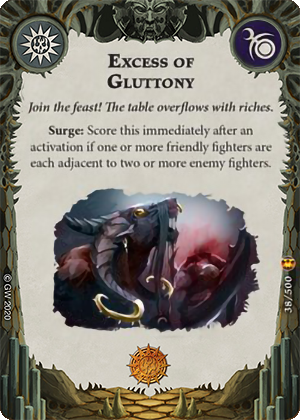 Excess of Gluttony: I think this one is playable, but too situational to make the cut in competitive decks. More than anything else, I think there will be too many situations where positing your fighters in this way would be counter-productive to the other things you are trying to do with this warband. 
Rating: C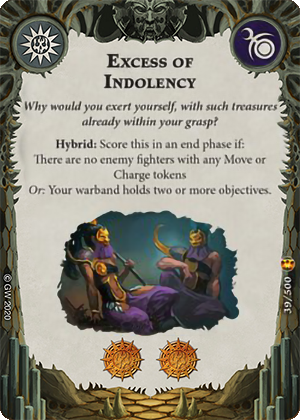 Excess of Indolency: A great card due to the second scoring condition. 2 glory for holding only 2 objectives would be an amazing card for traditional objective warbands, and allows this warband to consider the playstyle in a more defensive/control style, using the smaller fighters to hold objectives in the back, and the two stronger fighters to defend and harass. The fact that it is a Hybrid card may also be good for cards like Set the Tempo, though I do not expect the no Move/Charge condition to be scored very often. 
Rating: A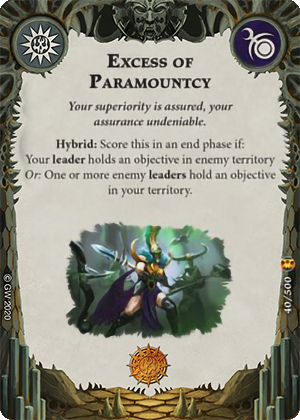 Excess of Paramountcy: An interesting Hybrid card that should be scorable with your leader, but is perhaps too situational to rely on in competitive decks. I think it's possible you might score the second condition depending on the match-up, but it's something you can rely on. 
Rating: C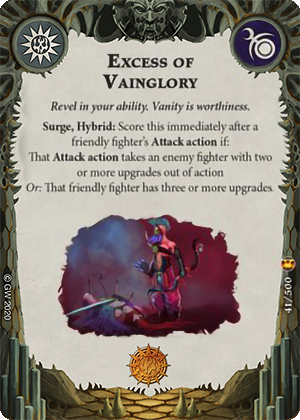 Excess of Vainglory: Another hybrid card that I think is playable, but is also hard to score in the first round. I think it's worth keeping in mind, but may not see a lot of competitive play. 
Rating: C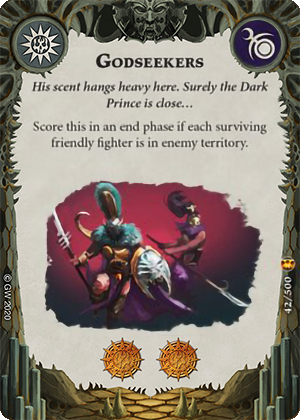 Godseekers: This card would be amazing for some of the more aggressive warbands, but I do not think this warband can afford to simply charge into the enemy territory in most matchups, since it's smaller fighters are too likely to die. I might be wrong about this one, but I think it's better to play this warband with a defensive/hold objective style, so my rating reflects that. If this warband ends up as an aggressive one, this card gets a lot better. 
Rating: C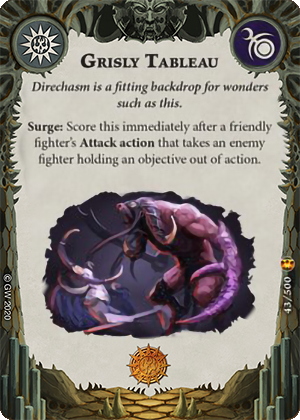 Grisly Tableau: A decent surge card that we've seen before in other warbands, but hasn't seen a lot of play in general. I like the design of this card because it is scorable, but I suspect there will be easier cards to take. 
Rating: C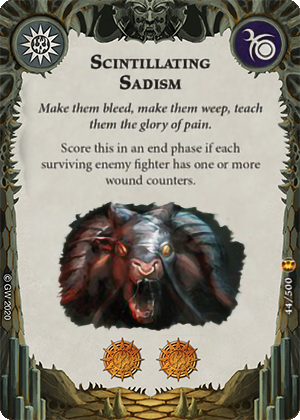 Scintillating Sadism: This card is probably too match-up dependent to see a lot of play, but may end up being a meta call. Against large warbands, it will be hard to score this early, but may be scorable eventually. Against smaller warbands, this may actually work quite well with the Hedonites' playstyle and inspire condition.
Rating: C
_______________________
Faction Gambits: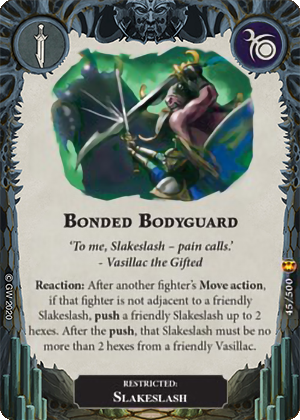 Bonded Bodyguard: A cool reaction card that allows Slakeslash to push after a friendly or enemy move as long as he is close enough to Vasillac. This can be used either offensively or defensively, and the flexibility of the push requirement allows for all kinds of neat plays and objective grabs. It's real weakness is that it does require you to keep Slakeslash and Vasillac together (and alive), and although I think you will usually want to be investing quite a bit in doing that, I think there is a solid argument that you should just take Blindside instead.
Rating: C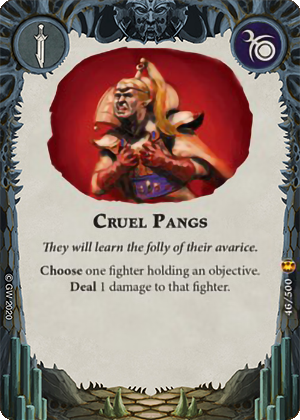 Cruel Pangs: Their very own Lethal Ward, this is a great card for this warband due to their inspire condition, and being a solid card in the first place. 
Rating: A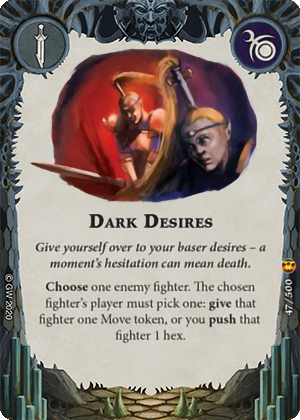 Dark Desires: A cool card similar to the Profiteer's Toxic Gases, but weaker. I feel like a lot of the time, there will be a clear "right answer" for the opponent to pick, which lowers its power for me. For example, if someone is trying to hold an objective or is next to a lethal hex, they will just take the move token, so it's worse than distraction in that case. If you want to stop a fighter from charging you, unless they are the perfect number of hexes away, they just take the push. So, you basically have to find a situation where they really don't want either option, which I think is pretty rare. 
Rating: C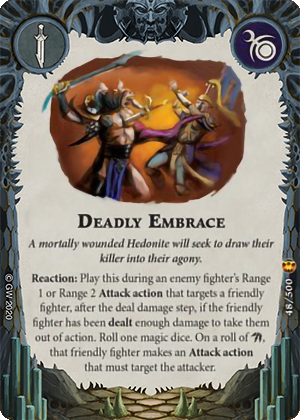 Deadly Embrace: A 50/50 to make an attack back before your fighter dies…I don't love these cards, since a 50% change to make an attack that is probably a 50% to hit ends up being about a 25% chance to do anything. 
Rating: C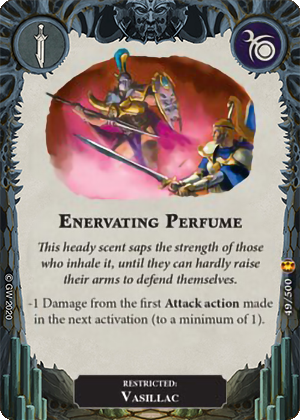 Enervating Perfume: A card you can use to help keep your fighters alive, and perhaps assist with inspiring if used to save Vasillac or Slakeslash with 1 wound left. Because so much of Underworlds involves adding damage to one shot fighters, I think this card is a decent counter to that. 
Rating: C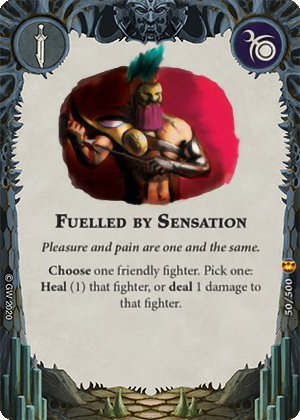 Fuelled by Sensation: This card is mostly useful to help force the inspire condition, but I don't think it's worth the ploy slot for either option. 
Rating: D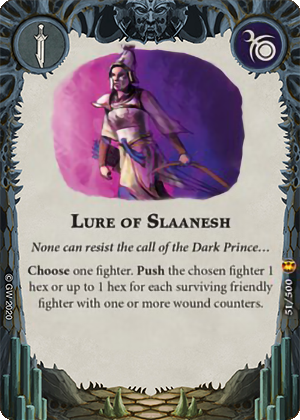 Lure of Slaanesh: This is actually one of the best push cards in the game since it can push a friendly or enemy fighter 1 hex, and is amazing in the situations where you have the wounds on friendly fighters to get the bonus 1-3 extra hexes on top of it. Great for pushing enemy fighters into lethal hexes or simply removing them from the fight, and great for positioning friendly fighters where you need them to be. Keep in mind that if you need a spicy extra push, you can always move a friendly fighter through a lethal hex, and then play the card in your power step.  
Rating: A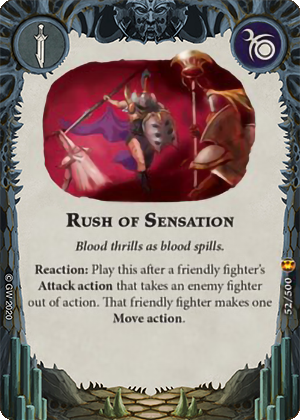 Rush of Sensation: A situational but very powerful card when it allows Vasillac to charge, kill, and then zip back to safety. It's downsides are relying on getting a kill to react, and still giving a movement token. 
Rating: B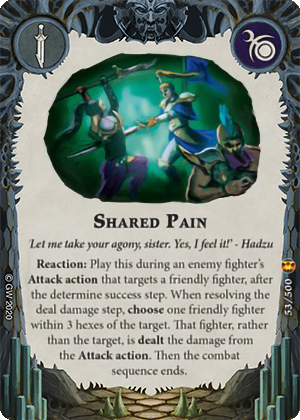 Shared Pain: I love this because of how it interacts with the Hedonites' inspire condition, and the massive wound total of Slakeslash. Early game, this card allows you to play aggressively with Vasillac or one of the smaller fighters in order to bait out an attack, and then transfer the damage to Slakeslash and possibly inspire. Late game, you can use the card to save your fighters by changing who takes the hit, or to at least decide which fighter dies if neither can take the damage. Importantly it also ends the attack sequence before the drive back step, allowing both fighters to avoid being shifted by the attack, which can sometimes be the difference between scoring big end phase objectives or not.
Rating: A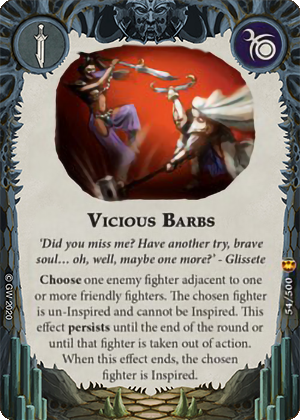 Vicious Barbs: A very neat card that will shut down a powerful fighter's stats for a round. Devastating against warbands with singular powerful fighters if you can pull it out at the right time, only decent the rest of the time. 
Rating: C
_______________________
Faction Upgrades: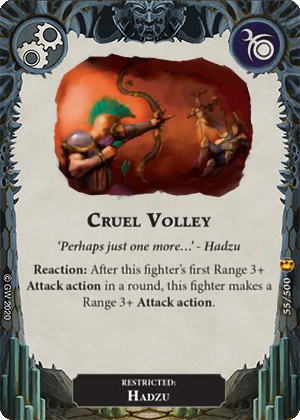 Cruel Volley: A neat card, and possibly amazing if both hits connect due to the push reactions, but I think Hadzu is too likely to sit in the back until he dies in most games for this to really be worth the upgrade slot. 
Rating: D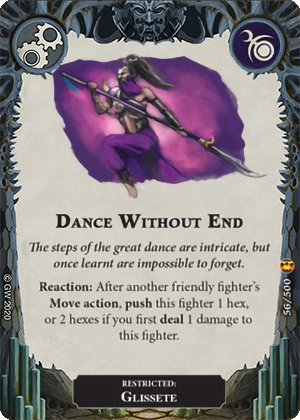 Dance Without End: This is a weird one, and probably too situational and fighter specific to see much play. 
Rating: D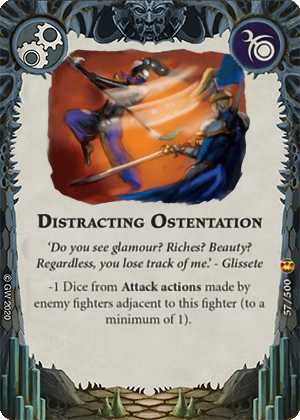 Distracting Ostentation: A solid defensive upgrade in range 1 match-ups, and possibly a way to annoy range 2+ fighter by moving next to them. I tend to prefer +1 wounds and similar defensive cards to this sort of thing, but I think it is still worth considering, especially if you have push reactions like Blindside or Deadly Embrace to help be sneaky about it. 
Rating: C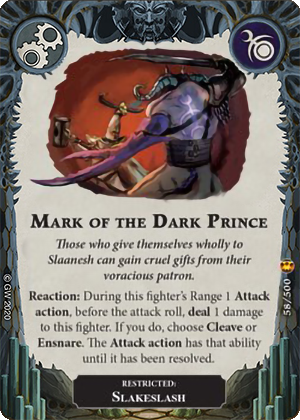 Mark of the Dark Prince: A cool card I don't like mostly because it's restricted to Slakeslash, and I'm not sure he really needs it. It is worth noting that if the attack succeeds, you can then heal the damage back up, which makes him quite accurate for the small risk of missing and taking the damage. Maybe something you play if you plan on playing very aggro.  
Rating: C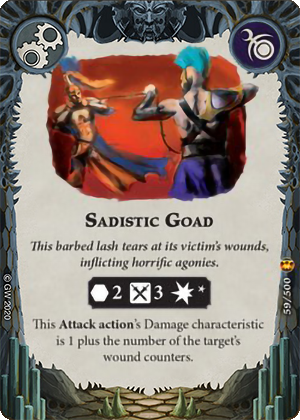 Sadistic Goad: A very interesting attack action upgrade that will almost always have enough damage to kill a fighter at long as they have previously taken a solid hit. Because this warband wants to hit fighters for 2 damage attacks early in order to inspire, this might be decent hitting for 3 vs those targets in the later rounds. All in all I think it's a bit situational, but it will depend on the other upgrades it's competing with (right now, the Amberbone weapons are probably better). 
Rating: C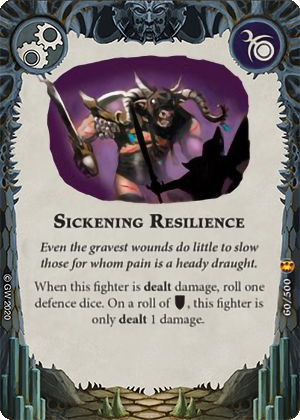 Sickening Resilience: A 33% chance to reduce any amount of damage taken to 1, this card is will either be totally useless or amazing, depending on your rolls. I think if you are building around keeping Slakeslash tooled up (an Avatar build, perhaps) or Volton-ing Vasillac to oblivion, it's worth thinking about. 
Rating: B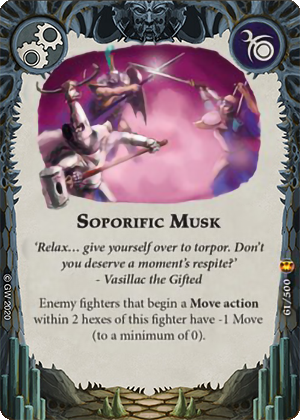 Soporific Musk: A neat card that is possibly annoying if you get it on Slakeslash early in order to keep fighters off your backline, but probably isn't worth a slot in a real deck. 
Rating: C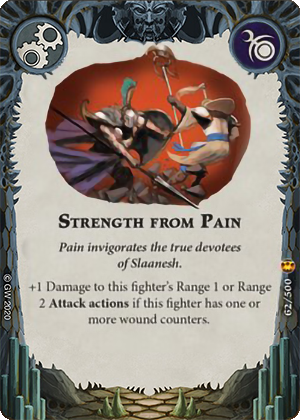 Strength from Pain: A situational +1 Damage. Probably worth considering because you may have wounds on your fighters, and you can always charge through a lethal hex to activate if you need to (and possibly heal back up if the fighter is Shakeslash/Vasillac). 
Rating: B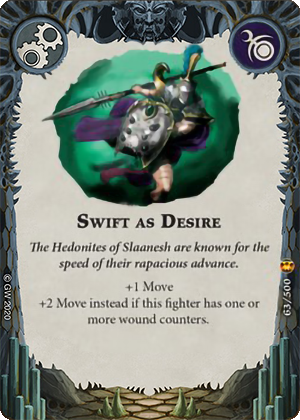 Swift as Desire: A nice option if you want +1 Move, but I'm not sure you do unless you are trying to score cards like Gathered Momentum…which I'm not sure you do with only 4 move base on all of your fighters, and a tricky inspire condition. It's also worth noting that I do not think you can activate the bonus +1 Move by moving through a lethal hex. 
Rating: C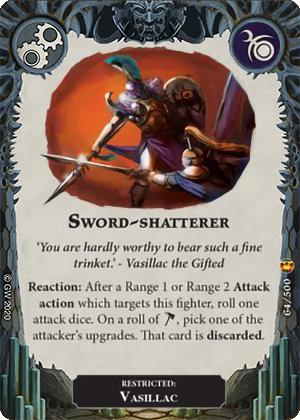 Sword-shatterer: I think the chance of this working is too low to really see play, and it's telegraphed to your opponent. 
Rating: D
_______________________
Final Thoughts:
Competitively, the Hedonites of the Dread Pageant are a very interesting warband to review and consider building decks for. In some ways, they feel like they are missing a fighter to me, as only having four fighters when two of them are as easy to kill as Glisset and Hadzu are makes them have a lot of reliance on Slakeslash and Vasillac to do the heavy lifting for the warband. Their inspire condition is somewhat difficult, and their stats once inspired are solid, but not as outstanding as you might hope for how difficult the condition is.
At first look, I think this warband is best played in a control/objective style, focused around holding 2 objectives with cards like Dominant Position, Excess of Avidity, Excess of Indolency, Path to Victory, Uncontested, and so on, tanking enemy fighters with Slakeslash to inspire the warband, and then powering up Vasillac via upgrades to kill the enemy's fighters while using the warband's ploys to stay alive and disrupt the enemy's game-plan.
Here is an example of what I think this deck might look like (The missing cards are new ones! I would add Dominant Position, Savage Exemplar, and Savage Strength):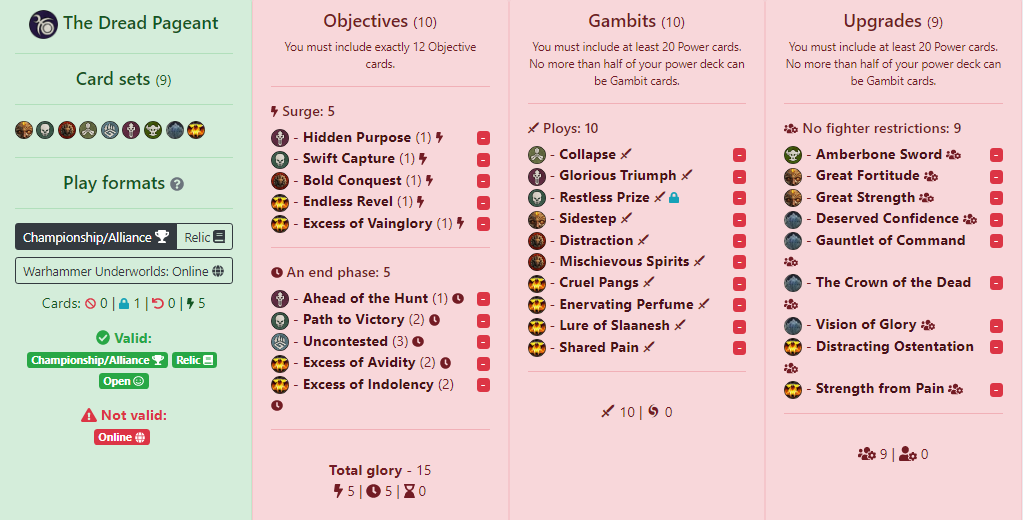 It likely needs some testing and tweaking, but you get the idea.
There may also be some kind of aggro build here, or some kind of super cow upgrade stacking avatar built, though I'm not sure I really see these working very well. I don't think they are particularly good or bad at the Primacy or Hunger mechanics, though the future card pool may change that. I also think it's worth keeping in mind any quarry cards that come in the future, as Slakeslash's innate Quarry ability may provide some unique advantages as well. Overall, I expect this warband to have a higher than average learning curve, and be somewhat difficult to play at a competitive level, making them perfect for slaaneshi players that enjoy both the pleasure and pain of trying to make a warband work despite the odds.
If you would like to pre-order , head on down to your local Warhammer Store or gaming store. If you prefer to shop online, check this out here. I hope you enjoy your experimenting with these cards over the coming weeks. Look out for more content coming out in regards to them over the next couple days.
If you liked this post, great! If I made any mistakes, missed anything, or could do something better next time, let me know!
Thanks for reading,
Jonathan